Imran Khan issues nuclear threat to India after Trump denies intervening in Kashmir issue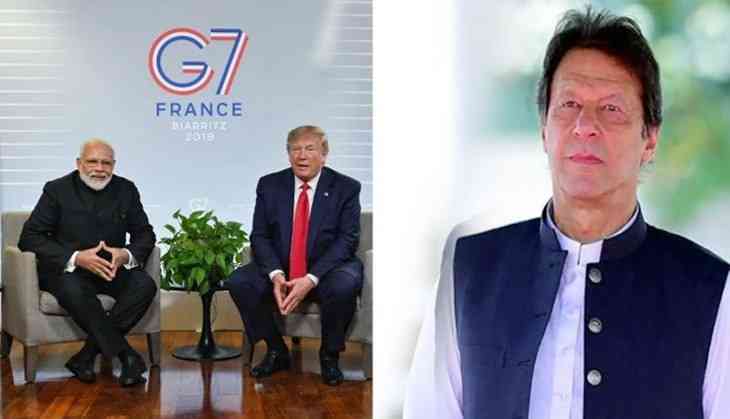 PM Modi met US President Donald Trump in G7 Summit and the meeting resulted in Trump admitting that Kashmir is a 'bilateral' issue between India and Pakistan. Even before a bilateral meeting between PM Modi and Donald Trump, the two leaders discussed the issue of Kashmir over the leadership dinner in France on Sunday.
Meanwhile, after the meeting of Trump and PM Modi, Pakistan PM Imran Khan addressed his country on the Kashmir issue and said that he will raise the issue at every international forum including UN General Assembly.
After meeting with PM Modi, US President Donald Trump at G7 summit told the media, "We spoke last night about Kashmir, Prime Minister [Modi] really feels he has it under control. They speak with Pakistan and I'm sure that they will be able to do something that will be very good."
PM Modi also while addressing media told that he doesn't want any third country to intervene in their matter. He said, "There are many issues with Pakistan are bilateral, We don't bother other countries about these issues. We can find solutions through discussions."
"India and Pakistan were together before 1947 and I'm confident that we can discuss our problems and solve them together," said PM Modi.
Just after one hour of Modi and Trump meeting, Pakistan PM Imran Khan in frustration issued a nuclear threat to India. "If there is a war, then the world should remember that both India and Pakistan are nuclear powers. And in case of war, no one will win, but the world will be responsible as the effects of war will be felt by everyone." said Imran Khan.
Also Read - Major industrialised nations close to agreement on tackling Amazon forest fires: Emmanuel Macron