Guess what's making Pakistani security officials squirm? Fake twitter handles
Catch Team
| Updated on: 30 November 2016, 11:51 IST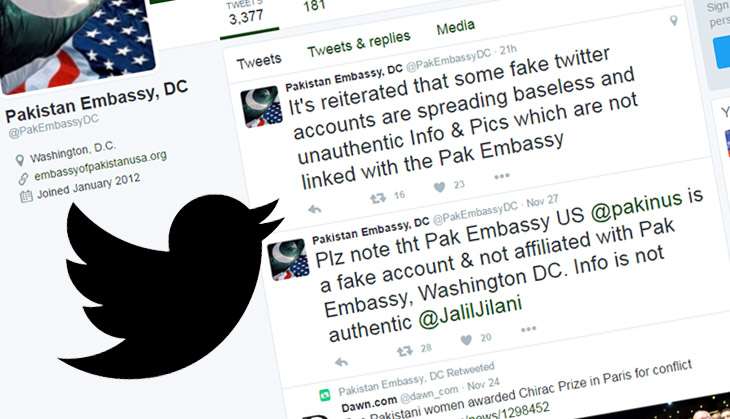 Pakinus fake twitter handles (Malik/Catch News)
Pakistan's security establishment is faced with an unlikely challenge - fake twitter accounts.
These fake handles have been tweeting stuff that has left the establishment red-faced. The handle claiming to be of the country's ambassador to the US, @PakinUSA, has even forced the real account, @PakEmbassyDC, to issue a clarification.
"Plz note tht Pak Embassy US @pakinus is a fake account & not affiliated with Pak Embassy, Washington DC. Info is not authentic @JalilJilani," the @PakEmbassyDC handle tweeted.
@PakinUSA seems to be working in tandem with another fake account @aziz_sartajpk, which claims to be that of Sartaj Aziz, the foreign affairs advisor to Prime Minister Nawaz Sharif. Apart from sending out their own tweets, both handles regularly post stuff put out by two other such handles - @_dgisi, which specialises in tweeting bizarre conspiracy theories about India, and @NSAJanjua_PK, which claims to be the voice of Pakistan's National Security Advisor Nasir Janjua.
One of the conspiracy theories describes Sharbat Gula - the refugee whose picture, taken by the celebrated photographer Steve McCurry, is one of the iconic image depicting the suffering of Afghans - as an agent of RAW and NDS, the Indian and Afghan intelligence agencies, respectively.
The people running the fake handles are clever, making connections that would make a conspiracy theory sound true, at least for beginners.
After the recent attack in Ohio, it tweeted that Pakistan's embassy in Washington had been searched by Ohio state police. @AzizSartajPK meanwhile, was aghast that the FBI was investigating whether Abdul Razak Ali, the Ohio attacker, had links with the Pakistani intelligence agency ISI.
The American authorities have identified Ali as a Somali and said they are investigating his alleged links with al-Qaeda. Ali reportedly spent some in Pakistan.
On Monday, @PakinUSA tweeted a picture of an anti-Trump protest with this caption: "Took part in Muslim protests against Donald Trump in New York yesterday. Muslims from different parts of America participated." The caption of another picture showing the ambassador Jalil Jilani with a black woman said the American black community supported Pakistan's stand on Kashmir.
On 27 November, the "ambassador" was looking for cooks specialising in khichdi and kheer.