Economic attack: Turkey to protest against American electronic products; may get Samsung to boycott Apple's iPhone, says President Erdoğan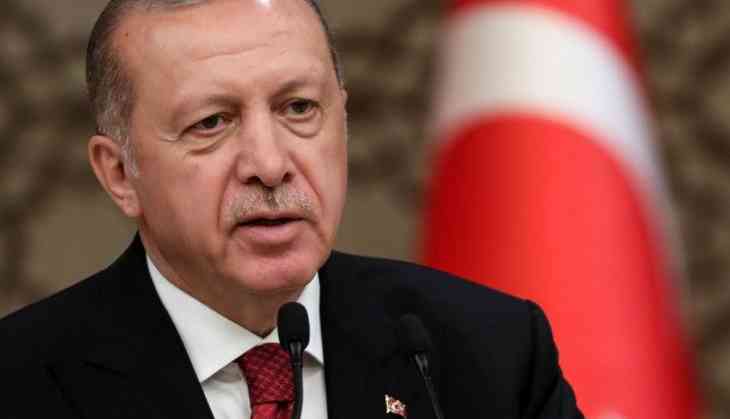 Erdogan said Turkey was facing an 'economic attack' and a 'bigger, deeper operation' but showed no sign of making concessions to the United States.
On Tuesday, President of Turkey Recep Tayyip Erdogan said that they will have to boycott US electronic goods in retaliation for punitive sanctions by Washington against Ankara over the detention of an American pastor.
"We will boycott US electronic goods," Erdogan said in a televised speech, raising the stakes in a spat that has seen the Turkish lira plunge to record lows. "If (the United States) have the iPhone, there's Samsung on the other side," he said, referring to US giant Apple's iconic phone and the top South Korean brand.
Also Read: Watch Video: Apple iPhone 6 burst into flames in moving car
"Turkey has one of the most solid banking systems in the world in all respects," Erdoğan said during a symposium in Ankara to mark the 16th anniversary of the ruling Justice and Development Party's (AKP) foundation.
President Erdogan has been seen photographed with Apple products which includes iPhone and iPad.
He also made his now famous speech on the night of the July 2016 failed coup calling citizens out into the street through Facetime, which is an iPhone app.
The lira's plunge -- which had been ongoing for weeks -- was turned into a rout on Friday when US President Donald Trump tweeted that Washington was doubling aluminium and steel tariffs for Turkey.
Turkish Airlines also announced on social media Twitter that it would join a campaign circulating on social media with a hashtag #ABDyeReklamVerme (don't give ads to America).
Also Read: Terrifying! Video shows plane makes an emergency landing on busy street of California
"We, as the Turkish Airlines, stand by our state and our people. Necessary instructions on the issue have been issued to our agencies," Yahya Ustun, spokesman for the country's flag-carrier, wrote on Twitter.
''Turkey was facing an "economic attack" and a "bigger, deeper operation" but showed no sign of making concessions to the United States'', says Erdogan.
"They don't hesitate to use the economy as a weapon," he said. "What do you want to do? What do you want to achieve," he added, referring to the US. Erdogan admitted the Turkish economy had problems -- including a widening current account deficit and inflation of almost 16 per cent but added: "Thanks to God, our economy is functioning like clockwork."
"We can do two things; one in an economy, the other in politics. We have taken measures that the economy needs and we will keep doing it ... What is more important, I think, is keeping our political stance strong," he added.
Read More On Catch: Alert! Terror group Al-Qaeda 'ideologically inclined' to carry out attacks in India, says United Nations report