China-Bangladesh bonhomie: India needs to restrategise as the Dragon woos this neighbour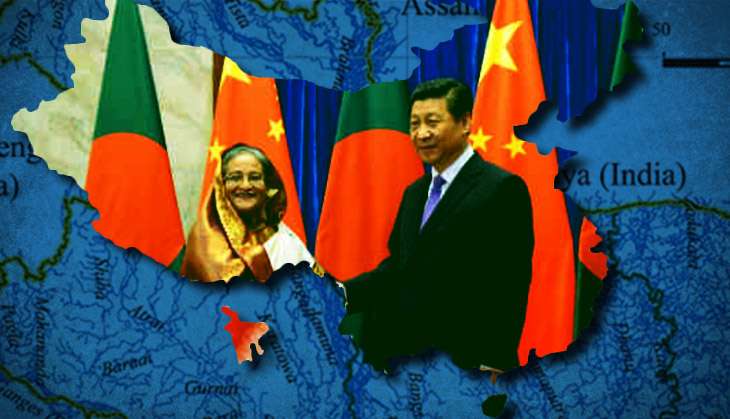 Chinese President Xi Jinping is on a historic two-day visit to Bangladesh after his visit to Cambodia and before he lands in Goa for the BRICS Summit. Xi will be the first Chinese head of state to set foot in Dhaka after 30 years.
The growing Bangladesh-China bonhomie is being keenly watched over and Indian media commentary has provoked the Chinese media to taunt India asking Bangladesh's neighbour not to be "jealous", about the closeness between the two countries.
The Chinese media has also gratuitously remarked that India has nothing to fear from a closer relationship between the two countries.
Expectations from the visit have been hyped up in both countries with the obedient Chinese media issuing a verdict that the visit will raise international ties to new heights, as large Chinese investments and loans for building infrastructure are likely to figure in bilateral agreements. The visit has indeed produced 27 agreements and the leaders have inaugurated six projects.
As expected, in the joint statement Bangladesh-China have also agreed to jointly advance the OBOR initiative, apart from "institutional cooperation" on maritime issues and counterterrorism. China's strenuous efforts in wooing Bangladesh is driven by various strategic and economic factors. It is an essential component of China's concerted move to woo India's neighbours and drive a wedge between them.
The plan is to use China's financial and military muscle, notwithstanding the disappointment of losing its protégé, the former Nepalese PM KP Oli who made no bones about his pro-China and anti-Indian views.
Oli's successor, Prachanda was not only instrumental in ousting Oli but also decided to visit Delhi first, before visiting Beijing. This visit irritated China to such an extent that President Xi cancelled his visit to Kathmandu on rather flimsy grounds.
Picking sides
A rising China has steadily used its economic and military clout to woo India's neighbours and incorporate them in its ambitious 'One Belt, One Road' project (OBOR).
Infrastructure development by China has always played an important role in its aid to India's neighbours. In Bangladesh, China has built friendship bridges over the many rivers that crisscross the deltaic country, winning favours with the Bangladeshis.
China has had to live down its negative image in Bangladesh for having opposed the country's War of Liberation and siding with a genocidal Pakistani military junta.
In Bangladesh, China has had to slowly cultivate the image of a friendly country and Bangladesh today seems to have forgiven China for its role during the 1971 War of Liberation and sought closer ties with them to counter India.
It remains enthusiastic about the Bangladesh, China, India, Myanmar (BCIM) corridor which, if implemented, could become the eastern arm of economic corridors that ends in the Bay of Bengal. China's push to build a deep water port in Bangladesh is an integral part of this initiative.
Counter India