Brexit: how Britain voted and what it means for the country
More people in the United Kingdom turned out for the referendum called to decide whether they wanted to stay in the European Union or leave than did in the country's general election in 2015. The significance of that fact is now becoming clear as Prime Minister David Cameron's worst fears have come true - the UK wants out.
The victory margin for Brexit - as Britain's exit is commonly dubbed - is narrow at about 52% to 48%, but the will of the people is clear.
Who voted how?
There was a sharp divide among various regions on the question of leaving the EU. While Northern Ireland and Scotland have voted for 'Remain', both England and Wales have voted out.

The London region has largely voted for 'Remain'.

Among the rest of the 12 regions, the Eastern UK, East Midlands, West Midlands, North East, North West, South East, South West, Yorkshire and The Humber voted to leave.

Top 10 'Leave' voters are Boston, South Holland, Castle Point, Thurrock, Great Yarmouth, Fenland, Mansfield, Bolsover, North East Lincolnshire Ashfield.

Top 10 'Remain' voters include Gibraltar, Lambeth, Hackney, Haringey, City of London, Islington, Wandsworth, Camden, Edinburgh, East Renfrewshire.

All major university towns have voted 'Remain'.

The countryside mostly voted 'Leave'.
Scotland's result is significant
A significant aspect of the result is Scotland's preference to stay within the EU. As this runs counter to the larger will of Britain, it could give impetus to the demand for a fresh referendum on Scotland's future within the United Kingdom.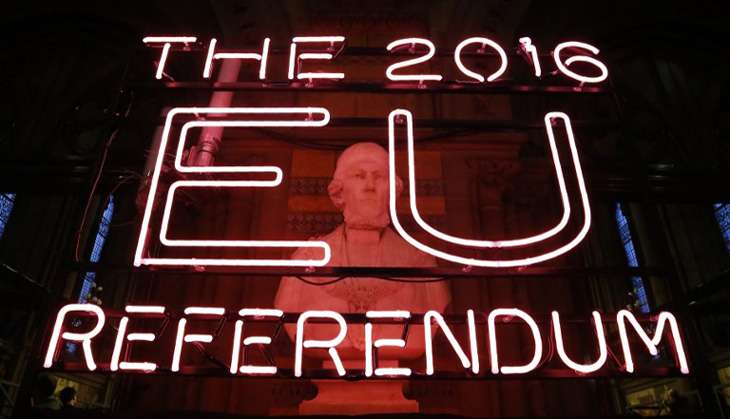 A neon sign for the 2016 referendum is attached to the doors of the announcement hall in Manchester Town Hall , northwest England on June 23, 2016. (Photo: Rob Stothard/POOL/AFP)
No way to go back
Technically, the referendum is not legally binding on the British government, but since Cameron himself had called it, it's unlikely the will of the majority won't be accepted.

Article 50 of the Lisbon Treaty requires a member state to notify the EU Council of its withdrawal. The EU then begins a two-year-long negotiation process for a withdrawal agreement. It's up to Cameron whether he wants to invoke Article 50 or not.

If Britain chooses to not invoke Article 50, it could negotiate a "half-in, half-out" deal, similar to what Norway currently enjoys.
Will Cameron resign?
In the run-up to the referendum, Cameron had indicated that he would stay in office even if the UK voted against EU membership.

Addressing the nation after the result, he said he won't step down immediately to ensure stability, political and economic. He, however, indicated that a new leader could be chosen at his Conservative Party's convention in October.

If that happens, Britain would be spared a mid-term election.