Beyond the hype: India's trade with Africa is a throwback to the Raj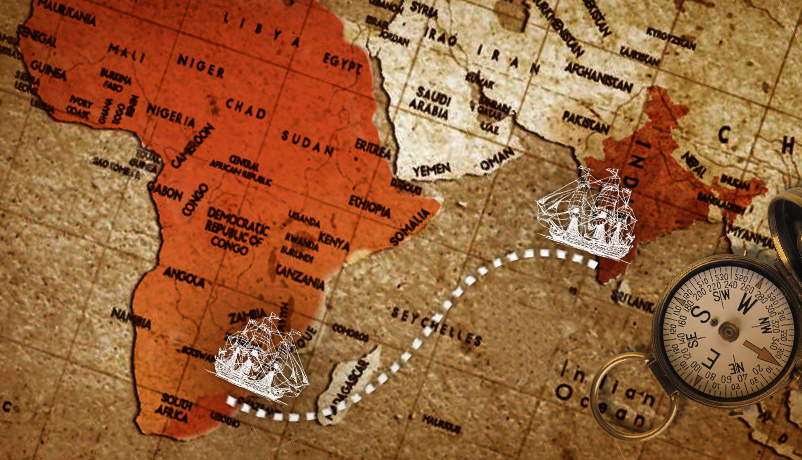 The hype
India-Africa summit is meant to strengthen trade ties
India is trying to match China\'s engagement in the continent
China is accused of exploiting Africa\'s natural resources
Reality check
India isn\'t really doing any better than China
It exports 67% consumer goods, 2% raw materials
Imports are mostly raw materials - salt, ores, oil, metals
The British Raj was notorious for taking raw materials such as cotton on the cheap and exporting back finished goods such as textiles. The practice nearly destroyed many industries in India.
This bit of history forms an unlikely backdrop to the ongoing India-Africa Forum Summit, its third and biggest edition. The summit website declares: "From our struggle against colonialism and apartheid, we have emerged to jointly accept the challenges of a globalising world."
But with the globalising world has come a peculiar trade pattern between India and Africa that is reminiscent of the Raj. While India's imports consist mostly of raw materials, its exports to the continent are largely consumer goods. This despite rising Indian investment in Africa's infrastructure and communications sectors.
World Bank data for 2014 shows that of the total imports from Sub-Saharan Africa, 84% were raw materials, while just 2% were consumer goods. India's exports to the continent mirror this trend - 67% consumer goods and barely 2% raw materials. The rest is made up by intermediate and capital goods, which are manufactured goods used in the production of finished goods.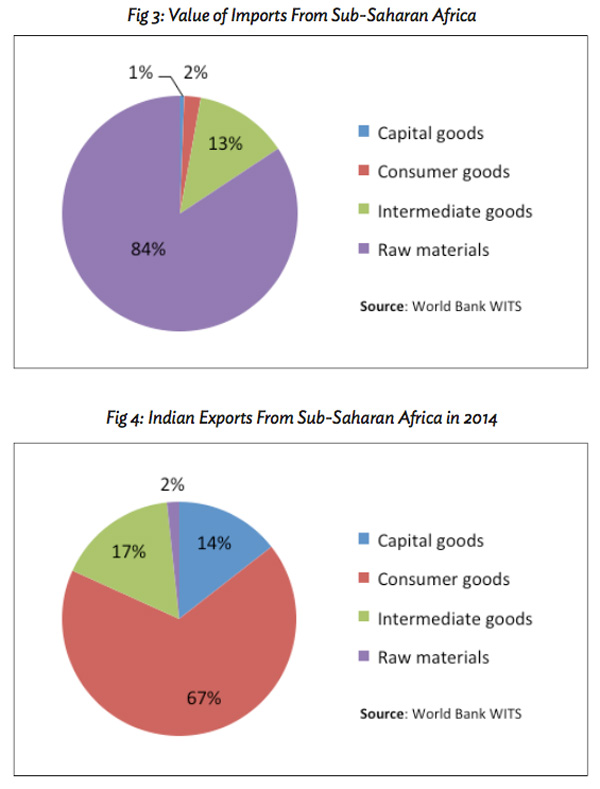 The trend of India's lopsided trade with Sub-Saharan Africa applies to the rest of the continent as well. The top five imports from Africa in terms of quantity in 2013-14 were salt, lime, cement, ores, rare earth metals and mineral oils, according to the commerce and industry ministry. The major exports, on the other hand, included processed items like sugar, medical and surgical equipment, plastics and steel products.
"This pattern runs contrary to Africa's long-stated objective to transition regional economies away from natural resource dependence and toward higher-productivity manufacturing," a Brookings India report on the issues facing the India-Africa Summit pointed out in September.
The impact of this trade pattern can be severe on the economies exporting raw materials. Such countries miss out on the prospect of creating more and better-paying jobs in manufacturing. The extraction of ores and crude oil can also have devastating environmental impacts, especially on local, largely poor people. Losing natural wealth can also impoverish large populations.
If this trend continues, the region eventually specialises in exporting raw materials. As was the case in pre-Independence India, this greatly hampers industrial development and makes the country dependent on imports of finished goods. Impoverishment follows.
Africa's experience with Europe tell us to be cautious when trading with other nations: Jacob Zuma
Feeding the dragon
The Brookings report mentions how the continent follows a similar trade pattern with China, which is increasingly a major concern for African nations. Indeed, this was highlighted at the 2012 China-Africa Forum - which is similar to the ongoing summit in New Delhi - by South African president Jacob Zuma, who insisted that such a pattern of trade was "unsustainable".
"This trade pattern is unsustainable in the long term. Africa's past economic experience with Europe dictates a need to be cautious when entering into partnerships with other economies," Zuma had said.
The concern is yet to come up at the India-Africa summit. When it does, one of the contentious issues could be a policy started by India in 2008 called the duty free tariff preference, or DFTP, scheme. It provides relief on import duty to a set of items imported from the least developed countries, or LDCs.
China has a similar trade pattern with Africa as India - import raw materials, export finished goods
DFTP is supposedly meant to help these countries achieve economic growth through exports as the import duty relief makes them cheaper. Critics, however, say the scheme is designed in such a way that it favours the import of raw materials over processed or manufactured items.
At the Africa business conclave organised in 2014 by the Confederation of Indian Industry, it was pointed out that raw cashews imported from African LDCs get duty free access, but processed cashew nuts do not get this benefit.
"This is a serious problem because what it means is that you should not be doing any processing," Vinaye Ancharaz, senior development economist at the Geneva-based International Centre for Trade and Sustainable Development, told the conclave.
"If the intent is to help LDCs, it should be very clear with no strings attached."
More in our #IndiaAfrica summit coverage:
India can learn from Rwanda! Seriously?
Cut the noise. Here's what Ethiopia says about #IndiaAfrica
#IndiaAfricaSummit could be a game changer. Here's why
#IndiaAfrica: What Africa Expects Out of India
#IndiaAfricaSummit: Don't just stand, go in and deliver
#IndiaAfrica: India can learn from genocide-torn Rwanda's amazing progress
#IndiaAfrica is fine. But is our aid in solidarity or an instrument of control