Ashraf Ghani & Modi talk terror, Pakistan, Chabahar, defence pacts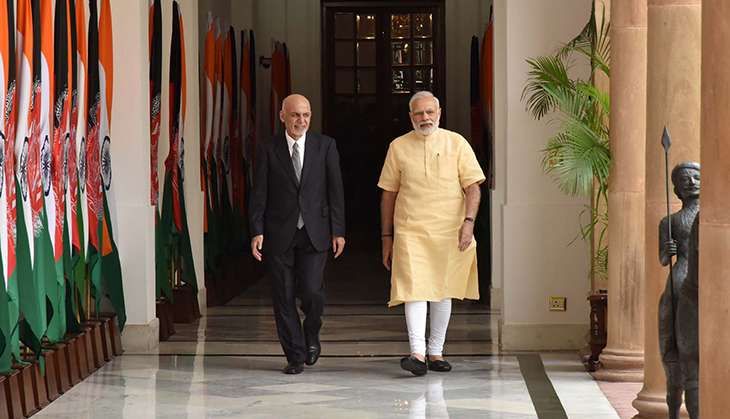 India and Afghanistan "expressed grave concern at the continued use of terrorism and violence in the region for achieving political objectives", and "reaffirmed their resolve to counter terrorism and strengthen security and defence cooperation as envisaged in the India-Afghanistan Strategic Partnership Agreement".
This joint statement, issued after the visiting Afghan President Ashraf Ghani met Prime Minister Narendra Modi Wednesday, comes at a time when India is trying to corner Pakistan over its patronage of terrorist groups as well as human rights abuses in Balochistan.
Ghani's trip is also crucial as both India and Afghanistan have lately had a rethink on their Pakistan policies. Both countries, afflicted by cross-border terrorism, have come out strongly against their belligerent neighbour.
Also Read: PM Modi signs historic India-Iran-Afghanistan land transit trade pact
Also, India is no longer shy about expanding its role in Afghanistan. After a successful trilateral engagement with Iran and Afghanistan on the Chabahar project, India, Afghanistan and the US will meet for another trilateral in New York on the sidelines of the UNGA.
In the joint statement issued Wednesday, Ghani and Modi, without naming Pakistan, agreed that the use of terrorism and violence to further political objectives "presented the single biggest threat to peace, stability and progress in the region and beyond". And "that elimination of all forms of terrorism, without any discrimination, is essential". They called upon "the concerned to put an end to all sponsorship, support, safe havens and sanctuaries to terrorists, including for those who target Afghanistan and India".
Foreign Secretary S Jaishankar later said while no specific terror outfit was discussed, the two leaders spoke about the threat that Afghanistan faces "towards its east", a clear reference to Pakistan. They had wide ranging discussions on the changing face of terrorism, Jaishankar added.
Ghani, who is on a two-day visit to India, did not pull any punches when he spoke at the IDSA later in the evening. "Pakistan is a revisionist state, every defeat is celebrated as victory; every intelligence failure is confirmation of a conspiracy theory," he was quoted as saying by the ANI. When asked if he supported the creation of an independent Balochistan, Ghani stressed that Afghanistan does not allow its territory to be used for "destabilisation", a veiled response to Pakistan's allegations that Indian agencies were using Afghanistan to foment trouble in Balochistan.
Ghani has reportedly come to India with a wishlist, which includes seeking Indian support to enhance defence capabilities. Earlier this month, the Afghan Army Chief was in Delhi seeking helicopters and other military equipment. Jaishankar, while not elaborating on the specifics of the discussion between the two leaders, advised to "join the dots" and mentioned how the joint statement speaks of India's readiness to consider further requirements of Afghanistan for capacity and capability building and specifically mentions the agreement to strengthen defence and security cooperation.
Also Read: Iran's Chabahar port: India needs to side-step a few Pak-China landmines
India has offered an additional $1 billion in aid to Afghanistan and agreed to extend cooperation in the fields of solar energy and water management with a focus on small dams, and providing affordable medicines. India has already completed three major developmental projects in Afghanistan - construction of the Salma Dam and the new parliament, and reconstruction of the Storay Palace.
The two countries, beside signing three new agreements - on mutual legal assistance and on peaceful use of outer space as well as an extradition treaty - also agreed on liberalise their respective visa regimes, keeping in view the fact that many Afghans travel to India for medical treatment.
Jaishankar mentioned how the transit of good continues to be a major issue, and how despite a food shortage in Afghanistan, India's offer of sending 1.7 lakh tonnes of wheat could not materialise due to "obstructions" created by Pakistan. "The method of supply and the obstructions to it are blocking our supply, despite food shortages in Afghanistan," he said, adding that a request to Pakistan to allow the transport of wheat to Afghanistan is still awaiting response.
Afghanistan is facing the same problem with Islamabad. Ghani, speaking at the IDSA, mentioned how Pakistan was blocking India and Afghanistan from trading with each other and how "this monopoly will end with Chabahar" port. "Afghanistan is at crossroads, it's no longer a landlocked country," he added, "those who block us will be blocked."
Ghani, who started his term with a reconciliatory approach towards Pakistan, hoping it would deliver on its promise to tackle terrorism, has lately appeared frustrated with the neighbouring country.
It was evident when, after the ghastly terror strike on the American University in Kabul, Ghani called up Pakistan Army Chief Gen Raheel Shareef and told him the attack was planned in Pakistan. His National Security Advisor Hanif Atmar, who once pushed for an intelligence sharing pact between the ISI and its Afghan counterpart NDS - it was vehemently opposed by a large section of the Afghan establishment, forcing the Ghani government to abandon the idea - recently attacked Pakistan for not keeping its promise to get the Taliban to the negotiating table and usher in peace in Afghanistan.
Atmar went so far as to accuse Pakistan of lying to Afghanistan: "We asked them very clearly: why are you lying? This (peace process) would not be in your favor. Terrorism will backfire against you, and it already has."
Also Read: Indo-Pak peace roadmap: don't let security establishments dictate foreign policy