Shocking: Iconic Glasgow School of Art building engulfed by destructive fire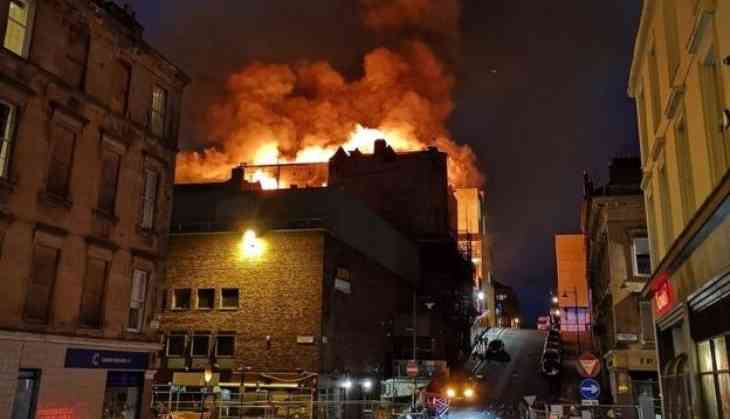 The world-famous Glasgow School of Art is on fire and more than 120 firefighters are trying to combat the rising inferno. When the Mackintosh building was trying to recover the burns of blaze four-year-back, yet another fire broke out.
The building caught fire on Friday midnight and spread quickly to adjacent buildings like the Campus nightclub and O2 ABC music venue. All the properties have suffered extensive damage but immediately there is no casualty recorded.
June 16, 2018
1845 established Mackintosh building was badly damaged by a fire in May 2014 and was under restoration and was due to reopen in 2019, when a fire broke out.
Once again, we are indebted to the bravery of our firefighters and other emergency services. This is clearly an extremely serious situation. My first thoughts tonight are for the safety of people - but my heart also breaks for Glasgow's beloved @GSofA https://t.co/G0adVwlF20

— Nicola Sturgeon (@NicolaSturgeon) June 16, 2018
In 2014 May, when the first fire broke 90% of the building and 70% of its contents was saved. But, now it is hard to tell how much destruction has happened. Yesterday night flame ripped through the roof of the school as the crowd gathered around.
The Glasgow School of Art fire seems to be spreading to the roof of the nearby Campus and O2 ABC venues. @pa pic.twitter.com/SupRYt9Ta0

— Douglas Barrie (@DouglasBarrie) June 16, 2018
Deputy chief officer of SFRS Iain Bushell said, "This is an extremely challenging and complex incident, but the response and professionalism of our firefighters have been exceptional. This will be a prolonged incident and crews will remain on the scene as they work to prevent further fire spread and damage."
This school is one of the rare masterpieces of Charles Rennie Mackintosh. It boasts of nouveau design. A multimillion-pound restoration project was underway to get back the building to its original shape.
But once again fire broke here as the property was celebrating its 150th anniversary of the architect's birth.
Also Read:FIFA World Cup 2018: Ronaldo accepts 2 years in prison in tax case