Just 6% Muslim faculty, but Pondicherry University faces 'Islamisation' charge
The charge
HRD Ministry wants a probe on Islamisation of Pondicherry University
It received a complaint from a vague organisation
Only 6% of the varsity\'s faculty is Muslim
More in the story
Findings of a varsity committee
The memory of Rohith Vemula is still fresh. And here comes what can potentially be the next controversy for the Union Human Resource Development ministry. And once again, it is related to a letter Smriti Irani's ministry wrote to a university.
Last September, the ministry wrote to Pondicherry University (PU) seeking a probe into the varsity's alleged 'Islamisation'. This was recently reported by web portal Newslaundry.
Also read - What killed Hyderabad university Dalit scholar Rohith Vemula?
Documents verified by PU authorities show the ministry sent the letter after a complaint filed by Patriots Forum, a Delhi-based organisation.
But what is the basis of the allegation? DC Nath, president of Patriots Forum, said he simply forwarded a "research paper", according to which there has been a bias in the selection of students as well as faculty: "a good number of Muslims from Kashmir indicating a clear suspicion that some among them were terrorists."
The paper was prepared by Bangalore-based IndiaFacts, which defines itself as "a counter to mainstream media narrative about India."
Take a look at some of the charges levelled in the paper:
* PU was systematically Islamised under the vice-chancellorship of JAK Tareen (tenure: 16 March, 2007-1 February, 2013)
* This was corroborated by staff members, students, and ex-students of PU
* An unprecedented number of Muslim faculty members were recruited during 2009-12.
* There were Muslim applicants for almost all departments
* Tareen overruled any objection regarding this
#Islamization of the Pondicherry University http://t.co/TDeA7oc7Ma ...

- IndiaFacts (@IndiaFactsOrg) May 27, 2015
No India Facts representative was available for comment.
To this, Patriots Forum, added that Tareen was trying to build a mosque and to introduce halal meat.
What was the basis of such an assessment?
On behalf of the HRD Ministry, spokesperson Ghanshyam Goel said the "ministry was looking into the matter and would respond soon," but refused to comment on the basis of seeking a probe and the validity of the complaint.
The fact is a committee formed by PU to look into the matter found "there are only 22 faculty members of the Muslim community" - that's a mere 5.9% of the total teaching staff. The committee felt that didn't reflect any alarming trend of Islamisation.
According to the 2001 Census, Muslims formed about 6% of Puducherry's population.
Calling the 'Islamisation' allegation baseless, Venkata Raghotham - a professor of History at PU and the head of the committee, said there was no such increase in Muslim or Kashmiri candidates or faculty.
"It is clear to me that the complaint . that started this whole episode had some vested interests. It is even possible that someone from within the ministry was not happy with the administration and issued a complaint through a forum," he said.
S I Humayun, an assistant professor with the Centre for South Asian Studies voiced similar concerns: "There has been no 'alarming' increase in the number of Muslim students. We have been hearing these allegations for some time now."
Surprised that the Centre even acknowledged such a complaint, he pointed out how earlier a government circular sought support for Kashmiri students by asking universities to ensure at least 2% students were from the state.
"In the Hyderabad episode (which led to the death of Dalit scholar Rohit Vemula), there was a case of it being a VIP reference, as it was forwarded by Labour and Employment Minister Bandaru Dattatreya. This time the source is a vague organisation that calls itself 'Patriots Forum,' which makes the entire matter more alarming. Why should the ministry even acknowledge a complaint from such a forum?" said Manisha Sethi, assistant professor at Jamia Millia Islamia.
Calling the incident unfortunate and ridiculous, Shaswati Mazumdar, the president of Democratic Teachers' Front, said: "The government seems to have stuck between a rock and hard place with univerity protests and issues they simply are not able to resolve."
"People in the ministry should know they are not working for a political party and must use discretion in such matters," said Nandita Narain, president of Delhi University Teachers' Association.
The Pondicherry University Student Movement, which had previously staged an allegation that led to the ouster of former vice chancellor Chandra Krishnamurthy for academic misdemeanour, condemned the issue. "It is really shameful to know such a thing happened. We will organise a demonstration soon to condemn this accusation of MHRD," it said in a statement.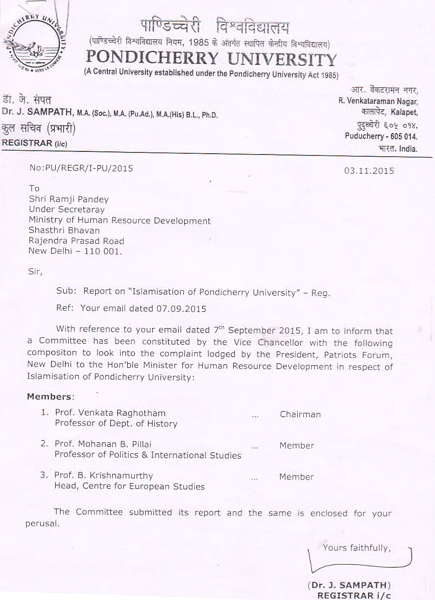 Both IndiaFacts and Parents Forum have brought down their links to the website that give details of their complaint to the HRD ministry.
More in Catch - The ghost of Rohith Vemula won't leave the BJP any time soon
From Aurangzeb to Kalam: where does this road take us?