Will the 'Google Map toilet finder' help towards a Swachh Bharat?
Catch Team
| Updated on: 11 February 2017, 6:41 IST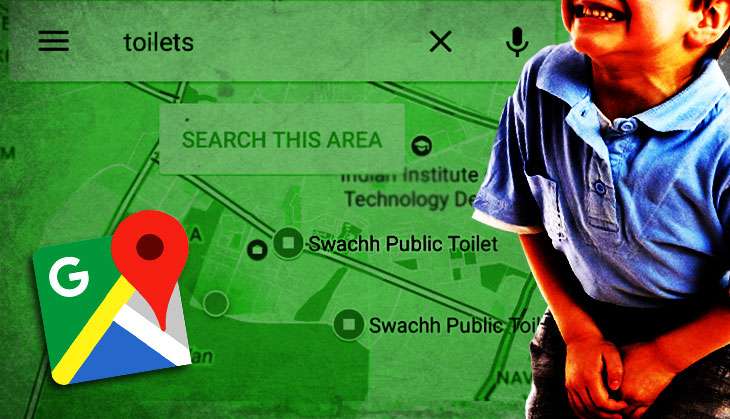 Ever been stuck in the middle of some place outdoors stressed at how long you'll have to hold before you reach a toilet?
Google has a rescue plan for such situations that was launched yesterday by Union Minister M Venkaiah Naidu.
Whip out your smart phone, open Google Maps and type "toilet". Voila! Little red dots mark all the toilet options surrounding you. Click on the one nearest to you and you have just the information you need: Exact location, timings, phone number, a picture and a review, which will reflect once people start actually using the toilets.
The facility is no doubt useful, especially in a country that has made cleanliness its national agenda. It is especially useful for women travellers who don't enjoy the cultural luxury of relieving themselves on roadsides.
Building a finder unlike others
The need to have a digital toilet finder was detected last year. In fact, the government's own Swachh Bharat toilet finder is a good app that shows you more public toilets with additional information such as whether it is paid or free, western or Indian, disabled-friendly and whether it contains the facility to dispose sanitary napkins. The app also helps you filter your requirements to enable a more accurate search result. But the app has seen very few users. After all when our phones are already loaded with apps, who wants to waste phone memory to download a toilet finder app unless you are very pregnant or diabetic.
The Google toilet finder is not a separate app. It is merely a facility within the existing Google Maps that now enables you to search for toilets, as you would for ATMs, petrol pumps and hospitals. There lies the first and foremost reason why this will be used more than all the others.
So far, data on the geographic location of two lakh toilets has been gathered and it will look to integrate data on all public toilets - even those in private buildings - with Google Maps. When launched, the app will have additional features such as cleanliness ratings, whether the toilet is of western or Indian style, or if it is free or paid. For now, the Google toilet locator will have details on just the location of all toilets in the National Capital Region (Delhi, Gurgaon, Faridabad, Ghaziabad and Noida) and Madhya Pradesh, to be followed by other states soon.
Will this help?
Data says only a third of all mobile phone users in India have a smart phone. That's only 30 million Indians. But with this government's push towards digitisation, that amount is expected to grow rapidly. While the Google toilet finder might seem to impact an insignificant population, that is set to change.
Speaking about the progress of the Swachh Bharat Mission in urban areas since its launch in October 2014, Naidu said the mission picked up momentum in 2016 with 502 cities and towns including the New Delhi Municipal Council declaring themselves 'Open Defecation Free'. Another 237 cities and towns are set to become ODF by March next year.
Against the target of constructing 66 lakh individual household toilets, 27,81,883 such toilets have already been built and construction of another 21,43,222 is in progress. While over five lakh community and public toilet seats are to be built, 1.07 lakh seats have already been built so far and another 1.30 lakh toilet seats are under construction.
The toilet finder might be making a sliver of a dent in India's sanitation problem, considering it will be ultimately used by the urban English speaking elite. But putting the spotlight on public toilets and seeking direct user reviews could result in a push to radically improving their condition.
The fact remains that until literacy and digitisation translate into ground realities, the Google toilet finder will be just another well designed tool made in a climate that's not yet ripe for the next sanitation revolution.