Why the Jagtar Johal arrest is continuing to hog international limelight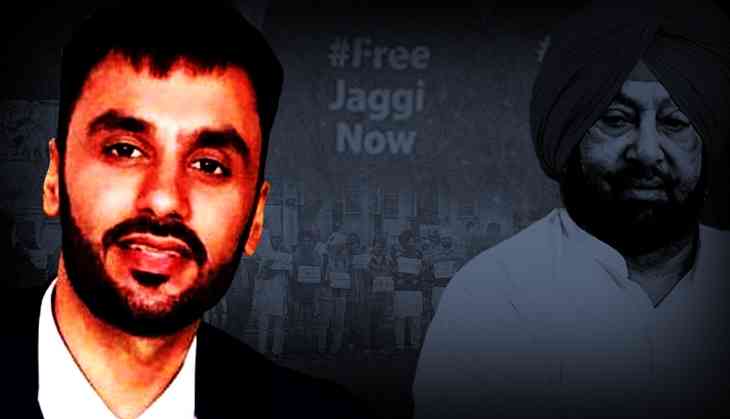 The arrest of 30-year-old Jagtar Singh Johal, a British national of Punjabi ethnicity, in the cases pertaining to killings of persons affiliated to various religious outfits in Punjab is all set to snowball into a major international issue.
Johal's arrest has drawn concern from the political leadership in both the United Kingdom as well as Canada. It is also being widely discussed across the Punjabi diaspora present in substantial numbers in the US, New Zealand and Australia.
On 7 November, Punjab Police claimed that it had solved several cases of targeted killings with the arrest of four persons. One more accused was arrested some days later.
The reasons behind these killings, according to Punjab Chief Minister Captain Amarinder Singh, is to fan communal disturbances and destabilise Punjab. The masterminds, he alleges, is the Pakistani agency ISI with a few other partners from around the world.
The police claim that the four accused were involved in killings that included RSS state vice president Brigadier (Retired) Jagdish Gagneja, RSS leader Ravinder Gosain and other persons affiliated to various religious organisations who were killed in Ludhiana and Jalandhar since January 2016.
The conspirators arrested include a gangster named Dharmendra alias Guggni, who was lodged in Nabha jail, Jimmy Singh (a Jammu resident who recently returned to India from the UK after spending many years there) and Jagtar Singh Johal alias Jaggi (a UK national who got married just a month ago and was apprehended in Jalandhar), Ramandeep Singh of Meherban in Ludhiana and Hardeep Singh of Amloh in Fatehgarh Sahib. Ramandeep and Hardeep were the shooters who allegedly carried out the seven assassinations.
Amarinder claims that the interrogation of the four conspirators showed that they had met and been trained in various places abroad and had been using encrypted mobile software and applications for communication with handlers based in Pakistan and some western countries.
He said it was evident from the investigations that the targeted killings were aimed at fanning communal disturbances to further ISI's anti-India game-plan since there were strong indications of the active involvement of Pakistani intelligence operatives based in Pakistan and foreign soil.
The police claim to have also traced the handlers of the suspects to the UK, Italy and Canada. Punjab DGP Suresh Arora said that the role of the Khalistani Liberation Force (KLF) in the conspiracy is also being investigated.
Getting a platform
Out of those nabbed, it is Johal's arrest on which a lot of noise is being raised. Former senior journalist and Aam Aadmi Party (AAP) MLA in Punjab Kanwar Sandhu first reportedly raised the issue, pointing to holes in the claims of the police. He suggested that the centre government intervene and a joint probe be conducted with the British police. He referred to the anger among the British over Johal's arrest.
This triggered a political slug fest with the Punjab power and irrigation minister attacking him and accusing him of strong personal and financial motivation for coming to the defence of an accused charged with militant and disruptive activities and more so, undermining the good work done by the Punjab Police.
The Congress accused AAP of hobnobbing with Sikh hardliners based abroad.
Thereafter, Johal's lawyer Jaspal Singh Manjhpur reportedly alleged that his client was tortured by the Punjab Police.
'Extreme action'
It was then that the story exploded. Jagmeet Singh, leader of Canada's federal New Democratic Party (NDP) reportedly raised the issue of 'reports of torture including electrocution by Indian authorities' calling them 'deeply chilling and require immediate attention'.
According to reports, two MPs belonging to Canadian Prime Minister Justin Trudeau's Liberal Party also raised the matter in a letter to India's High Commissioner in Ottawa, Vikas Swarup. The letter was sent by Raj Grewal who represents Brampton East in the House of Commons and Randeep Sarai, the MP from Surrey Centre. A similar sentiment was also reportedly expressed by the World Sikh Organisation (WSO).
The charges of torture were categorically denied by the Punjab Police that claimed that due process of law was followed at every stage with the accused allowed access to his counsel and family members as also a team from the United Kingdom High Commission.
According to a police spokesperson, "Not only did it have sufficient evidence to prove the complicity of Jagtar alias Jaggi in the cases of targeted killings, the police had also ensured that there was no violation of his rights at any stage."
According to The Tribune the British government on Tuesday said that it would take 'extreme action' if any British citizen is being tortured as the case was raised in the House of Commons.
Local MP Martin Docherty Hughes of the Scottish National Party (SNP) asked the United Kingdom Foreign Office what representations were being made to the Indian government on reports of Johal's alleged 'torture' in custody.
"We take any allegation of torture very seriously, as indeed would the Indian government," foreign office minister Rory Stewart told Docherty-Hughes.
"It is completely unconstitutional, it is offensive to the British government and we will work very closely to investigate and, of course, we will take extreme action if a British citizen is being tortured," he said.
The issue was raised in Parliament a day after British Prime Minister Theresa May was confronted by the media to comment on Johal's arrest in India.
"I am aware of the concern that has been expressed about Jagtar Singh Johal. Representatives from the Foreign Office have met with him and are pursuing the case and looking at this case and watching what is happening with concern and will take action necessary," she said.
Johal's MP, Docherty-Hughes, has been campaigning for his freedom and has also written to Downing Street seeking a meeting for his UK-based family with the Prime Minister.
Online petitions and posts have also been doing the rounds since then.
A revival?
The arrests made by Punjab Police were appreciated reportedly by the RSS leaders. Observers are pointing to the political ramifications of the issue. Veteran political analyst Jagtar Singh wrote in an article that the arrests show that Punjab's militant struggle continues.
"Yet at another level, it could be the revival of that very struggle. Political violence in Punjab is cyclical in nature. The first phase of the Sikh militant struggle can be said to have ended with the assassination of Beant Singh on August 31, 1995 in front of the Punjab civil secretariat. Successive governments repeatedly claimed that peace had been restored. Former chief minister Parkash Singh Badal had claimed maintenance of peace and communal harmony as his main achievement when asked to list two major contributions in his entire political career at a meet-the-press programme at Chandigarh Press Club," he wrote.
Radio journalist Shiv Inder Singh, who has been reporting for various networks run by Punjabi NRI's, spoke of how the arrests and their fallout are a continuation of Amarinder's tightrope walk on issues pertaining to Sikh radicals abroad, his carving a niche for himself in 'nationalist politics' and his playing up to the Hindu voters in Punjab who had shifted their support from the Shiromani Akali Dal (SAD)-Bharatiya Janata Party (BJP) combine to the Congress during the polls.
"The issue is being discussed in the Punjabi media across various countries including Canada and United States of America. Johal was bringing out a periodical in which he was questioning the Indian establishment at repeated intervals. There are people raising questions whether this also has something to do with Johal's arrest. If this is true, it is an indicator of how the Indian government keep's a hawk's eye on what is being reported about it abroad by the NRIs," he says.