Why has Uttar Pradesh become a communal tinderbox?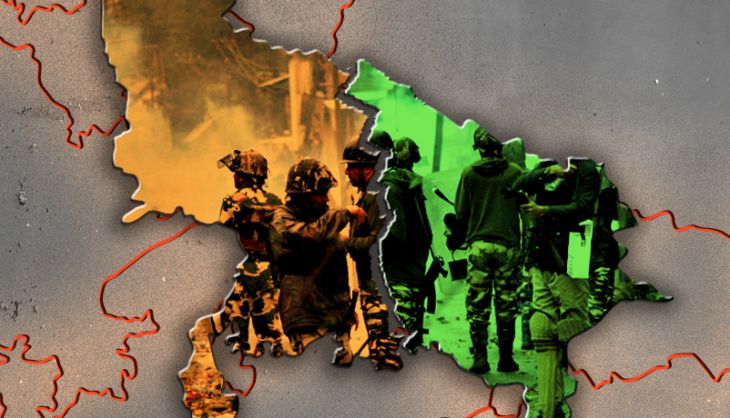 A 23-year-old man died and six others were injured in a communal clash in Aligarh district on Thursday. Such localised communal flare-ups have become endemic in Uttar Pradesh. Between 2009 and 2014, riots killed an average of 34 people every year in the state.
Be it the Ram Janmabhoomi movement, the Ghar Wapsi programme or more recently the lynching in Dadri, there is no doubt that UP has been a communal tinderbox.
Also read - Worrying numbers: India sees two communal incidents every day
The increase in communal violence in UP can be traced to the 1980s when the Congress' rainbow social coalition broke down and the BJP gained in influence riding on the Ram Janmabhoomi movement. Gradually, religious machinations got intricately interlinked political success in the state.
But there is a need to break down the "riot-prone" nature of UP. Certain important questions need to be answered: Which are the riot prone areas in UP? Why do riots occur? Where has the administration failed?
Urban areas more vulnerable
From the Calcutta killings of 1946, the Bombay riots of 1992, the 1984 riots in Delhi and the 2002 riots in Ahmedabad, communal riots have been an overwhelmingly urban phenomenon.
A number of factors make a place riot prone: history of communal incidents, demographic profile and existence of disputes.
According to the UP's state disaster management plan, the top riot prone areas are Kanpur, Varanasi, Meerut, Moradabad, Saharanpur, Firozabad and Maunath Bhanjan due to their communal history, population size and demographic profile.
The industrial city of Kanpur is the most "risky" followed by Varanasi and Meerut.
Of course, this could partly be due to the fact that incidents in villages do not get reported. But there are social factors at play as well.
Social interactions between communities are minimal in urban areas and they are mostly mediated through institutions like the mosque, temple and the neighbourhood. Often these interactions are based on stereotypes and not first hand knowledge.
In contrast, the interactions in rural areas are much more cordial and are often governed by a shared sense of belonging to the village. There is much greater economic inter-dependence between communities. Local fairs and festivals also help in better social relations.
Cities like Kanpur, Varanasi and Meerut are known to be extremely riot-prone
Urbanisation and unemployment
The urban slum population has been increasing in India. Most slums lack access to basic civic amenities. This tends to lead to frustration and aggression among slum dwellers.
Similarly, minorities often get trapped in ghettos, with poor amenities, which increases their sense of alienation.
Additionally, research that people working in the unorganised sector are often the participants as well as victims in riots.
Demographic factors
It has been observed that communal flare-ups are more common in areas where Muslims are numerically significant but are still in a minority.
"Areas in which Muslims are numerous enough to form a force to reckon with, yet not sufficient to be overwhelming are riot prone areas. Thus a region with a Muslim minority population, ranging from 20% to 40% seems more prone to disturbances," writes social activist Asghar Ali Engineer in his book Communal Riots in Post-Independence India.
Kanpur, Varanasi and Meerut fit this description as the Muslim population in the 3 cities is 20.4%, 29.8% and 34.6% respectively.
Causes: religious, personal and reactive
According to the sixth report of the National Police Commission, riots can be caused by 3 types of primary factors:
Religious - Playing music in front of mosques,claiming ownership of places of worship, throwing of animal carcass outside places of worship. Example- Bhagalpur 1989.
Personal - Alleged molestation of a girl of one community by a member of another community, disputes between landlords and tenants or employers and employees belonging to different communities. Example- Muzaffarnagar 2013.
Reactive- Reacting to events anywhere in the country or the world that hurt religious sensibilities. Example- Bombay Riots 1992, Gujarat Riots 2002.
In UP, most of the riots have been caused due to religious and reactive reasons, according to the encyclopedia of mass violence and this research paper by the Institute of Peace and Conflict Studies , who have catalogued causes of riots in UP.
Of late, communal tensions have been on the rise because of the belligerence of Hindutva forces
Administrative failures
The National Police Commission highlights patterns because of which the administration is unable to control riots.
Transfer and posting of officers - Often police officers don't get enough time at a posting and are therefore unable to take informed decisions during riot-like situations. The ineptness in a specific riot case studied by the commission was appalling. "Everyone from the Station House Officer to the magistrate were new to the city and had little local knowledge", says the report.
Inadequate Resources - Police forces are mostly outnumbered and miscreants having more fire power.
Deployment- Forces are deployed without adequate briefing or mapping of vulnerable areas and insufficient reserve forces.
Training - Forces lack knowledge of the law and aren't trained in handling riot situations."During one riot, the force ran away from the scene and locked themselves in the nearest building. In another incident the police force ran to the police station and locked themselves there" highlights the commission.
Of late, communal tensions have been driven by political changes. Hindutva groups have become increasingly belligerent and their influence is increasing across social categories. This militant form of Hinduism is likely to fuel to the communal fire in UP.
READ MORE - Bloody record: Is 'secular' SP more communal than the BJP?
Is the Modi wave over? The numbers seem to say so