West Bengal government announces Rs 100 crore flood relief package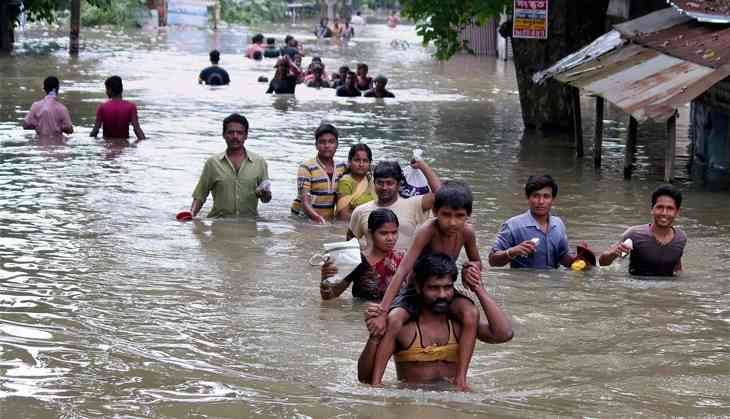 Flood affected villagers shift to safer places near Balurghat in South Dinajpur district of West Bengal on Tuesday. (PTI)
West Bengal government has decided to allocate Rs 100 crore for the flood-affected areas in North Bengal. Majority of the areas in South Dinajpur, Malda, Jalpaiguri, Coochbehar and Balurghat remain inundated by flood waters.
In a meeting held on Wednesday by state irrigation and waterways minister Rajib Banerjee the flood relief package was announced with a decision to provide more funds to areas like Maharjpur in South Dinajpur, Mekhligunj at Coochbehar, Dinhata at Coochbehar as well as parts of Balurghat.
North Bengal has been totally cut off from the rest of the state because of the floods. A majority of the North East Frontier Railway trains were also canceled. Bus services in the area remain suspended as water is yet to recede in areas. The state government has also ordered that schools should remain closed till 20 August.
The enclave dwellers in Mekhligunj, Dinhata in Coochbehar claimed that they are facing a trying time as the Kalsi bridge that connects Bangladesh with Coochbehar has been washed away (India has enclaves in Bangladeshi territories). Residents of these areas have already urged the district administration to repair the bridge.
"We have already urged the district administration to repair the Kalsi bridge. We are unable to cross the area and as a result, the trade and commerce between two countries have been affected," a resident of Changrabandha at Mekhligunj, Coochbehar, Dipen Roy, said.
According to the state government around 40,000 people have been affected by the flood and already more than 50 people have died.
The road connectivity between West Bengal and the North East was disrupted and large portions of National Highway 31 that connects Coochbehar with Toofangunj remained underwater till Wednesday afternoon.
Senior officials of the state government said that major rivers like
Torsha, Raidak, Mansai at Coochbehar and Atreyee river in South Dinajpur is flowing above the danger mark. The district administration has been instructed to monitor the situation and provide a daily report to the disaster management authority.
"We have convened a meeting with senior officials of the district administration and have instructed them to provide adequate relief to the people who lost their livelihoods due to flood. Even some BSF outpost near Coochbehar has been washed off due to flood and we have also urged the district administration to set up those outposts, once the water recedes,"Rajib Banerjee said.
According to the BJP, the state government has failed to renovate the banks of the river in North Bengal, although they had claimed that they had set up a huge infrastructure for the development of the area.
"We have urged the chief minister to repair the river banks and set up infrastructure in the flood affected areas so that residents of North Bengal can get some relief," state BJP president Dilip Ghosh said.