'We won't let Darjeeling become Kashmir': Mamata Banerjee on GJMM stir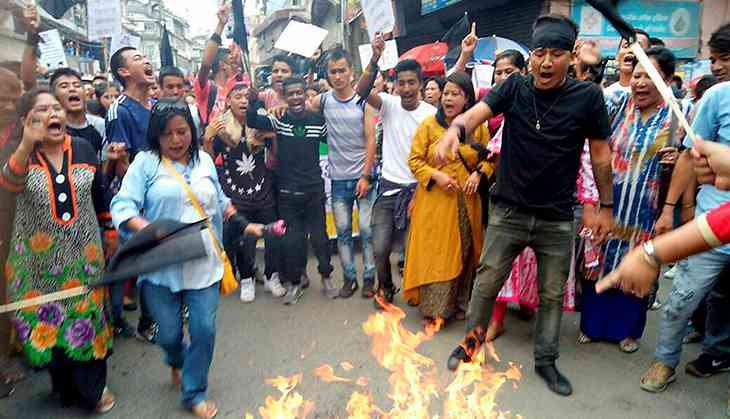 The stand-off in the Darjeeling hills continues. While Chief Minister Mamata Banerjee returned to Kolkata, the Gorkha Jan Mukti Morcha called an indefinite strike for government offices Monday onwards to press for a separate Gorkhaland state. The All India Trimool Congress (AITC) organised a rally to "protest against GJMM's atrocities" and showcase that it is gaining ground in the hills.
Sources in the state government said that Army will be deployed till Monday.
Roshan Giri, general secretary of GJMM announced,"From Monday onwards all state government offices, central government offices including banks and post offices will be shut down for an indefinite period. Banks will be opened only on Monday and Thursday. Schools, colleges, shops and hotels are all out of the strike's purview."
"It was also decided that from government offices will be opened only from 27-30 Jun. and on 13 June we will convene an all-party meeting in the hills. The GJMM has also decided to hold a torchlight rally every Monday, demanding a separate Gorkhaland," Giri added.
With the GJMM's announcement, most tourists are now trying to get back to the plains.
Saibal Nandi, who works with a Multi-National Company, returned to Kolkata on a Volvo bus provided by the state government. Narrating his experience, he said "In the morning, I went to the Mall Road in Darjeeling, I saw that all shops have opened today and normalcy is returning. But after GJMM announced its decision in the evening, I felt that it is better to leave".
According to Giri they have also decided that all sign boards at Darjeeling, Kalimpong and Kurseong will be written in Nepali and English and they won't allow signboards in any other language.
GJMM sources say that the aim of the strike is harm it in terms of revenue, which is likely to fall if government offices remain closed.
After the GJMM meeting on Friday, Giri said, " Our chief Bimal Gurung has written a letter to Union Home Minister Rajnath Singh saying that they do not want to stay in GTA due to atrocities perpetrated by the West Bengal government. We have also demanded that the Central government should intervene and look at our demands for separate state of Gorkhaland."
Meanwhile, on Saturday a team from the finance department arrived in Darjeeling and started inquiring into irregularities in the Gorkhaland Territorial Administration from 2014-2017.
A senior official of the finance department said, "Based on the report, the state administration can lodge an FIR against persons found guilty of corruption. We have been given two weeks to complete our inquiry."
Senior officials of the state government said that with the GTA term ending on June and fresh elections due within a month, the GJMM's pressure tactics has put the state government in an uncomfortable position. If government offices are closed, it will affect revenue and create problems for tourists.
On Saturday, Banerjee held a press conference before coming to Kolkata from Darjeeling, in which she stated that she would not allow any bandh in West Bengal as the High Court had deemed it illegal.
Banerjee further said that the state government will issue a notification on Monday stating that all private cars and buses, can play within Jalpiguri, Alipurduar, Kalimpong and Kurseong.
Presently apart from tourist cars and buses, no cars are allowed to ply to other districts as during CPI(M)'s rule they have issued a notification banning all private cars, buses to ply to other districts.
"We won't allow any bandh in our state . The administration will take stern action. We want peace in the hills and I will come every month to the hills to look at the development work. I love hill people. We don't want a Kashmir-like situation in Darjeeling. Many tourists from other states are coming to Darjeeling as they could not visit Jammu and Kashmir," Banerjee added.
However, Opposition parties however are of the opinion that at a time when tourists are visiting Darjeeling, the state government should immediately intervene to restore normalcy.
"If GJMM has called for an indefinite strike, it will affect tourists too and the state government should immediately convene an all party meeting to resolve the crisis," said CPI(M) leader Md Salim.
Political analysts however are of the opinion that both AITC and GJMM are creating pressure on each other. While GJMM does not want AITC to gain influence in the hills. On the other hand, AITC has been emboldened by its victory in the Mirik municipality and will try to expand its influence in the region.