We can kill or get killed for the sake of Gau Mata: BJP MLA Raja Singh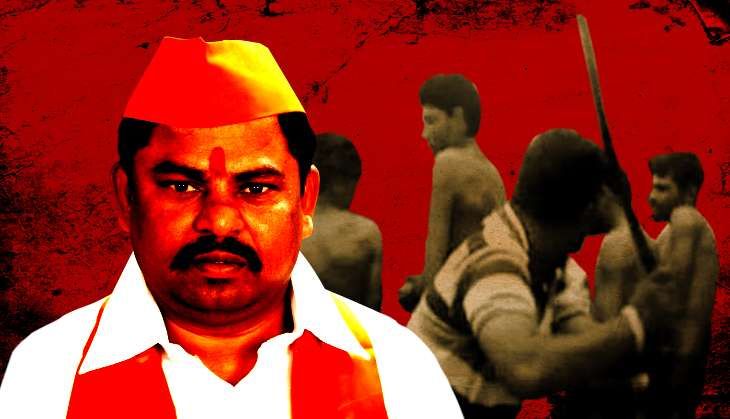 The justification

BJP MLA T Raja Singh has justified the thrashing of Dalits at Una
\'Anyone who slaughters cows will be taught a lesson in this language,\' he said
Singh says gau rakshaks won\'t hesitate in taking law into their own hands
More in the story

Raja Singh\'s glorification of violence
How he dared the BJP leadership
BJP legislator T Raja Singh released a video justifying the thrashing of Dalits in Gujarat's Una by Gau Rakshaks. He even went to the extent of calling the Dalits "galeez" (filthy).
Catch spoke to Raja Singh and asked him why he chose to make such a statement. Not only did Singh defend his remark, he even went to the extent of saying that "we Gau Rakshaks are willing to kill or be killed for the sake of Gau Mata".
He believes that the lynching of Mohammad Akhlaq in Dadri, the murder of cattle traders in Latehar and the thrashing of Dalits in Una, were all justified. Raja Singh is the BJP MLA from Goshamahal in Hyderabad.
But he has no fear of punitive action from his party. "I am a Hindu first, MLA later... For me my faith is more important than party," he said.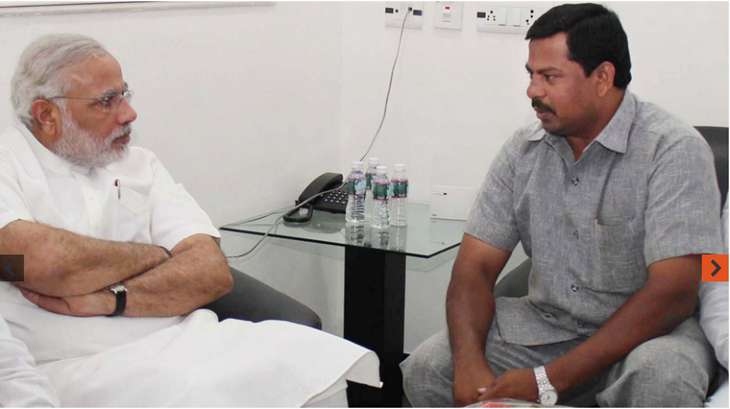 BJP MLA Raja Singh with PM Narendra Modi (Raja Singh)
Here are some excerpts from his interview:
Q. On your Facebook page, you released your video on the thrashing of Dalits in Una. Why did you do that?
After the incident at Una, only one community is being focussed on - that only Dalits are being oppressed that they are being beaten up.
After the incident, Dalits from across the country called me and said that they are feeling ashamed of being Dalits because of a few people, that they are being called cow killers. Only then did I decide to release the video. There are many Dalits who are Gau Rakshaks. And these Dalits who are involved in cow slaughter aren't even Dalits, they are converted Christians.
Q. Do you support the people who are beating up Dalits at Una?
A. I don't support them but I also support them...
Q. What does this mean? Either you support them or you don't'...
A. I don't support those who are openly beating up people. But I spoke to them, they say that they informed the police that these people are taking the carcass. Only when the police refused to do anything that they decided to take matters into their own hands.
Q. You are an MLA, a lawmaker, how can you support such an act of violence?
A. If anyone engages in cow slaughter, whether he be a Dalit a Yadav or anyone else, we will teach them a lesson in this language only.
Q. What language?
A. The language you mentioned and the one you want me to say from my mouth.
Q. Why don't you say clearly what language you are talking about... will you beat them up or kill them?
A. The police don't take any action. When the police don't do its job, we catch these people and take them to the police.
Q. You are an MLA, what law gives you the right to catch hold of people?
A. I am a Hindu first and an MLA later. I have been working for Gau Raksha since before becoming a legislator.
Q. I have read in your website that you have been a Gau Rakshak for the past 15 years. How many people have you beaten up so far?
A. I can't tell you how many people we have beaten up. But I can say that I have saved thousands of cows from slaughter. Now see how this issue is being twisted. In Telangana, Owaisi proudly says, "I eat beef and that it is very tasty. You should eat it too.". No action is taken against him.
Q. Don't change the topic. In your video you have supported the Una incident and the Dadri lynching as well. You have a picture sitting with Prime Minister Narendra Modi, whose slogan is 'Sabka Saath Sabka Vikas'. Aren't you going against this slogan?
A. My slogan is also Sabka Saath Sabka Vikas. We want to take everyone along. But if a person of any community does something wrong, if he slaughters a cow, we will bring him to justice in this manner.
Q. If someone does that, isn't it the job of the police and courts to bring them to book?
A. The police and courts don't do their jobs. That's why Gau Rakshaks have to take action.
Q. You say you are a Gau Rakshak and protect cows. What do you do besides beating people up?
A. We take cows to cow shelters. Such incidents (of beating up people) only happen occasionally.
Q. In your video you have said about the Una incident in which a case has been registered against Gau Rakshaks, that they needn't be afraid of legal punishment...
A. I support them (the Gau Rakshaks of Una).
Q. If you support Una, do you support what happened at Dadri as well?
A. I support that as well. It has been proven that there was beef in his (Mohammad Akhlaq's) fridge... When the law doesn't work, we have to take matters in our hands. If the law had worked properly, we wouldn't have to do anything. But that doesn't happen. To protect Gau Mata, we can give lives and take lives as well. (Gau mata ki raksha ke liye hamein pran dena bhi aata haiaur pran lena bhi aata hai).
Q. Aren't you afraid that the party or the administration will take action against you?
A. Dharma (faith) comes first, party later. If there is no dharma, there will be no party. We will do anything to protect Gau Mata. Secular leaders and those playing politics in the name of Dalits should support a law against cow slaughter in the Lok Sabha and Vidhan Sabha. Why don't they declare Gau Mata as Rashtra Mata?
Q. Of course your government can declare cow as Rashtra Mata... but how justified is it to beat up people?
A. There have been just one or two incidents...
Q. There were Dadri, Latehar, Una, Rajasthan to name a few...
A. The police didn't do its job, so should we shut our eyes and sit idle? If any one engages in cow slaughter, we will respond with our lathi (stick)... whoever did these acts, did the right thing. As long as cow slaughter continues, we will continue to take such action.
Q. Are you releasing this video for publicity?
A. By God's grace, people know me well across India. In Hyderabad, whenever Owaisi brothers say something and whenever an ISIS operative is caught, I am the first to make a statement.
Q. Do senior BJP leaders like Amit Shah support your statements?
A. I got a call from the BJP Telangana president who told me to stay away from such statements. I told him to take whatever action he wants. My religion comes first, party is after that.
(Catch tried to contact Telangana BJP president K Lakshman, but there was no response)
You can watch the video here.
Translated and edited by Aditya Menon