Watch: Rahul Gandhi shakes a leg at Rashtriya Adivasi Nritya Mahotsav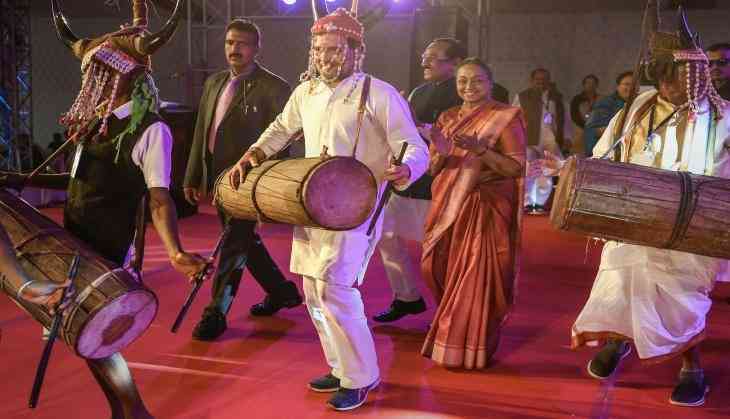 Former Congress president and Wayanad MP Rahul Gandhi on Friday inaugurated a three-day Rashtriya Adivasi Nritya Mahotsav (National Tribal Dance Festival) in Raipur of Chhattisgarh. During the inauguration of the national tribal dance festival, the Congress leader was seen performing traditional dance wi the other performers on the stage.
According to a video shared by the news agency ANI, the Wayanad MP can be seen wearing tribal headgear. He was also seen beating the drum hanging around his neck as he follows the dancers.
Watch the video:
#WATCH Chhattisgarh: Congress leader Rahul Gandhi takes part in a traditional dance at the inauguration of Rashtriya Adivasi Nritya Mahotsav in Raipur. pic.twitter.com/HpUvo4khGY

— ANI (@ANI) December 27, 2019
Earlier in the day, the Congress leader taking to Twitter shared that: I am in Chhattisgarh today to inaugurate the National Tribal Dance Festival, in Raipur. This unique festival is an important step towards showcasing & protecting our rich tribal cultural heritage.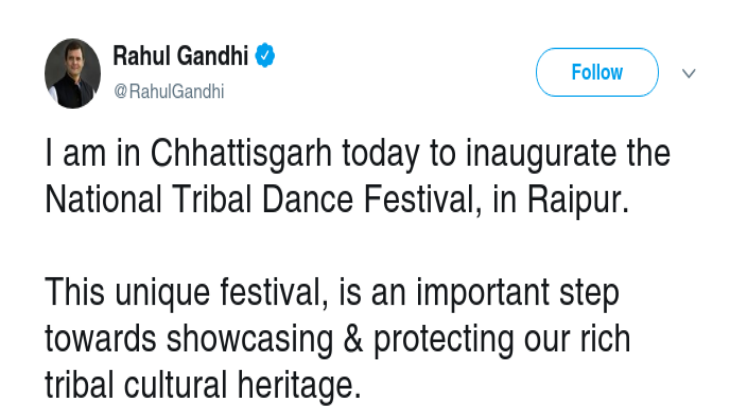 Rahul Gandhi inaugurated the dance fest that was also attended by Chhatisgarh Chief Minister Bhupesh Baghel and the top leadership of the Congress in the state.

Worth mentioning here that, the tribal dance festival is being organised in Chhattisgarh for the first time, where more than 1,300 participants from 25 states and UTs.
This apart, performers from six countries around the globe are participating in the tribal dance fest.
These folk dance troupes will perform their respective folk art cultures. As many as 29 tribal troupes will present more than 43 styles of four different dance forms.
Also Read: