Watch: Hindu Sena revel in anti-Muslim bigotry at havan for Trump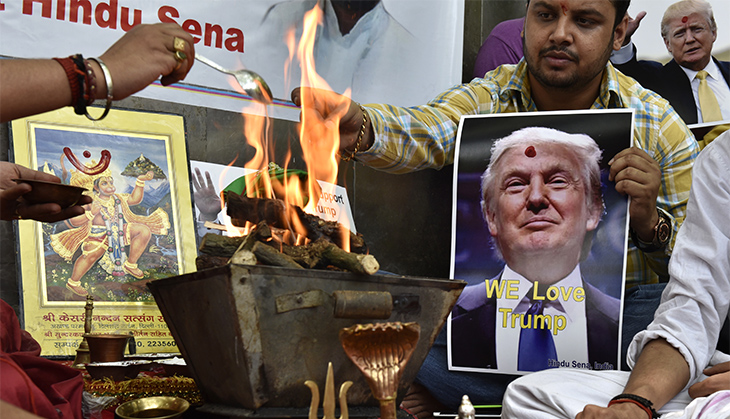 Jantar Mantar is often the venue for protests of all hues in Delhi. But last Wednesday, it hosted an event that could only be described as sickening. It was, ostensibly, a havan for the success of Donald Trump, the presumptive Republican nominee for US president, but in reality it was an occasion to revel in anti-Muslim bigotry.
It there was any doubt as to the real motivation, Sena spokesman Rahul Arya dispelled it thus: "Donald Trump is the only person who dares speak the truth that Islam is cancer for the world."
"Donald Trump is the world's only hope to counter Islamic terrorism," added Vishnu Gupta, the Sena's national president. Remember Vishnu Gupta? He is the one who had taken the Delhi police to raid Kerala House Delhi, which he had falsely alleged was serving beef in its canteen.
The Hindu Sena is, of course, a politicised outfit, being an ardent supporter of the BJP and, especially, Prime Minister Narendra Modi. But why is it literally worshipping a politician from halfway across the world?
"Modi can counter terrorism in India, but he isn't sufficient to lead the war on terrorism. The American president has worldwide reach, including in Iraq and Syria. We want Trump to finish Islamic terror at its origin," Gupta explained.
It was to see to it that Trump does become the president that the Hindu Sena organised the havan. A picture of a smiling Trump, smeared with vermillion tilak, was kept alongside idols of the deities Shiva and Hanuman, and a priest chanted prayers to Lord Hanuman, seeking his blessings to help Trump win the election, and destroy "Islamic terrorism".
But why only "Islamic terrorism"? "Who are the people joining ISIS and Jaish-e-Mohamamad?" retorted Gupta. "They aren't Hindus or Christians, they are Muslims. That's why I am talking about Islamic terrorism."
Interestingly, the priest doing the havan had no clue who Trump was. "I am not aware of him. I teach the Vedas," he said.
Unusually for programme held at Jantar Mantar, there was barely a police personnel present. But now that statements of the organisers are on record, will action be taken against them for hate speech?
Edited by Mehraj D. Lone
More in Catch:
Buddha in a diplomatic jam: Nepal-China take on India over Buddhist heritage
Tension: the Great Indian Diagnosis (and what it's got to do with Kangana Ranaut)
Jammu & Kashmir: Mehbooba proposes amnesty for militants. Will it work?
Telecom operators to benefit from SC's verdict on call drops; Digital India hurt