Was the Uri attack designed to provoke in the run up to UNGA session?
Catch Team
| Updated on: 10 February 2017, 1:46 IST
In an apparently calculated bid by Pakistan to escalate the situation in Kashmir in the run-up to UN General Assembly session, 17 soldiers were killed in a pre-dawn attack on the 12th brigade headquarters at Uri located close to the Line of Control.
Twelve soldiers injured in the attack were evacuated to the Army's 92 base hospital in Srinagar. Four terrorists who carried out the strike were also eliminated.
The attack
"The administrative base had large strength of troops of units turning over after their tour of duty who were stationed in tents/temporary shelters which caught fire and resulted in heavy casualities," read a part of the statement by the Army's Northern command.
Soon after the attack, Army rushed elite para commandos and also pressed helicopters into service to zero in on the militants hiding inside the installation. The Fidayeen are believed to have infiltrated the previous night.
Later DGMO Lt Gen Ranbir Singh also issued a statement which blamed the attack on Jaish-e-Muhammad. The statement said that "13-14 casualties" were the result of the tents and shelters "catching fire".
Also read - Uri attack aimed at creating war-like situation in J&K, says CM Mehbooba Mufti
"The tents located in the complex were to house additional troops inducted due to routine turnover of units," the statement said, adding that he also spoke to Pakistan DGMO since the "terrorists had some items with Pakistani markings".
This was confirmed by Pakistan Army spokesman Lt General Asim Saleem Bajwa who said after the Uri attack that the DGMOs of the two countries had discussed the situation along the LoC through hotline.
Radio Pakistan, citing an ISPR release, said Pakistan Army had refuted the unfounded and pre-mature Indian allegation. "Pakistani DGMO asked his (Indian) counterpart to share any actionable intelligence," Radio Pakistan reported.
Defence Minister Manohar Parrikar and Army chief General Dalbir Singh Suhag later reached Srinagar and held meetings with top army officers on the attack. Gen Singh earlier visited the site of the militant strike and interacted with the field commanders there.
This is the largest loss of security personnel in a single attack in Kashmir Valley in the 27 years of the armed conflict. The worst attack in the state in this period has taken place at an Army camp at Kaluchak in Jammu in May 2002 in which three soldiers lost their lives.
In Uri, this is the second major attack since December 2014 when six fidayeen martyred eight soldiers and three policemen during the then ongoing Assembly polls.
What could have prompted the attack?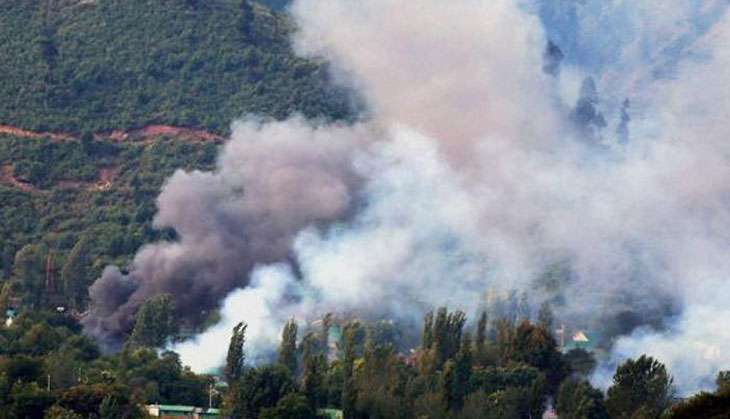 PTI
The Uri attack is more sinister as it has been executed in the heat of the ongoing runaway upsurge in Kashmir and just ahead of the UN General Assembly session where Pakistan Prime Minister Nawaz Sharif will deliver a Kashmir-centric address.
The relations between India and Pakistan have plunged to a new low following the current Kashmir unrest which has so far claimed 85 lives, blinded fully or partially several hundred youth and injured more than twelve thousand people.
Prime Minister Narendra Modi recently introduced a new factor in the souring bilateral ties by raising Pakistan's atrocities in Baluchistan and Gilgit-Baltistan, both of which are at the centre of the ambitious $46 billion China Pakistan Economic Corridor.
This, many Kashmiri observers think, has put Kashmir at the centre of the new regional great game.
"I think this attack is designed to raise the stakes further in view of the ongoing situation in Kashmir," says the political analyst and Kashmir University Professor Dr Gull Wani. "A retaliation from New Delhi would dramatically escalate the situation and turn Kashmir into a centre of global attention".
This is an opinion that is shared across the border too. "Can't rule out Delhi heating up borders threatening reprisals but that will be a double edged sword", tweeted Pakistani journalist and the writer Syed Talat Hussain. "Any attempt to expand conflict will refocus global attention on Kashmir, renewing calls for its final resolution".
Some Kashmiri observers also see the attack "as a well-laid trap for New Delhi". "Now that the world has taken little note of the killings and blindings in Kashmir over 70 days, the Uri attack is a well-thought out attempt to change the dynamics of the situation and put Kashmir on the global agenda amid the upcoming UN General Assembly session," said a local journalist who didn't want to be identified.
"If New Delhi carries out a reprisal attack, it will snugly fit into a premeditated plan and give Kashmir the visibility that Pakistan and Kashmiri groups have been seeking".
New Delhi's choices
This inbuilt danger in the situation could put Modi government in a Catch-22 situation. If it carries out an attack, it could end up internationalising Kashmir. And if it doesn't, it could alienate its support base weaned partly on promises of a muscular stance towards Islamabad.
More so, the PM has warned that "that those behind this despicable attack will not go unpunished". Earlier, minister in PMO Dr Jitendra Singh called the Uri attack a "watershed moment for India".
This was followed by a statement from BJP's J&K point man and the high-ranking leader Ram Madhav making it clear that the "days of so-called strategic restraint are over".
"For one tooth, the complete jaw," Madhav said. "Terrorism is the instrument of the weak and coward, restraint in the face of repeated terror attacks betrays inefficiency and incompetence. India should prove otherwise".
However, South Asian expert Myra Macdonald, in Twitter posts, has highlighted India's limitations in taking on Pakistan.
"India's retaliation options limited. 1) Covert action doesn't appease public anger 2) Air strikes on camps don't affect source of problem," wrote Macdonald, who is the author of Defeat is an Orphan, a book analysing how Pakistan lost the South Asian War. "India doesn't have the overwhelming conventional superiority needed for short sharp war. Will get bogged down with risk of escalation".
In another tweet, Macdonald warns about the fallout. "International alarm about any conflict between nuclear-armed countries will undermine India's investment appeal & harm economy".
Lashkar or Jaish?
DGMO Singh has charged "Jaish-e-Mohammed tanzeem" with carrying out the attack, saying the slain terrorists belonged to the outfit. "Four AK 47 rifles and four Under Barrel Grenade Launchers along with a large number of other war like stores were recovered from them," Singh said.
Though both Jaish and Lashkar have been at the forefront of the solidarity campaign with Kashmiris over the past two months with Lashkar founder Hafiz Saeed posting an Eid message for Kashmiris on his Twitter account, it is Jaish that has taken an aggressive line from day one.
Soon after the militant commander Burhan Wani's killing in July and the subsequent mayhem in Valley, Jaish brought out a special Kashmir issue of its online magazine Alqalamonline. One piece went under this ominous headline: "India shouldn't think Kashmiris are alone. They are not. We will avenge each drop of Kashmiri blood".
Edited by Aleesha Matharu
More in Catch - PM Modi condemns Uri attack, says those responsible will be punished
Uri encounter: Rajnath Singh cancels US trip, instructs MHA to monitor situation in J&K
J&K: 17 soliders killed in militant attack in Uri; all terrorists dead