Vyapam whistle-blower Anand Rai resigns from MP govt, alleging harassment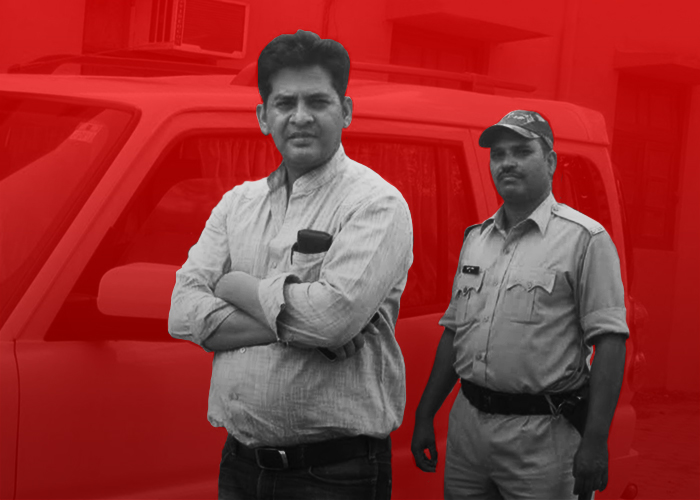 The decision
Vyapam scam whistle-blower Dr Anand Rai resigned from his MP govt post on Friday
Rai served as Medical Officer in the Dept of Public Health and Family Welfare
The allegations
His department transferred him numerous times, he got threats, and the security provided to him by the state govt was a joke
More in the story
How one powerful and allegedly corrupt official made Rai\'s life miserable
Madhya Pradesh's killer scam, Vyapam, has claimed yet another casualty. But let's be thankful for small mercies - this time, it's not a life, but a job.
One of the scam's first whistle-blowers, Dr Anand Rai, has resigned from his post with the Madhya Pradesh government on Friday, 18 March, alleging harassment. Rai was serving as Medical Officer in the state government's Department of Public Health and Family Welfare, and has sent his resignation to Chief Minister Shivraj Singh Chouhan.
Also read - Vyapam whistle-blower accuses police of his 'social murder'
Indore-based Rai had filed an FIR related to irregularities in admissions and recruitment through the Madhya Pradesh Professional Examination Board, popularly known as Vyapam. He had complained against the CM, among others, alleging that the scam took place under the latter's watch.
Rai, a former member of the Rashtriya Swayamsevak Sangh, had also claimed that his department transferred him several times, because he was trying to lift the lid on the scam.
Fall-out of corruption probe
Rai had called for a CBI probe into the scam, and a special SIT, to look into the deaths of over 40 people related to the scam.
He had earlier complained about getting threats regularly, and that the state administration had made a mockery of his security.
In his resignation letter, Rai said he had recently discharged an inquiry and recommended strict action against another Medical Officer in Indore, Dr Madhav Hasani, over misappropriation of funds sanctioned for a programme under National Urban Health Mission.
Rai alleged that as soon as he filed the report, the Divisional Commissioner of Indore, Sanjay Dubey, called the Chief Medical and Health Officer (CMHO) and Civil Surgeon and asked them to transfer him from the complaints branch to the district hospital.
His resignation letter states the commissioner was harassing an honest officer like him instead of rewarding him. This had led to a suffocating atmosphere, Rai continued, and he felt unable to continue working.
Also read - MP governor gets second SC notice in Vyapam scam. What was his role?
Twin cases of corruption
Rai's troubles related to the commissioner didn't just end there. He alleged that, in reality, the commissioner was 'after' him because he had submitted an affidavit to the CBI against the latter getting his son admitted to IIT Bombay illegally.
Rai claimed that Dubey got his son admitted under the handicapped quota, when in reality he was absolutely fit.
Indore-based Rai was a Medical Officer in the MP govt's Dept of Public Health and Family Welfare
Rai furnished documents to prove this: RTI queries showed that the disability certificate was not issued by any authority. Dubey secured the disability certificate from a private clinic and got his son admitted illegally, Rai alleged.
He added that because of this corruption, one handicapped student had lost his or her chance to make it to the IIT.
Link with Vyapam
Rai has already complained to the CBI against Dubey, and claimed that the latter was now harassing him at the behest of CM Chouhan.
In even murkier allegations against the officer, Rai told Catch that Dubey was involved in the Vyapam scam as well. According to Rai, Dubey had helped in the tampering of Vyapam system analyst Nitin Mahindra's hard disk to delete crucial evidence related to the scam.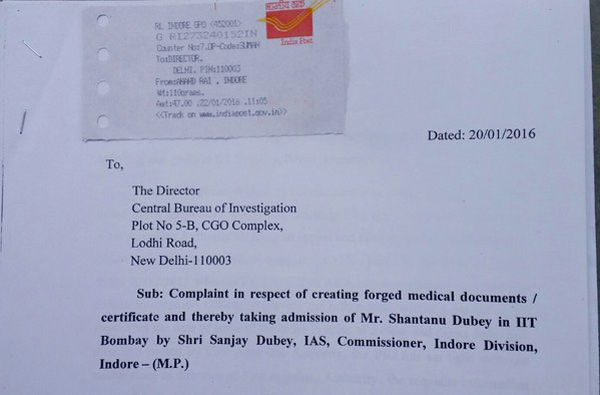 The hard disk is believed to have had clinching evidence, in the form of a list of all those who had recommended candidates for admission or recruitment, and details of monetary transactions.
Rai said he will meet CBI officials again soon, and demand Dubey's interrogation in the tampering case.
More in Catch - Vyapam deaths likely to get clean chit
42 dead: why is Shivraj Chouhan not facing more heat in the Vyapam scam?