Vet devotes life to serving injured animals, develops new prosthetic limb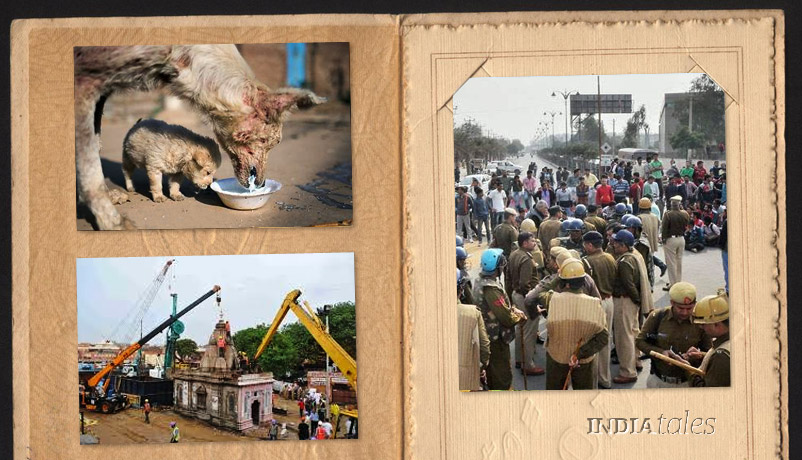 01
Meet the Jaipur vet who has devoted his life to serving injured animals
In a world where few have time even for human suffering, a veterinarian in Jaipur has devoted his life to taking care of stray animals.
Dr Tapesh Mathur fits prosthetic limbs to animals that have lost their limbs, at his own expense. He has, in fact, developed a special prosthetic limb for them called 'Krishna'. Mathur fitted the first of these nearly three years ago, to an injured calf that had been brought to the Municipal Corporation's cow shelter for treatment. The calf starting running as soon as it go the limb.
Mathur has since treated hundreds of street animals. His innovation, he says, has been "widely acknowledged at the international level". Indeed, it earned him an award at the 38th International Seminar of Veterinary Surgeons in 2014.
02
Rage regime relents, idols reinstated at site of temple razed for metro
Nearly nine months after Rojgareshwar Temple was demolished, its idols have been reinstated at their original location in Chhoti Chaupar, Jaipur. The Murti Sthapna ceremony was attended by several prominent Hindu priests as well as the state ministers Gulab Chand Kataria and Arun Chaturvedi. The ministers though had to leave in haste after coming under severe criticism from Hindu activists and priests.
The BJP regime of Vasundhara Raje has faced sustained criticism from various Hindu organisations since the temple was "shifted" from Choti Chaupar area to Aatish Market on 11 June last year to clear the way for laying a metro rail line. The track is likely to be realigned now.
The government had to announce the reconstruction of the temple, at an estimated cost of Rs 70 crore, after Mandir Bachao Sangharsh Samiti, an alliance of various Hindu groups, launched an agitation.
At the Murti Sthapna ceremony, Narayan Das Maharaj, the priest who conducted the rituals for reinstating the idols, continued the attack on the Raje government. "The people will not tolerate attacks on their religious beliefs and their temples. Remember that those who challenged Sanatan Dharma in the past have been lost in history."
"The government would not have dared to even touch the religious place of any other faith," the priest added.
The opposition Congress, meanwhile, claimed that the Raje government "has been defeated by the religious belief of the people". "They must apologise for the demolition of the temple," the chief of the party's Jaipur unit Pratap Singh Khachariawas said. "And it should assure the people that the reconstruction of Rojgareshwar Temple is not a ploy to shift temples in Badi Chaupar area."
03
Quota bill not enough, Jats want 'martyr' status for killed agitators