Trading innocence: the tale of two kids 'sold' for cash, cell phones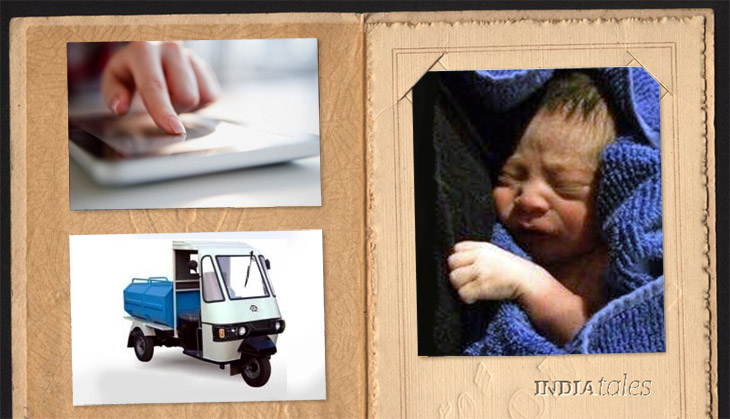 01
Newborn is bought for Rs 2.35 lakh, and then rejected for being dark
The police in Udaipur, Rajasthan, have stumbled upon the sale of a newborn for Rs 2.35 lakh.
According to the police, they were informed about "a woman at Ganeshnagar Paida who was purchasing a child through a middleman". The police reached the spot and found Rajendra, a pharmacist from Rail Magre, and one Jyotiben from Ahmedabad with a child. "They couldn't give satisfactory answers about the whereabouts of the child, upon which the police arrested them both," said a police officer. The child was sent in "the safe custody of Maheshashram".
This is what preliminary investigations have revealed: the baby was bought from a destitute but unknown couple in Maharashtra by two persons named Anju and Dhawal. The duo "finalised a deal to sell the child" to one Arvind Bhai from Ahmedabad for Rs 2.35 lakh. As agreed, Arvind came to Udaipur to take custody of the child. He, however, cancelled the deal when he found out that the baby was dark complexioned, and returned to Ahmedabad.
Anju and Dhawal, too, went to Ahmedabad "to search for new customers". In the meantime, the kid was sent with Jyoti to Udaipur, where she and Rajendra started hunting for customers as well".
Jyoti and Rajendra have told the police that they "only know that the baby was brought from Maharashtra. "Only after the arrest of Anju, Dhawan and Arvind will it be clear whether the child was stolen or bought," the police said.
While the country was celebrating Mothers' Day on 8 May, a 25-year-old mother from Faizabad in Uttar Pradesh allegedly sold her toddler son for a few thousand rupees.
According to her mother and brother, Reena, a resident of Hausila Nagar Colony, sold her one-year-old son for Rs 5,000 - to buy a purse and two mobile phones.
Reena is married to one Victor from Azamgarh but they are separated. Reena was staying with her mother Kameel in Faizabad. On 8 May, according to the police, Kameel couldn't find Reena and her child when she returned home in the afternoon. She went searching and eventually found Reena after a few hours. But the child wasn't with and "when she was asked about it, Reena misguided her family members," said a police officer.
Kameel then lodged a complaint with the police, who interrogated Reena. "She narrated the true story and the child was traced to be with a person in Lucknow," the officer said. "We have taken custody of the child."
Reena, however, denied selling her child. She claimed she had given him away "for better upbringing". "The woman also claimed that the child was afraid of her mother and brother that's why she took this step," the officer said.
Kameel has now sought the custody of the child saying "he was not safe in the hands of Reena". Asked about this, the officer said, "Since the child has been recovered, necessary action will be taken after proper investigations."
02
Churu man turns his auto into a water tank, serves people on the road
Even in these times of hardship, there are people who put selfless service above all else. Mohammad Aabbad, 48, is one such person. The resident of Sujangarh in Churu, Rajasthan, was so intent on mitigating the suffering of his fellow water-starved villagers that he converted his autorickshaw, his only source of earning income, into an innovative "travelling water tank". Not just this, he has even engaged his young son in his effort to quench the parched throats of his people.
Aabbad has removed the roof of the auto and replaced it with a 'sarkana' canopy that shields from the sun a 550-litre plastic tank with four taps. He makes the rounds of the railway station, bus stand, Ashok Circle, Ladnu flyover, and wherever there is a crowd in the city to serve cold water. He is helped in this "mission" by his son Sameer, 13. The tank is filled with cold water thrice a day, costing Rs 1,350 for 1,650 litres.
Aabbad estimates the expenditure on this "mission" so far at Rs 44,000, much of which he has paid from his own pocket. "If somebody makes a contribution, I accept it graciously," Aabbad said.