Touch Me Not: Bengaluru's human chain protest against mass molestation
On 7 January at 11AM, citizens of Bengaluru plan to come together and form a human chain in front of the gate of Vidhana Soudha or Karnataka High Court.
The idea is to draw attention to the mass molestations that occurred on Brigade Road and MG Road on New Year's Eve, albeit in silence.
The organisers, troubled at the state of affairs, instead of shouting out slogans in anger, want their silence to be heard. That too, with a sense of united anonymity. For this is the voice of every woman who has felt unsafe on the streets of her own city.
Also read - Eyewitness account of the mass molestation that took place in B'lore on NYE
As one of the organisers told Catch, "Mentioning one name will actually lose the meaning of anonymity." In keeping with that spirit, they will remain unnamed.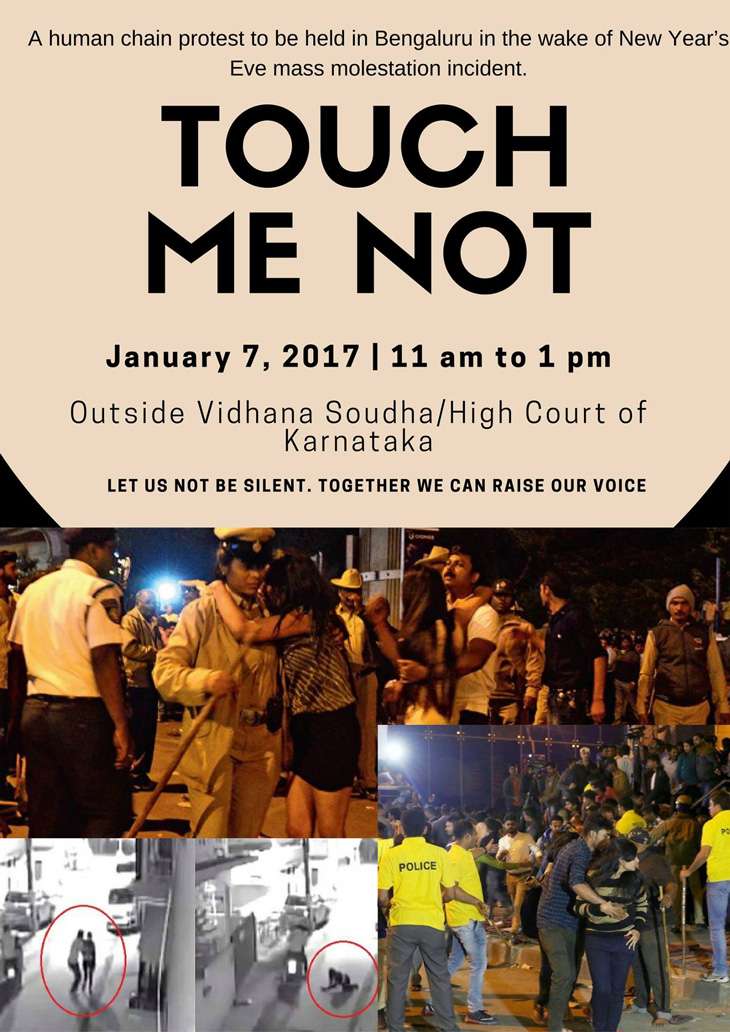 Here's the full interview with the organiser, as she talks about Bengaluru, the government, and the mentality that governs us all.
Q. Are you a group of people or an organisation?
It is an open protest and has been organised anonymously by people with common interests. There is absolutely no organisation or single person who is organising it.
It will be a silent human-chain protest (will involve placards but not slogans).
Q. Okay, why are you going with the silent form?
Simply because slogans have been raised several times in the past. This time we are expecting our silence to make noise. Above all, our placards should speak loud.
Q. But do you think such a demonstration would keep miscreants away? Or is this more for a sense of unity?
No, I don't think this will keep the miscreants away. This protest is to show support towards victims and to remind the government that justice is lost. That law has failed us. If a protest in Delhi (I'm referring to the gang rape incident) could not knock the government's door, I'm not sure if any other protest will.
Q. A similar human chain protest was carried out in Kerala recently, had thousands participate, and it made little or no noise in national media. Do you think your silence would be heard?
What I'm more concerned is about the safety which CAN be assured. If my Indian friend who recently moved to Dubai is going to tell me that she feels safer in Dubai, I'm going to question my government about the law.
Our silence may not make a difference. If you look at the number protests held, we may lose count. Rape has become a routine and so has protest. But I do hope this incident and our protest acts as a reminder for the central government to ACT.
Act in the sense, do something about the law. Whatever happened to Delhi rapists? In spite of trials proving them as rapists, and sentencing , nothing has been done. This makes rapists safe, and not the victim.
Q. Fair enough. What do you have to say about media making this a city issue, as in the case of Delhi?
I'm not sure why the media portrays it as a city issue. It's a universal truth that such acts are nationwide and the number of incidents are increasing. As long as the central government recognises it as a grave issue and does something about it, nothing else should matter (my personal opinion).
Q. But the way news has portrayed this is that harassment is unheard of in Bengaluru. As a woman, I beg to differ. Do you agree? Has your experience been any different?
Totally agree with you. I was once on a bike and I was stopped by an auto driver - he slapped me which made me unconscious but I was rescued by people around. This happened in Bengaluru. Many such incidents have happened in this city and most of the time we choose to remain silent because we've lost faith in our law and its system. If the government is going to call Bengaluru a safe haven based on the less harassment cases filed, then they need to wake up.
Q. What do you have to say about the inaction against the likes of Abu Azmi who callously comment on women being alone at night after such a harrowing incident?
Such comments always come in. I wouldn't even want to fight such men with such myopic views. If they are taught to think this way, then I would want to highlight the number of rape and molestation incidents that have taken place in spite of women wearing Indian clothing.