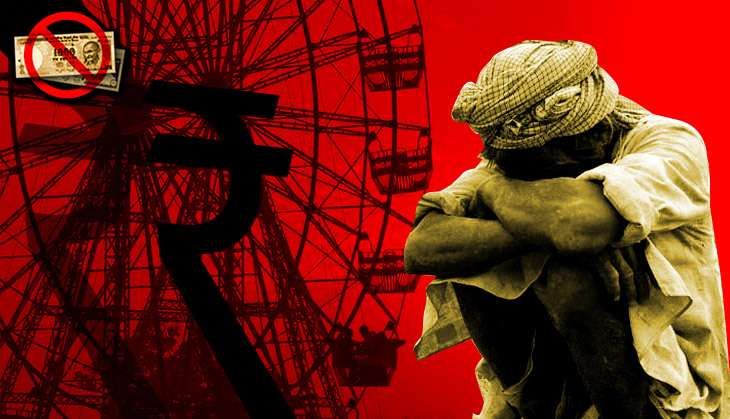 Words like 'delay' and 'hurry' have lost their meaning for the rural Indian. He or she is currently standing in a vacuum, most probably outside the nearest bank. His or her life will reboot only after the situation brought about by demonetisation normalises.
Far from the world of plastic money, the rural economy has come to a grinding halt.
The Centre claims that 22 crore bank accounts have been opened under the Pradhan Mantri Jan Dhan Yojana. And yet, rural India remains heavily dependent on local moneylenders - they remain the only source of financing for a large section of the population. Many people prefer them over banks for borrowing, in order to escape the hassles of paperwork and corruption.
Usually, moneylenders offer easy money if one mortgages land or precious belongings. But at the moment, moneylenders are plagued by an all-pervading sense of despondency.
"We have not made a transaction of even a single rupee for the past four days. There is no cash left to lend to the people. People are coming with jewellery and other belongings in the hope of getting money. However, utilising the existing notes of Rs 500 and Rs 1000 in itself is turning out to be a big problem for us," complains a moneylender from Saraimeer in UP's Azamgarh, on the condition of anonymity.
Gold and silver of no use
Pawnbrokers are often the crucial driving force that keeps the lives of small farmers and landless labourers moving in rural societies.
From religious ceremonies and marriages to funerals, they are the last hope for a vast majority of the poor rural population in the hour of need.
Ramrati (65) had gone to the Saraimeer Bazaar on 11 November to get some money for her daughter's wedding. She had planned to pawn her silver bracelet and a gold ring for the purpose.
Ramrati's hopes were dashed, as she was told the moneylender's shop (the person quoted above) was closed for the past two days. It came as a rude shock to her that even gold and silver were of little use under the circumstances.
Flaws in the banking system
The existing banking system is still not developed enough to cater to the requirements of this section of society. Private lenders are a much more convenient option for these people.
The speed at which banks are dispensing cash in villages is no different to that witnessed in the cities. Most ATM machines are non-functional, and people are spending their days standing outside banks. The shortage of bank staff in rural areas is aggravating the problem.
Worse still, cash does not arrive at most banks before the afternoon. This causes further delay in transferring cash from district headquarters to rural locations.
Local fair grounds deserted
Local fairs and weekly or monthly haat bazaars (village markets) are important catalysts in the rural economy. This year, however, they are lacklustre affairs, because very few people have enough cash to purchasing anything from these fairs. People instead are preferring to save whatever little money they are left with, because of an uncertain future.
The Azamgarh district witnesses two popular historical fairs every November and December. The three-day long Durvasa Ashram fair ended on 16 November without much fanfare.
Usually, this is one of the most talked about annual events in the region. Almost every local citizen comes at least once to this fair. However, shopkeepers from faraway regions stayed away from the fair this year. Even the famous nautanki companies from Darbhanga did not turn up. Neither the business during the day nor the entertainment at nights had the same aura as the past.
Organised in the Hindu month of Kartik, the Baba Govind Sahab Fair attracts even more visitors every year. Small traders from various regions of the country flock for the 15-day affair. The fair also hosts a big cattle market. Apart from cows, buffaloes, sheep and goats, well-bred horses are also up for sale during the fair.
Normally, tents acting as makeshift shops start cropping up at the venue well in advance. From Khajla (a local sweet) vendors of Bulandshahr and nautanki groups of Darbhanga to cattle traders, there is a competition to occupy the prime spots. However, the ground where the fair is organised is still lying vacant this year.
Pannalal-Subhash Chander Khajlawale, the famous Khajla sellers from the Khurja-Bulandshahr area, have been coming to this fair for years. Theirs is usually the biggest Khajla shop in the fair. The fact that they have not yet set up shop has become a subject of local gossip.
"Shopkeepers and cattle traders from outside the region have not reached yet. The fair will commence on 9 December. It seems the event will only be a formality this year because of the note ban," says Sachin Jaiswal, a local leader and state secretary of the Samajwadi Yuvjan Sabha.
Rumours causing confusion
Demonetisation has taken its toll on local markets as well. Traders have almost completely closed down their operations, owing to the paucity of small denomination notes. Rumours circulating at supersonic speeds have not helped matters either.
For example, people were forced to buy salt at rates varying from Rs 40/kg to Rs 400/kg after word spread that it was going out of stock.
Another rumour about income tax raids on businessmen selling salt or gold at higher prices added to the confusion. This has prompted traders to shut shop for the time being.
It remains to be seen how long this situation will last - even Union Finance Minister Arun Jaitley has said a few weeks minimum. But till then, rural India will continue to exist in this vacuum.
Edited by Shreyas Sharma