The nano chip enabled currency note rumour has been traced to Baba Ramdev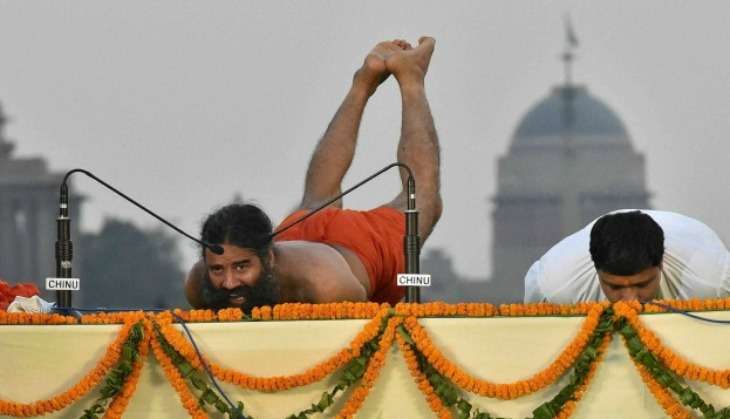 Even while you reel under the fact a racist bigot is now the 45th President of the United States, you can't help but wonder who in the right mind would support Donald Trump, let alone vote for him.
Well, you don't have to look any further than your favourite Yoga Guru Baba Ramdev, who has publicly hailed Donald Trump's victory as a positive change that will help the world fight against terrorism. Ramdev is hopeful that Trump will clamp down on Pakistan but just resorted to a smile on being repeatedly asked how.
He didn't dwell on Trump's victory much and quickly switched back to why he had organized a press conference in the first place - to laud Prime Minister Narendra Modi's demonetisation program.
Baba Ramdev claims it was his idea all along to ban higher denomination notes and that he had pitched the same idea to Modi's predecessor Manmohan Singh and Rahul Gandhi. The latter, he claims apparently just smiled and nodded his head at him.
Ramdev claims to have pressured Finance Minister Arun Jaitley by visiting him a dozen times to discuss this idea and had suggested it to Narendra Modi when he came to power.
And Ramdev has a few more remedies up his sleeve, which the government may consider. In the past has claimed to have a cure for cancer, HIV AIDS and even homosexuality (a disease according to him) all through a potent mix of tulsi, wheat grass and a contorting your body in a way that will never make you walk straight again.
When repeatedly being asked on how the demonetisation move will help curb black money Baba Ramdev in his short address said most illegal transactions happen through cash specifically through higher denominations of 500 and 1000 rupees. When again pestered by journalists on how introducing a Rs 2000 note would change things, he simply replied, "But there won't be any 1000 rupee notes na?" Sometimes the answers are simple, even if they do not make any sense.
Ramdev however did acknowledge that there will be 'some' inconvenience caused because of the hasty move, but largely concluded that it was imperative for the greater good.
He also took credit for providing the idea of inserting a nano chip on to every 2000 rupee note to track illegal cash flow even though the RBI notice did not mention any such 'chip.'
With a willful wink and an intrepid smile Ramdev scurried from the podium tagging along with his coterie of security personnel and loyal bhakts.