The literal saffronisation of Lucknow: after buses & electric poles, it's bins at temples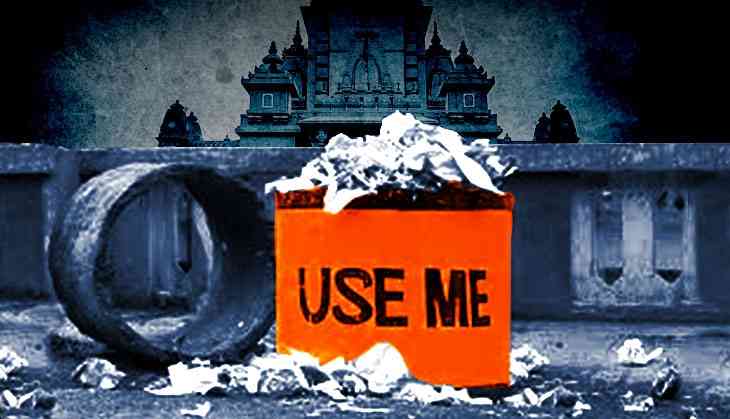 Is Lucknow on the verge of becoming a saffron city?
If municipal commissioner Uday Raj Singh and environment engineer Pankaj Bhushan have their way, the nawabi city looks ready get a new coat of paint.
The officials have proposed that bins kept in temples be painted saffron, but they did not stop there. Men and women who remove waste from temples will wear a saffron uniform and even the vehicles used for carrying trash would be painted saffron.
Their proposal now awaits the approval of the government.
Orange is the new everything
This isn't the first we're hearing of Lucknow literally being saffronised. Various departments are undertaking initiatives towards the goal, instead of the government issuing an all-round order regarding the orangish hue.
Last month, the Uttar Pradesh Transport Corporation got a fleet of saffron-hued buses. Not to be left behind, the state power corporation painted electric poles 'bhagwa', the colour of BJP's flag.
A fleet of 50 saffron buses was readied at the UPSRTC workshop in Kanpur, each bus costing Rs 24 lakh. The saffron and white touch was given to the buses as part of Deen Dayal Upadhyay's birth centenary celebrations and are called Antyoday buses. They were compatible with Euro IV emission norms.
On 12 October, Chief Minister Yogi Adityanath flagged off 50 saffron coloured buses as part of "Sankalp Bus Seva". These buses are being deployed to connect villages with centres of trade, commerce, pilgrimage, education and the state capital.
Ten of these buses will ply from Gorakhpur and Varanasi, while six each will ply from Jhansi, Allahabad, Bareilly, Moradabad and Saharanpur. The state transport corporation plans to connect 9,000 villages through these buses by November.
The government had earlier changed the Samajwadi colour of school bags given to children in government schools with its own saffron-coloured bags.
After the saffron-white buses came the announcement by Alok Kumar, Principal Secretary, Energy, that electricity poles in the state would be painted saffron. The "colour coding", he said, would be done at the colonies where power connections have been regularised.
The state has about 30,000 unauthorised colonies, 350 of them being in Lucknow, which survive on illegal connections and where legal power has to be provided to prevent power theft and increase revenue. This drive was aimed at realising the Central government's plan of "Power for All", said an official of the UP Power Corporation (UPPCL).
Poles in colonies with legitimate connections won't be changed, except in un-electrified areas where, under the state government's Sugam Sanyojan Yojna, the corporation would bear the cost of poles if three consumers applied for it. These poles would also be painted saffron.
While the UPPCL has taken up the responsibility of colouring of electric poles in colonies with regularised connections, in Agra the municipal corporation has decided to give all the street light poles the distinctive saffron coating.
The Agra civic body has also decided to paint 38,000 street light poles for a different reason. The poles, which will be numbered, will also bear the ward number to make it easy to for officials to attend to complaints, an official was reported to have said. Colouring each pole would cost Rs 1,345.
Not alone
Uttar Pradesh is not alone in painting utilities saffron. In Gujarat, the government has ordered bus stops to be painted in saffron. Over two dozen bus stops have been painted in saffron in Ahmedabad and Gandhinagar, inviting criticism from the Congress.
Last year, the Maharashtra Transport Corporation also decided to acquire saffron and white coloured buses for its fleet.
All political parties in UP have, however, used colour coding to stay in the minds of the people. Samajwadi Party's red and green and Bahujan Samaj Party's blue were ubiquitous colours when these parties in power.
A Samajwadi Party spokesman hoped that this colour scheme won't be extended to houses being built under the Prime Minister's scheme as the BJP continues to aggressively pursue its Hindutva agenda.