The fake currency menace, and how Bengal's Malda is the gateway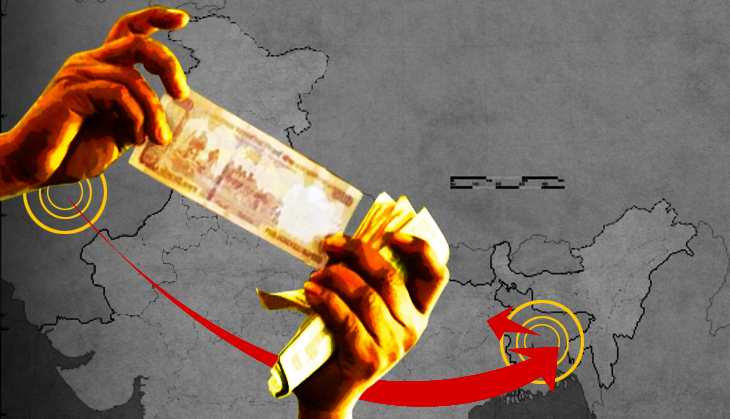 The magnitude
Between 2011 and 2014, the total value of fake currency seized in India amounted to Rs 146 crore
Estimates say at any given time, about Rs 400 crore worth of fake notes are in circulation in India
The route
The racket begins in Pakistan, and has strong links to Dawood Ibrahim\'s \'D Company\'
The notes are then routed through Bangladesh, and enter India through the Malda district in Bengal
More in the story
Catch travels to the ground in Malda to find out how the racket operates
How the money goes from Malda into common circulation through India
Last Sunday, 22 May, saw four arrests in connection with a fake currency racket. Two people were arrested from Karanj, Gujarat, and two from Surajpur, Chhattisgarh, and fake currency worth Rs 1.6 lakh was confiscated from them.
That's just a drop in the ocean. Between 2011 and 2014, the total value of fake currency seized in India amounted to Rs 146 crore. This also led to 6,233 FIRs against 5,023 people.
A study by the Indian Statistical Institute (ISI) last year, commissioned by the National Investigation Agency, estimated that at any given time, about Rs 400 crore worth of fake notes are in circulation.
The Malda district in West Bengal, which shares a 173 km border with Bangladesh, has been identified by the Central government as the hub of fake currency influx in the country.
MUST READ: The borderlands of Baishnabnagar: where fake currency battles nationalism
So, how does the racket work? Where does it originate? How does it enter India and how is it distributed?
Impact of fake currency
Fake currency is a rising problem in the Indian economy that can cause inflation, lead to a lower savings rate, widen the fiscal deficit, and destabilise Indian money. And yes, fake currency is associated with terror financing, narcotics trade, smuggling and helping insurgency.
Agencies such as the Reserve Bank of India, the Finance Ministry, the Home Ministry, the Central Bureau of Investigation and the National Investigation Agency work together to stop this menace. This crime has also been declared as a 'terrorist' act with revisions in the Unlawful Activities (Prevention) Act.
But the ISI study revealed that "for every million 1,000 rupee notes, an average of 357 are fake". In comparison, in countries like the US and Canada, less than 200 notes per million are fake.
The route and the gateway
Catch visited villages in Malda that are known for fake currency operations, met with Border Security Force jawans, and spoke to NIA sources. We found that it is a complex web of poverty and human rights violations, mixed with a dose of usual suspects like the 'D' Company.
There are three prominent Bengali colonies in Karachi, like the Machhar and Chittagong colonies, where 2-2.5 lakh Bangladeshis reside.
The Pakistan government never gives them valid documents when they want to visit Bangladesh. But there are dalals (middlemen) with links with the High Commission, who help these Bangladeshis get an 'out pass', which is valid for a year. According to the NIA and the Bangladesh Police, these dalals are Dawood's men.
The people who take the dalals' help have to oblige by carrying fake currency.
The route - take a flight from Karachi to Dubai, and from there to Dhaka.
The other option - 'consignments' from Dubai port to Chittagong port.
Once the fake currency enters Chittagong/Dhaka, it is received by agents and taken to Chapai Nawabganj and Monakasha, both under the Rajshahi Division in Bangladesh.
"The most prominent names in these rackets are Habil Sheikh and Kalu Sheikh. They receive currency and it is their duty to pass it on to India. Our request to the Bangladesh police to hand them over is still pending," says an NIA official.
Who are the couriers?
Couriers for the fake currency racket are spread across India, but the supply is facilitated from Malda. For instance, last year, the NIA arrested Sunesh Sharma, a resident of Haryana, and Rajan Chopra, a resident of Punjab, from Kalichak in Malda.
Chopra, who owns a number of marriage halls in Punjab, drove all the way from Punjab to West Bengal to purchase fake notes.
"Most of the local couriers belong to some political party. When we question them, they always try to frame another courier, who has a different political affiliation. In this area, we cannot even trust our sources. We even have doubts if our sources are involved in the racket," says the NIA officer.
Difficult to catch
The fake notes are of high quality. There are about 10 indicators to judge the genuineness of a note, but fake notes coming in to Malda match eight indicators, suggesting the good quality of these notes and the money spent on making them.
"The face value is Rs 18 for each note of Rs 1,000 denomination, when received by Habil and Kalu Sheikh. The rate increases exponentially to Rs 280 when it reaches the local suppliers across the border. People like Rajan Chopra buy it from the local supplier at Rs 320 each," according to the NIA.
Allegations and counter-allegations
The Mahadipur check post on the border houses the Alpha Command of the Border Security Force. When we stopped for permission to enter the BSF road (parallel to the border fence), and asked a BSF officer about the fake currency problem, he poured his heart out.
"These people regularly cut fences to cross the border. You catch them and hundreds of villagers come and create a ruckus. Just two days back, villagers attacked us, and one jawan had his hand cut off and one suffered head injuries. The local police is corrupt and does not help us in anyway. We have limited powers; if we had the permission to shoot, we would have straightened out these villagers," he said.
A few kilometres ahead, at a village called Shashani, locals told us about NIA-BSF-police atrocities - such as false cases and random pick ups.
"My nephew Abdul Salam and his friend Liton were coming back from Gazole after watching a circus. They were apprehended by the Englishbazar police for violating traffic. Afterwards, we came to know that both of them were caught on charges of fake currency (for possession of nearly Rs 50,000). It's been 25 days and he is in judicial custody. Whenever we visit the police, they tell us to come after the elections are over," said Ata-ur-Rehman, a villager.
There are allegations galore against the local police and the NIA. Villagers also allege that some locals also give false tip-offs to security forces just for the sake of revenge.
This just corroborates what the NIA is saying - it is difficult to ascertain who's speaking the truth.
In Mohabbatpur, Catch interacted with two BSF jawans, from Haryana and Jharkhand, who said they were frustrated at being posted to this border.
"It is better to be at the Pakistan border. The situation there is do or die. Here we get heckled by hundreds and we only have tear gas to disperse the crowd. And before additional forces arrive, the situation becomes two jawans vs hundreds of villagers armed with sickles and swords," they concur.
Significantly, the NIA faces the same challenges. An NIA officer who leads such operations narrated stories of how villagers charged them with bombs when they go for an operation. "Only elaborate planning and swiftness can save you," he said.
But the BSF is also known for its brutal retaliation. A 2010 report by Human Rights Watch, titled "Trigger Happy: Excessive Use of Force by Indian Troops at the Bangladesh Border", based on over 100 interviews, revealed many cases of arbitrary use of force, illegal detention, torture and indiscriminate shooting, without any kind of legal recourse.
Edited by Shreyas Sharma
Also read: BSF seizes fake currency notes worth Rs 20 lakh smuggled from Bangladesh