Teachers' Day: Dalit leader Jignesh Mevani on the Brahmin who guided him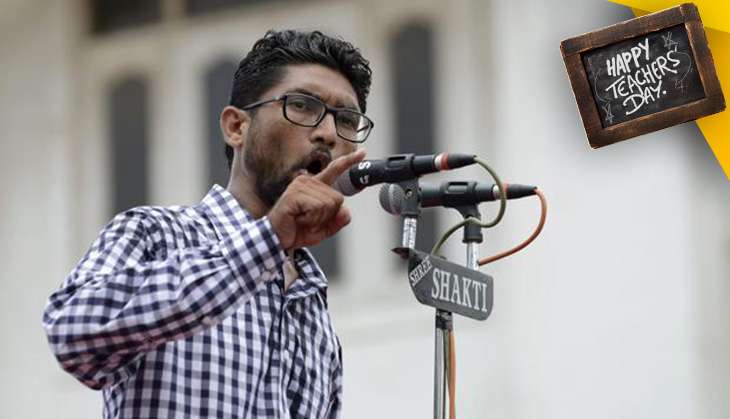 It was only last month that Jignesh Mevani became a national figure when he led the Dalit Asmita Yatra from Ahmedabad to Una in the Gir Somnath district of Gujarat.
The event was a fallout of the public flogging of Dalit youths by cow vigilantes when they were found skinning a cow. Mevani, today, stands out as one of the few Dalit faces who have successfully organised the community against the discrimination faced by them from the upper castes and the political class.
On Teachers' Day, he remembers Sanjay Bhave for playing a major role in shaping him as a conscious human being with leadership qualities, which helped him lead the Dalit movement.
A truly secular teacher
Ironically, Bhave is a Marathi Brahmin, who teaches English at HK Arts College in Ahmedabad, and is a favourite with the students who want to look beyond plain academics in their college life. Most of the students he helps belong to the marginalised section of society - the poor, Dalits and Muslims.
"I come from a typical lower middle class Dalit family. My father is a retired clerk from Ahmedabad Municipal Corporation (AMC). Whatever I am today is because of Bhave sir," Mevani tells Catch.
"With my kind of background, where there was no exposure to things other than books prescribed in the course, Bhave sir came as a ray of hope. He was the one who introduced me to the world of art, culture, cinema, parallel cinema, theatre and good literature. Along with him, it was Soumya Joshi (a famous playwright, and again, a Brahmin) who helped us with our theatre activities. The three years till 2003 that I lived under their guidance laid the foundation for my life."
Bhave is well known for having introduced hundred of students to good literature and the habit of reading. He has a very secular and progressive outlook, and is extremely sensitive to social issues.
Mevani says: "He is the one who distributes good literature among students, and encourages them to read and participate in related activities. He is the one who takes groups of such students to libraries and to book fairs, both in Gujarat as well as the World Book Fair organised in Delhi. I myself have accompanied him to many such book fairs in Ahmedabad."
Mevani adds that it was Bhave who encouraged him to write for literary journals and other periodicals, thus increasing his understanding of concepts like caste and class. "All these experiences have helped me understand the society at large in a better way, and I have been able to find my path through the maze," he says.
Edited by Shreyas Sharma
More in Catch
Jignesh Mevani resigns from AAP. Wants BJP to suffer for Dalit atrocities
Dalits vs BJP: Meet the men who made Gujarat's Una march possible
Gujarat Dalits attacked again, this time for demanding justice