Tamil Nadu CM, Deputy CM distribute relief material in Gaja-hit Pudukkottai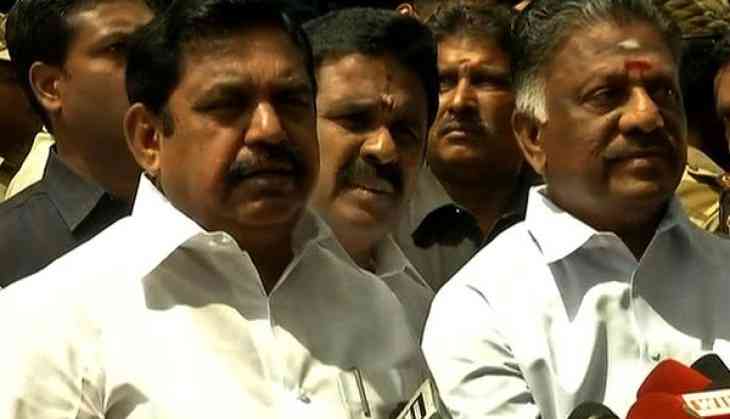 Tamil Nadu Chief Minister Edappai K Palaniswami and Deputy Chief Minister O Panneerselvam on Tuesday distributed relief material to the people affected by Cyclone Gaja in Pudukkottai region.
Speaking to media, Palaniswami said, "We have sought time from the Prime Minister Narendra Modi, we will explain everything and have also sought financial assistance from the Union Government."
Cyclone Gaja crossed Tamil Nadu and Puducherry coast between Nagapattinam and Vedaranniyam last week and unleashed mayhem in several districts of the state including Nagapattinam, Tiruvarur, and Thanjavur.
This development came to light after the state government yesterday released Rs 1,000 crore for relief and restoration work in the areas affected by the cyclone. Following the announcement, the state administration distributed the financial assistance to farmers, coconut growers and others who were affected by the deadly cyclone.
After making the announcement of the relief amount, the Tamil Nadu Chief Minister stated that 46 people have lost their lives in the cyclone and their next of the kin is entitled to get a compensation of Rs 10 lakh. He also stated that the fishermen who lost their business because of the oncoming of the deadly cyclone will get a compensation of Rs 8,000 each.
Palaniswamy also appealed to the masses to generously contribute to the relief works. Preliminary estimates suggest that 88,102 hectares of irrigated and horticultural crops have suffered huge damages due to Gaja.
The state government has also included people in the list of compensation who have lost their cows and buffaloes. A compensation of Rs 30,000 each will be given to those who have lost cows and for bulls, Rs 25,000 have been announced, besides Rs 3000 each for lost sheep.
-ANI