Suspected terrorist of 'ISIS module' killed, three held in Uttar Pradesh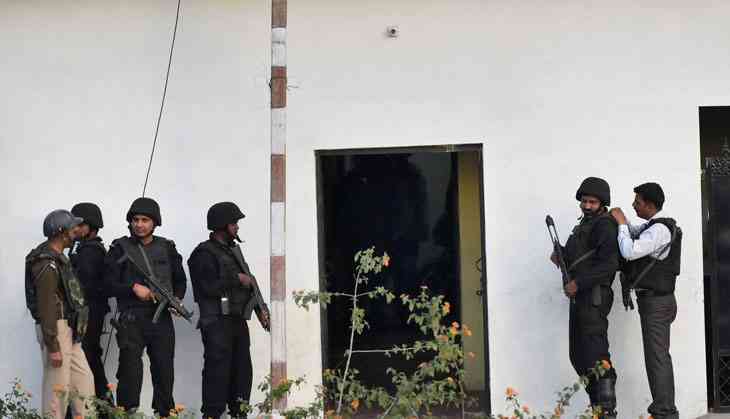 In a state-wide operation, the Lucknow Anti-Terrorism Squad on Tuesday gunned down a suspected terrorist, identified as Saifullah, after a nearly six hour gunfight that began around 3.30 pm. The ATS also nabbed three other suspects from Kanpur and Unnao.


There was no official confirmation of Saifullah's killing as two terrorists were said to still be inside the house in the Kakori area on the outskirts of Lucknow.


Addition DGP Daljeet Chaudhary confirmed the presence of two other suspects who "are still alive".


All of them are alleged to belong to "Uttar Pradesh module of the ISIS".


Saifullah had refused to surrender and was firing at the police intermittently.


The police initially used chilli bombs to "smoke him out", but it did not work. Generators and drilling machines were then deployed to cut into the house. Tear gas shells were hurled and a camera was dropped to locate the suspect, and he was subsequently shot dead. The locality had to be evacuated as a precautionary measure.


The arrested suspects were identified as brothers Faisal and Imran, and Azhar.


Azhar, though, is said to have escaped later after a mob in Rahmani Market of Chamanganj "thwarted his arrest".


Faisal was picked up from his house in Taad Bagiya of Chakeri. Imran was arrested from the Everest factory in Unnao's Banthar locality. It was learnt that the two brothers were held in connection with a low intensity blast on the Bhopal-Ujjain passenger train Tuesday morning.


Faisal's interrogation led the ATS to Haji Colony of Kakori, where Saifullah was. As he got wind of the police movement in the area, he locked himself up in a house.


A unit of 10 elite commandos of the ATS was summoned from Bijnore even as the National Security Guard was also put on alert.


According to IG, Lucknow, Satish Ganesh, the suspect refused to surrender and resorted to firing. The ATS retaliated and killed him. Saifullah had been living in Dubagga area of Old Lucknow for the last month and a half.


The house in which the suspect was hiding reportedly belongs to man based in Saudi Arabia. Its caretaker is understood to have given four persons access to the house.


According to ADG Chaudhary, the intelligence input about the suspects came in the morning "from outside".