State of despair: UP tops communal violence record; who's to blame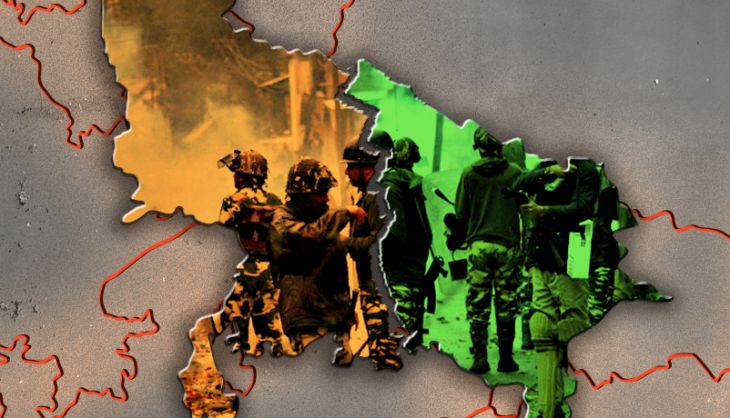 Shock state
Uttar Pradesh is the state worst affected by communal violence
It recorded 139 incidents of communal violence this year
It\'s way ahead of Maharashtra with 97 incidents, MP with 86
Hate politics
Critics say the SP isn\'t curbing riots as the party sees votes in them
Probe had blamed several SP leaders for the 2013 Muzaffarnagar riots
After the Bareilly riots, Mulayam & Akhilesh shared a stage with the main accused
While denouncing the country's dissenting writers and artists as "intellectual mercenaries", the BJP's Meenakshi Lekhi claimed, in the Lok Sabha that incidents of communal violence had declined during her party's rule.
Also read - #IntoleranceDebate: what makes Meenakshi Lekhi and Kirron Kher BJP's best debaters
But latest figures released by the home ministry give the lie to her claims. What do the numbers say?
This year has seen 650 incidents of communal violence so far compared to 644 last year.

The BJP rules four of the seven states worst affected by communal violence.

Compared to the last 17 months of the UPA, the first 17 months of the NDA regime saw a rise in communal violence in Maharashtra, Rajasthan, Gujarat and Madhya Pradesh.
State of despair
However, the greatest challenge to communal peace didn't come from a state ruled by the BJP. But from Uttar Pradesh, governed by the supposedly secular Samajwadi Party.
So far this year, the state has recorded 139 incidents, more than any other state.

Maharashtra follows with 97 incidents, Madhya Pradesh with 86, Karnataka 79, Bihar 59, and Gujarat 47.

Indeed, UP has topped nearly every fact sheet on communal violence for at least three years now.
While neighbouring Jharkhand and Bihar, which have historically been on short fuse, have shown how to successfully contain communal fires, UP has failed miserably.
Hypocrisy? Sadhvi Prachi, Adityanath publicly spew venom in UP but Owaisi is a 'law & order threat'
It's either that Chief Minister Akhilesh Yadav doesn't want to learn from his neighbours or, as many of his critics allege, doesn't mind communal riots as they benefit him politically.
How do riots benefit him? By bringing in the Hindu vote, the critics explain, while reminding the Muslims that the Samajwadi Party is their only hope of survival.
Feeding on hatred?
Indeed, it's hard not to believe this isn't the case. Consider the evidence:
Right after the SP took power in UP in 2012, riots broke out in Mathura's Kosi Kala.

Some months later, Bareilly burned. The party's chief Mulayam Singh Yadav and Akhilesh later shared a stage with one of the main alleged instigators of the Bareilly riot, Tauqeer Raza.

In 2013, widespread riots left at least 60 people dead in Muzaffarnagar and over 50,000 homeless.
An investigation by Justice Vishnu Sahai later indicted leaders of the SP, along with some BJP leaders, for inciting and orchestrating the mayhem.

The Muzaffarnagar riots effected a deep rift between Hindus and Muslims, one that could take years to heal.
How serious the SP is about law and order is borne out by this fact: as against the sanctioned strength of 3.68 lakh police personnel, the state had only 1.73 lakh personnel as of 2012. And despite many promises, the Akhilesh regime has done little to bridge the gap.
Letting them run riot
This begs the question: is Mulayam even interested in containing communalism? Has he given the people of UP, particularly its minorities, a false sense of security? Has he betrayed the founding principles of his party?
And finally, would communal polarisation really help him in the 2017 election?
"Riots and polarisation always help Mulayam Singh politically as they help the BJP," says former state minister Ashok Yadav. "So, naturally, he wasn't bothered during the Muzaffarnagar riots, even when his own partymen like Azam Khan kept urging him to take action."
"He sits on buggies and enjoys lavish birthday parties while the state is burning in a communal fire."
Communalism report card: UP 139 incidents, Maharashtra 97, MP 86, Karnataka 79, Bihar 59, Gujarat 47
Many political observers argue that the BJP's ascendancy has only helped Mulayam, providing him a bogey to scare Muslim voters and sustain "the myth of his secular credentials".
The observers point out that the Akhilesh regime has refrained from acting against Sangh extremists. It has allowed Sadhvi Prachi and Yogi Adityanath to spew venom in public addresses, but labelled Asaduddin Owaisi a "law and order threat" and barred him from holding rallies.
"The SP has clearly been arm-twisted by the BJP in the Yadav Singh case. And the BJP will continue to maintain pressure on Akhilesh and Mulayam and threaten them with CBI every time they raise their voice against them," Yadav said.
"If Mulayam is a true Lohiaite, why did he back out of the Mahagathandan in Bihar? At this time, what he's most bothered by is his family's fortunes."
Prof Badri Narayan of GG Pant Social Science Institute, Allahabad, believes the strategy would be counter-productive.
"Whenever the SP comes to power in Uttar Pradesh, more communal riots take place. Its voter base expands with greater polarisation, but in the next assembly polls, this is clearly not going to work," he argues. "Because secular alliances have been formed elsewhere and they have proved their worth."
Will Mulayam and his party course correct?
MORE IN CATCH - Eye on Hindu vote: why UP govt wants to control temples
UP Panchayat polls: why AIMIM rise should worry the SP
Bloody record: Is 'secular' SP more communal than the BJP?