Shiv Sena marks Khadse's downfall with fireworks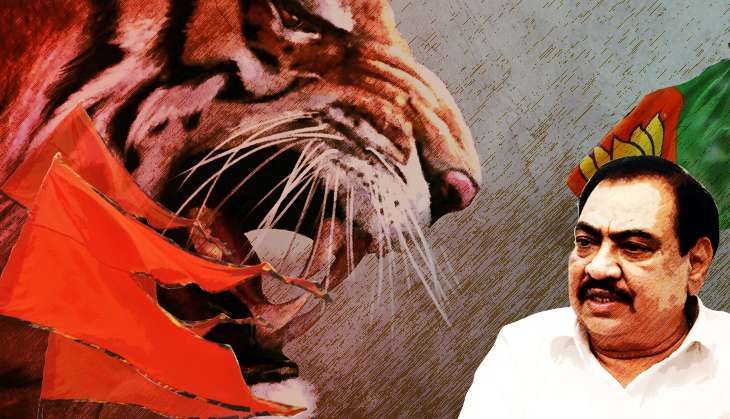 Why did Eknath Khadse resign?
Khadse resigned on 4 June
Sources say Modi and Shah \'had enough\'
Why is Shiv Sena happy?
Khadse was the first to call Uddhav and announce BJP-Sena separation
Senior Sena leader Suresh Jain in jail for4 years because of Khadse
More in the story
What the Saamna editorial says about Khadse
Shiv Sena says that those who cross paths with them must suffer
Bharatiya Janata Party (BJP) had perhaps been hoping that with senior leader and former revenue minister of Maharashtra Eknath Khadse's resignation, the raging political storm would subside.
But the story is far from over. While other political rivals tread cautiously, National Democratic Alliance (NDA) partner and BJP's oldest ally Shiv Sena is on celebration mode.
The party has even claimed that Khadse met this fate because he crossed paths with the Shiv Sena.
Also read - Eknath Khadse resignation: Minister calls 'media trial' a cheap publicity stunt
Shiv Sena leaders had been very vocal over Khadse's resignation ever since his alleged personal assistant was arrested on charges of demanding a bribe from an NGO for land allotment near Mumbai.
They of course have reasons to celebrate Khadse's downfall.
It was Khadse who had dared to call Shiv Sena Executive President Uddhav Thackeray to tell him that BJP had decided to walk out of the alliance before state Assembly elections in 2014.
It was something that Shiv Sena leaders had never expected. They were confident that BJP would get dragged down with them and not dare sever ties. Shiv Sena leaders had been waiting to settle scores with Khadse ever since.
Stocked arsenal for Shiv Sena
The series of very serious allegations against Khadse presented the Shiv Sena the opportunity they were looking for - on a platter.
With every allegation thrown at Khadse, the Shiv Sena grew louder and more aggressive. When it was alleged that Khadse had illegally purchased Maharashtra Industrial Development Corporation (MIDC) land, the party went in all guns blazing.
Since the industries ministry is with the Shiv Sena, it got all the necessary fire power to damage Khadse's case and destroy all false claims of innocence.
Shiv Sena leaders were the happiest when Khadse finally resigned from cabinet last Saturday (4 June).
The BJP-Shiv Sena rift was however not the only score that was settled. It is just because of Khadse, that veteran Shiv Sena leader from Jalgaon, Suresh Jain, is still languishing in jail.
Jain is in jail for four years now due to an alleged housing scam in Jalgaon.
Shiv Sena leaders and cadre in Jalgaon celebrated Khadse's resignation by bursting fire crackers all over the city.
After celebrations at Jalgaon, Shiv Sena again targeted Khadse in an editorial in the party mouthpiece Saamna, on Monday.
The editorial titled 'The bubbles are bursting' starts with claims that it has once again been established that the one who is at odds with the Shiv Sena -- is doomed.
"Khadse had always been proud to have the courage to call off the ties with Shiv Sena. He never concealed the joy and even boasted of being courageous enough to do that. History has proved that anyone who crossed ways with Sena is either ruined or sent behind the bars. The power got on the basis of hatred for the Sena is nothing but bubbles and these bubbles have started to burst," the editorial states.
The editorial also adds that Khadse's resignation was inevitable. It was just a matter of time that Chief Minister Devendra Fadnavis pulled the string.
Khadse, one of the most senior leaders in Maharashtra, was always under impression that Fadnavis, who is much junior to him, would not dare to act and take such a drastic step.
But he did not realise when his 'junior' pulled the rug out from under his feet. When the BJP top brass decided to remove Khadse, there was no one by his side.
The editorial that is clearly aimed at hitting Khadse where it hurts the most, says that like Khadse, Jain also claims innocence. Then why he is in jail and Khadse in government, the editorial asked.
"While in opposition, Khadse has leveled such 'baseless and false' allegations against several leaders and demanded stern action. Now it's his turn to taste his own medicine," the editorial said.
Praise for CM Fadnavis
The editorial praised CM Fadnavis for stealthily acting and arresting Khadse's PA right in his office.
"This shows the efficiency of the CM. Khadse is known to have fixed his opponents. But he completely failed to realise that his PA is under surveillance," the editorial stated.
Ever since allegations were leveled, Khadse dared the Opposition to present proof. He even challenged them to quit politics if the Opposition managed to present even single authentic evidence against him.
Every politician who is accused of being involved in corruption has been saying the same thing. Be it Ashok Chavhan, Chhagan Bhujbal, Robert Vadra or Suresh Jain, stated the editorial.
"Now Khadse is crying foul over media trial on the allegations. He should not forget that he has done exactly the same in the past. Khadse is reaping what he sowed," it added.
More in Catch -
Dawood allegations: Khadse conducting his own investigation
Khadse resigns: Modi and Shah said to have had enough of allegations