Seven union ministers win Rajya Sabha polls unopposed, contest in six states on March 23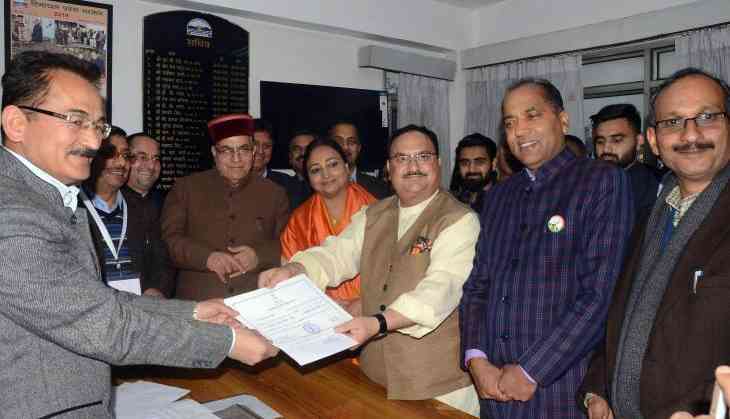 Union Health Minister and sitting Rajya Sabha member from Himachal Pradesh J P Nadda receives a letter for the Rajya Sabha seat after re-elected to the Upper House unopposed in Shimla on Thursday. (PTI)
Seven Union ministers including Ravi Shankar Prasad and Prakash Javadekar were declared elected unopposed to the Rajya Sabha today, while the stage is set for the March 23 contest in six states, including Uttar Pradesh from where Finance Minister Arun Jaitley is in the fray.
Law Minister Prasad and HRD Minister Javadekar were elected from their homes states Bihar and Maharashtra, while Petroleum Minister Dharmendra Pradhan and Social Justice and Empowerment Minister Thawar Chand Gehlot made it to the Rajya Sabha from Madhya Pradesh.
Health Minister J P Nadda got elected unopposed from Himachal Pradesh.
Union ministers Purshottam Rupala and Mansukh Mandavia also got elected from Gujarat without a contest.
Also Read: JNU replaces seven chairpersons, deans; teachers, students protest
Official nominees of major parties were elected unopposed in Gujarat, Maharashtra, Madhya Pradesh, Bihar, Andhra Pradesh, Himachal Pradesh, Odisha, Rajasthan, Haryana, and Uttarakhand.
There would be a contest for electoral laurels in six states, including Uttar Pradesh, West Bengal, Karnataka, Jharkhand, Chhattisgarh and Telangana where there are more nominees than seats up for grabs.
Biennial elections are being held for 58 Rajya Sabha seats across 16 state.
A bypoll will also be held on March 23 for one seat in Kerala where M P Veerendra Kumar, the Left-backed candidate of Sharad Yadav faction of the JD(U), is pitted against Babu Prasad of the Congress.
Also Read: Telangana CM K Chandrasekhar Rao calls Congress 'Villian No.1'
Veerendra Kumar had resigned from the Rajya Sabha to protest against Bihar Chief Minister Nitish Kumar's decision to return to the NDA fold which created the vacancy.
There are 11 candidates in the fray for 10 seats in Uttar Pradesh, including BJP's Jaitley and Jaya Bachchan of Samajwadi Party.
Arithmetically, the BJP can easily win eight out of the 10 seats.
The BJP and its allies have 324 seats in the 403-member Assembly after the death of its Noorpur MLA in a road accident recently.
Altogether six candidates, including Congress nominee Abhishek Manu Singhvi, are in the fray for the five Rajya Sabha seats from West Bengal.
The state's ruling TMC has decided to back the eminent lawyer.
Five candidates are in the electoral arena in Karnataka for four seats.
The state's ruling Congress has fielded three nominees, while there are one each of the BJP and JD(S).
Also Read: Samajwadi Party chief Akhilesh Yadav says ties with Congress continue to be good
Elections will also be held for two seats in Jharkhand where three candidates are in the fray, including two of the state's ruling BJP and one of the Congress.
One candidate each of the ruling BJP and main opposition Congress are crossing swords for the lone Rajya Sabha seat from Chhattisgarh.
Four candidates will try their luck from Telangana where polling will be held for three seats.
The state's ruling TRS has fielded three candidates and Congress one.
All the three Biju Janata Dal (BJD) candidates -- Prashant Nanda, Soumya Ranjan Patnaik, and Achyuta Samanta -- were today declared elected from Odisha.
Four candidates -- two each of the Congress and the BJP -- were elected unopposed from Gujarat.
Union ministers Purshottam Rupala and Mansukh Mandavia (BJP) and Naran Rathwa and Amee Yajnik (Congress) were declared elected unopposed after BJP's Kiritsinh Rana and Congress-backed Independent P K Valera withdrew.
All three BJP nominees---Kirori Meena, Bhupender Yadav and Madan Lal Saini -- were declared elected unopposed from Rajasthan.
Also Read: Wait and watch, says Samajwadi Party leader Ramgopal Yadav on alliance with Mayawati's BSP
Yadav is also a BJP national General Secretary.
The BJP's media chief Anil Baluni got elected without a contest from Uttarakhand.
With one BJP nominee withdrawing today, six candidates of major political parties, including Union minister Prakash Javadekar got elected unopposed from Maharashtra.
Others who won are Former state chief minister Narayan Rane, whom the BJP had backed, former Kerala BJP chief V Muraleedharan (BJP), journalist Kumar Ketkar (Congress), Anil Desai (Shiv Sena) and Vandana Chavan (NCP).
Lt Gen (retired) D P Vats of BJP was elected unopposed from Haryana.
Ruling TDP's C M Ramesh, Kanakamedala Ravindra Kumar, and YSRC's Vemireddy Prabhakar Reddy were elected unopposed to the three seats of Andhra Pradesh.
In Madhya Pradesh, apart from Union ministers Pradhan and Gehlot, Ajay Pratap Singh and Kailash Soni of BJP, and Rajmani Patel of Congress won without a contest.
Besides Union minister Ravi Shankar Prasad of BJP, others who got elected from Bihar are--Bashishtha Narain Singh and Mahendra Prasad both JD(U), Manoj Jha and Ashfaq Karim of RJD and Akhilesh Prasad Singh (Congress).
The Congress will have a member of the Rajya Sabha from Bihar after more than a decade.
--PTI
Read More On Catch: Kejriwal's advisor VK Jain resigns, weeks after providing statement on alleged assault of Chief Secretary