SC buries Sahara-Birla payoffs case: "No probe on basis of flimsy evidence"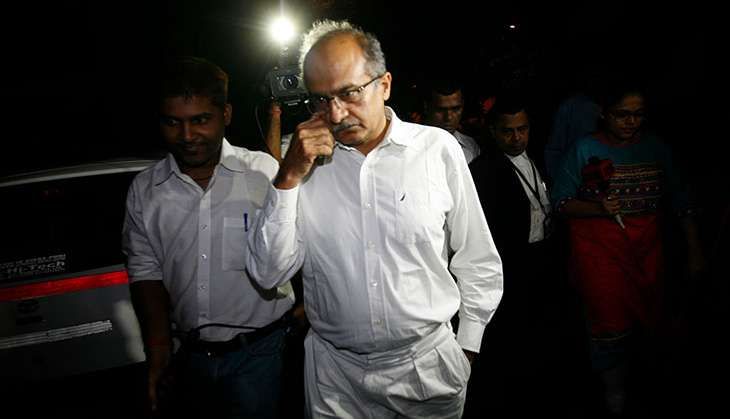 Burying one of the most sensational allegations in the last one year, the Supreme Court has quashed an NGO's plea asking for a probe into the alleged Sahara-Birla payoffs to politicians.
The list of politicians who allegedly received money included Prime Minister Narendra Modi, Madhya Pradesh Chief Minister Shivraj Singh Chouhan and former Delhi CM Shiela Dikshit among others.
Also read- There's more to Sahara & other Ponzi scams than bribery allegations against PM
Congress vice-president Rahul Gandhi and Aam Aadmi Party convenor Arvind Kejriwal had used the allegations to target Modi, then CM of Gujarat. The apex court judgement is a setback to both the political outfits, with elections to five states less than a month away. A court-monitored probe would have put the BJP on the back foot, which is already battling to explain the decision to go in for demonetisation of high value currency notes.
Lawyer Prashant Bhushan, who is part of the NGO, Common Cause, termed it a 'black day' for the Supreme Court. He told Catch: "It is a setback for all those seeking probity and accountability in public life."
Bhushan said he plans to file a review and a curative petition, but claimed that "it is unlikely that would lead anywhere".
The court's reasoning
The two judge bench of Justice Arun Mishra and Justice Amitava Roy didn't find the documents submitted by the petitioner worthy enough to order a court-monitored Special Investigations Team probe.
"If investigation is ordered on the basis of inadmissible evidence like this, constitutional functionaries can't function and democracy will not be safe," the court said.
"Democracy cannot function if investigation set in motion against high constitutional functionaries without cogent material."
Attorney General Mukul Rohatgi, too, had argued that if such "loose sheets of paper" were used as evidence, then similar action could be sought against everyone ranging from the President of the country to a peon. "Nobody in the country would be safe if such documents were accepted as legal evidence. Anyone can put name of anybody on such papers," he was quoted as saying by a wire service.
The Court is also learnt to have used the Jain Hawala Case as an example, pointing out how the investigation did not lead anywhere and all the cases fell flat in the trial court.
Bhushan, on the other hand, had been mentioning the Jain Hawala Case as an example where the Court had ordered an inquiry barely on the basis of entries of initials, alleged to be those of politicians, to order a probe.
"The order is a blot on Supreme Court," Bhushan told Catch. "It will not remove the cloud of suspicion over these diaries. Only a credible investigation could have done that."
A new bench
The case was listed in front of a new bench today, after new Chief Justice of India JS Khehar, who was part of the earlier bench hearing the matter, had recused himself.
Back at the last hearing in January, Bhushan had mentioned how the file pertaining to Justice Khehar's elevation was pending with the Centre. This had not gone down well with Justice Khehar.
Interestingly, this is the second instance of Justice Khehar recusing himself from a matter pertaining to Sahara. Earlier, he had recused himself from the bench which had been hearing the matter of the Sahara Group defaulting on payments to its customers, which had landed the conglomerate's chief Subrata Roy in jail.
Bhushan's claims
Bhushan, who pleaded before the court that it was a clear case for an FIR to be registered, also argued how the Income Tax Settlement Commission's recently relief to Sahara was 'inconsistent'. The commission had, in September 2016, re-admitted Sahara's petition at an unusual pace, lasting merely three hearings, and granted it immunity from prosecution and penalty pertaining to the 2014 raids in which the contentious diaries were said to be recovered.
Interestingly, the commission also reportedly noted how the evidentiary value of the 'loose sheets' could not be proven by the Income Tax Department, basically implying that there was no credible proof on alleged payoffs to politicians.
The court mentioned how even the commission had, prima facie, found that material recovered during the raids was fabricated.
In an earlier hearing in December, when Justice Khehar was still part of the bench, the court had given similar observations. "If we accept what you say, then somebody can make an entry that I sent PM this much of money... See how far-reaching this could be. We are not shying away from taking action against anybody, but you must have something even prima facie to show wrongdoing. We cannot initiate proceedings just because you name a big man. There has to be something," the court had noted.
Then, the petitioners had asked for more time to submit additional evidence.
Background of the case
In its raid on the Aditya Birla Group in 2013 and the Sahara India Pariwar in 2014, the Income Tax Department is said to have stumbled upon documents with names of politicians and alleged details of money paid off to them.
The Sahara papers, for example, allege cash payments amounting to Rs 40 crore against the name of 'Modiji' during his tenure as the CM of Gujarat, another Rs 10 crore against the name of Madhya Pradesh CM Chouhan, and Rs 1 crore against the name of Sheila Dikshit, the then-CM of Delhi.
In a statement issued after Wednesday's judgement, Bhushan said: "The Sahara group was raided by the IT Dept in November 2014. Among the documents seized were detailed accounts maintained in spreadsheets in the computers of an employee of Sahara which contain details of 115 crores of cash received in the year 2013-14, out of which 113 crores had been paid out to various public servants.
"The spreadsheets contained details of dates, amounts and source from which amounts were received, which is mostly from a marketing company of Sahara called Marcomm. It also contained details of payment of this cash on different dates of different amounts to different people at different places and through named delivery persons. This spreadsheet contains details of two payments amounting to Rs 10 crore to CM of Madhya Pradesh, one payment to CM of Chhattisgarh, nine payments amounting to 40 crores to CM of Gujarat, who is also referred to as 'Modiji'.
"Before the IT Department, Sahara claimed that these were fictitious records created by a disgruntled employee to implicate another employee of Sahara. This explanation was disbelieved by IT, who came to the conclusion that these documents represented the true state of affairs for several reasons, most importantly because the cash received mentioned in these documents from Marcomm tallied with the entries and ledger books of Marcomm itself, which were also recovered."
Bhushan added: "Today's judgment shows that though the Court has often said that law is equal for everyone and 'be you ever so high the law is above you', the Court has betrayed this precept in its judgment today. Supreme Court's judgment today will leave the cloud of suspicion over all the persons mentioned in these documents. That cloud could only have dissipated if there had been an independent investigation into the payoffs mentioned in these documents.
"It was therefore in the interest of those persons mentioned to have themselves sought investigation which would have cleared them if they were not guilty. Unfortunately those in authority were hell-bent into stonewalling any investigation into this matter and even more unfortunately Supreme Court has also abdicated its constitutional responsibility for ensuring such investigation."
Edited by Shreyas Sharma
More in Catch
'Modi took bribes from Birla & Sahara': Kejriwal tears into demonetisation
Rahul accuses Modi of taking bribes from Birla & Sahara. Is this the earthquake?
Citizens' forum writes to CBDT, urges CBI probe into Sahara-Birla payoffs