Rahul accuses Modi of taking bribes from Birla & Sahara. Is this the earthquake?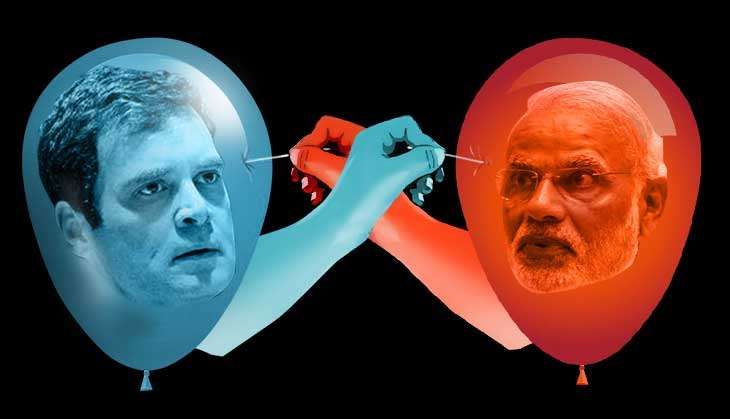 Accusing Prime Minister Narendra Modi of accepting kickbacks from Sahara and Birla, Congress vice-president Rahul Gandhi unleashed a political "earthquake" in Mehasana and the tremors were felt in New Delhi.
The epicentre of Rahul's "earthquake" was Modi's home district in Gujarat - Mehsana where the Gandhi scion addressed a rally on Wednesday.
Rahul's accusations led to Congress and BJP locking horns over the issue and eventually other Opposition parties joined the bandwagon in targeting the prime minister, who is already under fire for his poorly implemented demonetisation drive. .
The allegations
During his rally in Mehsana, Rahul alleged that Modi received crores of rupees in kickbacks from Sahara and Birla during his tenure as the Gujarat chief minister. Rahul said Income Tax raids on Sahara offices revealed that the group paid off Modi nine times in six months in 2013. He also said how the IT department wanted to hold an inquiry on these transactions for the last 30 months and sought an independent inquiry into the matter.
Citing Income Tax records, Gandhi said that Rs 2.5 crore was given to Modi on 30 October, 2013; Rs 5 crore on 12 November, 2013; Rs 2.5 crore on 27 November, 2013; Rs 5 crore on 13 November, 2013. Rahul said, "Entries showed Rs 5 crore was given to Modi on 6 December, 2013; Rs 5 crore on 19 December, 2013; Rs 5 crore on 13 January, 2014; Rs 5 crore on 22 February, 2014." He also pointed to records that suggest payments to Modi from the Birla group.
"The country wants to know whether this is true. If yes, why has there been no probe into it for the last two and a half years. It is time that an independent investigation is carried out in the matter," he said, while pointing that Modi was not ready to face him in Parliament.
Reiterating his earlier position, the Congress vice-president also accused Modi of not allowing him to speak in the House. The Gandhi scion had earlier claimed that his revelations on "personal corruption" of the prime minister would cause an earthquake in Parliament.
Opposition corners Modi
Rahul's accusations led to a series of press conferences by BJP, Trinamool Congress, Aam Aadmi Party and Congress.
Defending the prime minister, BJP labelled these allegations as baseless and accused Rahul of being the "guardian of corruption".
Addressing the media, Union minister Ravi Shanker Prasad said, "Congressmen and even the family has been named in AgustaWestland investigations. It is not surprising that they resorted to this baseless tactic given that they're feeling cornered." He went on to add that the Congress vice-president is out on bail in the "Rs 5,000-crore National Herald case".
Giving a clean chit to Modi, Prasad said the prime minister is as clean as the river Ganga to which Congress responded by saying that Ganga has become dirty and that is why there is a campaign to clean it. Congress' chief spokesperson, Randeep Singh Surjewala, said the prime minister's credibility is at stake and his integrity is being questioned.
"PM Modiji must come forward and say whether or not he took money from Sahara and Birla. Modi ji need only say that he didn't take this money and submit himself to an inquiry. If he is innocent, then why has there been no probe? IT Dept said that there should be an inquiry on the transactions made to Modi ji. Why has no inquiry been initiated?" questioned Surjewala.
Meanwhile, TMC spokesperson and Rajya Sabha MP, Derek O' Brien said his party demands a thorough inquiry into Rahul's allegations. He said, "We demand a CBI inquiry, all sorts of investigations, so that the truth comes out."
Delhi chief minister Arvind Kejriwal welcomed Congress' attack on Modi's role in the Sahara-Birla case and reminded that a month ago, he had levelled similar allegations against the prime minister in the Delhi Assembly .
Even CPI (M) leader Sitaram Yechury demanded an investigation into the matter and tweeted, "Sahara diaries and the allegations against Modi, when he was Gujarat CM, are very serious and must be investigated."
However, there is nothing new to Rahul's allegations and these documents have been in public domain for quite a while. In fact, these documents, seized during I-T raids were submitted in the Supreme Court by Common Cause, a NGO, in its petition. Common Cause has alleged that there has been a cover up following these raids and is seeking a court monitored probe.
Earlier on 26 November 2016, the Supreme Court bench of Justices JS Khehar and Arun Mishra told the petitioners that it cannot order investigation on these allegations of kickbacks being given by Sahara and Birla. In his observation, Justice Khehar, who is slotted to be the next Chief Justice of India, said, "Are you relying on Sahara's documents? They never have genuine documents... Anybody can make a computer entry against a Chief Minister or Prime Minister. Can we order a probe based on all that? Bring better material..."
"If we accept what you say, then somebody can tomorrow make an entry that I sent PM this much of money... We are not shying away from taking action against anybody but you must have something even prima facie to show wrongdoing. We cannot initiate proceedings only because you name a big man. There has to be something... Show us better material because we are not satisfied at all with this. It is zero for us."
Meanwhile, the Supreme Court is expected to hear the matter in January next year.