Rohith's brother might just say yes to Kejriwal's ridiculous job offer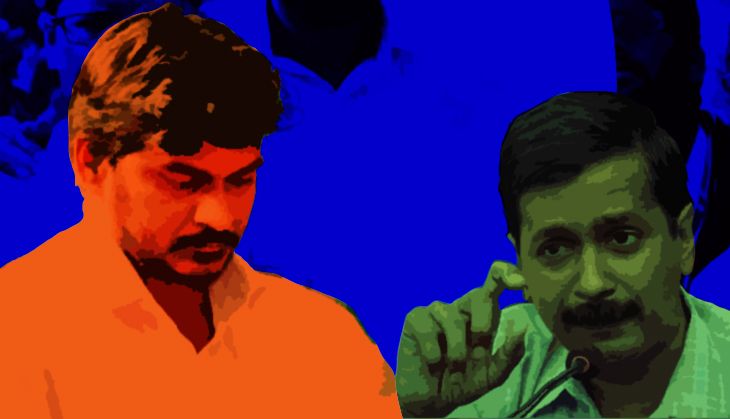 A surprise post arrived at Raja Vemula's house on 6 April. It was from the Delhi government. The letter was an appointment letter on 'compassion grounds'.
The position offered was that of a Grade-IV clerical officer at a salary of Rs 1,900 per month, with allowances.
Raja has a lot to be bitter about, but this letter isn't one of the things.
Plans gone awry
After his brother Rohith Vemula, a Dalit PhD scholar at Hyderabad Central University (HCU), committed suicide in January this year, Raja had to abruptly leave his job as a project fellow at Hyderabad's National Geophysical Research Institute.
Read: What killed Hyderabad university Dalit scholar Rohith Vemula?
Equipped with an M.Sc. in applied geology from the Puducherry Central University, Raja was working as a project fellow for a starting salary of Rs 16,000 per month at the prestigious institute. He recently cleared the National Eligibility Test (NET), which qualifies him to be hired as an assistant professor at any college in the country. But his plan, he says, was always to become a geo-scientist.
"The plan was always that one of us would be working to allow the other to study. While Rohith was doing his PhD, I had to keep earning. And once he got a job after his PhD, I would then be able to do mine," says Raja on the phone from Hyderabad.
Rohith's suicide threw everything off course: both Raja's plans and his mother's health suffered.
"When we visited Delhi, my mother asked Mr Kejriwal for some assistance. He promised to help us," says Raja.
But isn't he disappointed at the lowly offer?
"I'm very grateful to him. I respect Mr Kejriwal because he was the first person in power to have the guts to be there for us. When both Andhra Pradesh and Telangana governments turned their backs on us, he still reached out to me with a job offer," says Raja.
New set of priorities
Although the salary offered is a pittance, the offer includes benefits such as housing and coverage for all medical expenses. These mean a lot for Raja.
The two issues on top of his priority list are his mother's health and justice for his brother.
Also read- 'He had to die to make his point. And he did it': Rohith Vemula's best friend
His mother is suffering from right-side paralysis. And because of the lack of money, she is undergoing Ayurvedic treatment in Hyderabad. "We are just pulling along with the goodwill of my brother's supporters," says Raja.
He realises that this is unsustainable in the long run, and that soon enough, he'll have to make a choice. But will he take up the offer from the Kejriwal government?
"I am not sure yet. We are still thinking things through," says Raja. "My priority is to continue the movement for justice for my brother. No mother should have to cry this much in a lifetime."
Read more- Rohith Vemula death: Government will not intervene in suicide of Dalit scholar, insists Smriti Irani
While the general administration department waits for a response, Raja is certain that whatever he chooses to do will first enable him to put up a stronger fight for justice.
And by justice, he means a fair trial of HCU Vice-Chancellor Prof Appa Rao Podile. He also wants a legislation to be enacted in Rohith's name, which will come down hard upon caste discrimination within institutes of higher learning.
But he has very little time to figure out a battle plan.
Edited by Shreyas Sharma
More in Catch:
Bloodbath on Baisakhi: The Jallianwala Bagh Massacre, 13 April 1919
Don't blame climate change! Green policies made Tata Steel UK over a billion Euros
Simultaneous LS & Assembly polls? Surely PM Modi & our MPs are joking
Emerging contours of the Naga settlement