Robbers use hand sanitiser before looting jewellery shop, cash worth Rs 40 lac [MUST WATCH]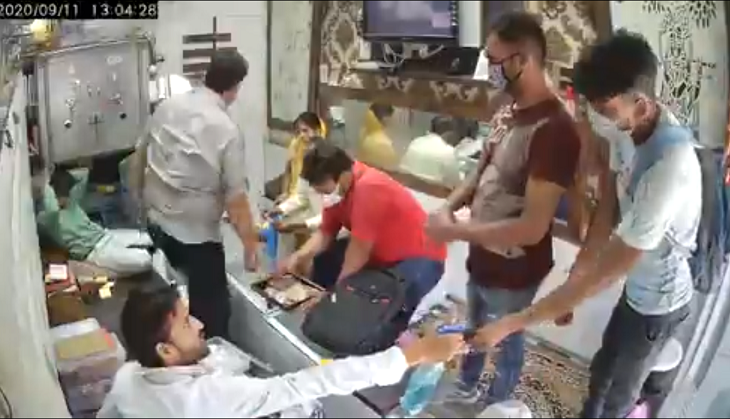 In a bizarre and shocking robbery incident has come to light from Uttar Pradesh's Aligarh where three robbers entered a jewellery shop, followed COVID-19 protocols, and then looted the shop within 30 seconds.
The whole robbery incident was caught on camera.
Meanwhile, the CCTV footage of the robbery is going viral on social media. In the video, three masked men entered a jewellery store, got their hands sanitized by a store employee, and then they took out their guns and looted cash and jewellery worth Rs 40 lakh.
According to media reports, the incident took place around 2 pm on Friday at Sunder Jewellers near Sarsol Crossing in Aligarh's Bannadevi area.
In the CCTV footage, two men casually entered the jewellery store. Assuming them as customers, one of the shop employees offered them hand sanitiser. The two men also sanitised their hands and then whip out their country-made guns and started looting the shop at gunpoint. Soon, the third member of the gang also joined them and put all the items into the bag.
However, the shop employees were sitting with folded hands.
Watch full video:
#WATCH Three armed men wearing masks robbed a jewellery store in Aligarh, earlier today. pic.twitter.com/eN9NIGv84l

— ANI UP (@ANINewsUP) September 11, 2020
As per the CCTV visual, other customers were also present in the store. None of them moved an inch after the armed robbers entered the shop. The three miscreants executed the crime within 30 seconds and fled the spot after taking jewellery worth about Rs 35 lakh and 50,000 in cash.
Meanwhile, a special team has been constituted, including two officers of the rank to nab the criminals involved in the act.
Also Read: Caught on Cam: 15-year-old girl fights back with phone snatchers; netizens call her 'real hunk'