RK Nagar by-poll: IT raids on TN minister Vijayabaskar, film star Sarath Kumar
S Murari
| Updated on: 7 April 2017, 22:46 IST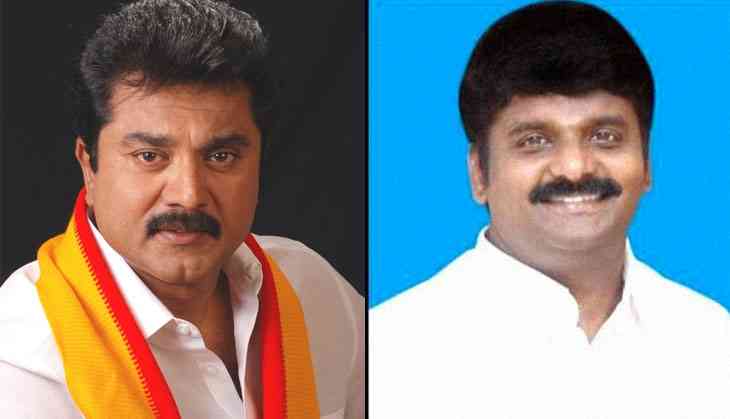 In pre-dawn raids across the state ahead of the hotly-contested RK Nagar Assembly by-election, income tax authorities on Friday searched the official residence of Tamil Nadu health minister C Vijayabaskar, his personal assistant Nainar Mohammed and MGR Medical University vice-chancellor Seethalakshmi, besides former MP and AIADMK (Amma) faction leader Chitlapakkam Rajendran.
Also raided was film star and Samathuva Makkal Katchi leader Sarath Kumar who, just a few days ago, pledged support to AIADMK (Amma) deputy general secretary and RK Nagar by-poll candidate TTV Dinakaran.
Details of the raids
The raids, which started in the early hours, were expected to go on all day, income tax officials said.
In all, searches were conducted in 35 places — 21 in Chennai, 10 in Tiruchirappalli and four in Pudukottai, the native district of Vijayabaskar. Officials also searched the minister's ancestral house in the district.
Reports said officials recovered Rs 2.7 crore in cash from his PA Nainar Mohammed. Another 1.7 lakh in cash was recovered from the MLAs' hostel in Chennai.
Why the raids were conducted
The raids followed reports about wide-spread distribution of cash in the RK Nagar constituency, which is going to the polls on 12 April to fill the vacancy caused by the death of former Chief Minister J Jayalalithaa.
The Election Commission dispatched one of its directors, Vikram Batra, to monitor the election. He went into a huddle with Tamil Nadu Chief Electoral Officer Rajesh Lakhoni, district election officer D Karthikeyan, returning officer Praveen P Nair, and the police commissioner, besides observers.
Karthikeyan said 70 flying squads and micro observers had been deployed to check malpractices.
Politically motivated?
Central forces were deployed during the raids at the official residence of the minister, following his protest that he was being harassed. Vijayabaskar, who came out with his school-going daughter when the raid was on, told reporters that he was innocent and nothing incriminating had been found in his house.
Vijayabaskar said they could not recover even Rs 10,000 from his house. He said: "They asked me if I had given money to Sarath Kumar."
Vijayabaskar called the raids 'politically motivated', while Dinakaran said they were aimed at preventing ministers from campaigning for him.
Dinakaran said: "The timing of the raids ahead of the 12 April by-election shows it was aimed at sabotaging my chances. The BJP government at the Centre is acting in concert with the OPS faction."
However, state BJP leader Tamilisai Sundararajan said the BJP government at the Centre had nothing to do with the raids, which had been carried out by tax officials on the basis of specific information about money distribution in the by-election. She said: "The raids are part of countrywide searches being carried out to unearth black money."
DMK working president MK Stalin, meanwhile, said Vijayabaskar should resign or be sacked following the raids.