Ram Vriksh Yadav: villagers remember a 'rude agitator', Jai Gurudev bhakt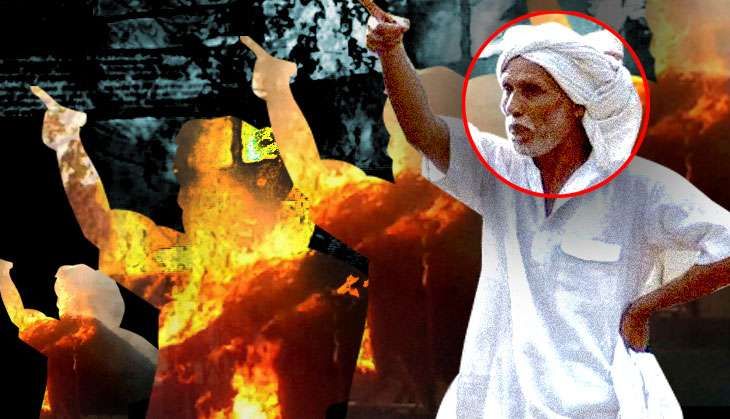 Ram Vriksh Yadav, leader of the cult behind the Mathura violence, hails from Mardah region of Ghazipur, Uttar Pradesh. He had been camping in Mathura for the past two years. He's absconding, although some believe he was killed in the police crackdown.
In his native Raipur Baghpur, most villagers are admirers of Ram Vriksh. Here is what they had to say about him.
Also read - Mathura violence: Who is Ram Vriksha Yadav and what does his group of 'satyagrahis' want?
'Democracy warrior'
Ram Vriksh receives a monthly pension from the Uttar Pradesh government for participating in the anti-Emergency agitation against Indira Gandhi. His ancestral mud is located just outside the village, although none of his family members live there anymore. Ram Vriksh has two daughters and two sons. The daughters are married, while his sons were living with him in Mathura.
Sudama Yadav, a resident of Raipur Baghpur, "worked with" Ram Vriksh during the Emergency. "And we went to jail together," he says.
Ramakant Yadav, who claims to be a follower of Jai Gurudev, the founder of Swadhin Bharat Vidhik Satyagrah, a faction of which Ram Vriksh heads now. Ram Vriksh's is a cult, which insists that Gurudev, who died in 2012, is alive and, more bizarrely, that he is in fact Subhas Chandra Bose. Ramakant said Ram Vriksh "rarely comes to the village" now.
But when he last visited about two years ago, Ramakant claimed, he handed over his ancestral land to cultivators, and took his family to Mathura.
Jai Gurudev devotee
The villagers say Ram Vriksh is a "staunch devotee of Jai Gurudev". They are, however, at a loss to explain how, if Gurudev preached vegetarianism and non-violence, his devotee turned out to be the leader of a thuggish and violent group. Several former comrades admit Ram Vriksh was "outspoken and rude" but express surprise that he could spearhead such a violent group.
According to the villagers, Ram Vriksh's "devotion to his religious master" was such that he refused to believe Gurudev was dead despite witnessing his body being cremated. He later claimed the cremated body had not been Jai Gurudev's and demanded a death certificate from the local administration. When the administration didn't fulfil his demand, he went to the Allahabad High Court and later the Supreme Court.
Like his disciple, Jai Gurudev, originally from Khitora village in Etawah district, was no stranger to controversies. He had several criminal cases registered against him in Etawah and Lucknow, and was even convicted in a few.
Ram Vriksh's old comrades say he has always been an "agitator". Since he was quite rude, too, most people kept a distance from him. In his younger days, he was an active member of the Jayaprakash Narayan movement. He led a procession against the Emergency and staged a dharna outside Ghazipur district headquarters. He was jailed for this. After the Emergency was lifted, the UP government declared him a "Loktantrik Senani", making him eligible for a pension.
Links with Shivpal Yadav?
Ram Vriksh is said to be close to UP's powerful minister Shivpal Yadav, who too is a follower of Jai Gurudev. Indeed, Shivpal's links with Ram Vriksh's group have been the subject of speculation for quite some time. Shivpal is a frequent visitor to Gurudev's Mathura ashram, and when he went there last year, Ram Vriksh was among those who received him. The minister had then declared that his government would "intervene" if there was "any danger to Jai Gurudev's ashram". He had also said that "saints" like Gurudev "hold a place next only to god".
People in the know claim Shivpal had played a key role in anointing Jai Gurudev's driver Pankaj as his heir. Pankaj is now known as Pankaj Baba. Ram Vriksh is said to have been close to him.
Jai Gurudev had "high connections" in the Congress and the Samajwadi Party, which Ram Vriksh cultivated after his mentor's death. It is believed these "political friends" prevented the Mathura administration from acting against Ram Vriksh's group for all these years.
Update: The Uttar Pradesh Police has now confirmed that Ram Vrisksh Yadav was killed in Thursday's clashed with the police.
More in Catch - What's the Mathura Mayhem all about
The Bose cult behind Mathura violence and how it became so menacing