Power game: why a monk's arrest has sparked bloody protests in Arunachal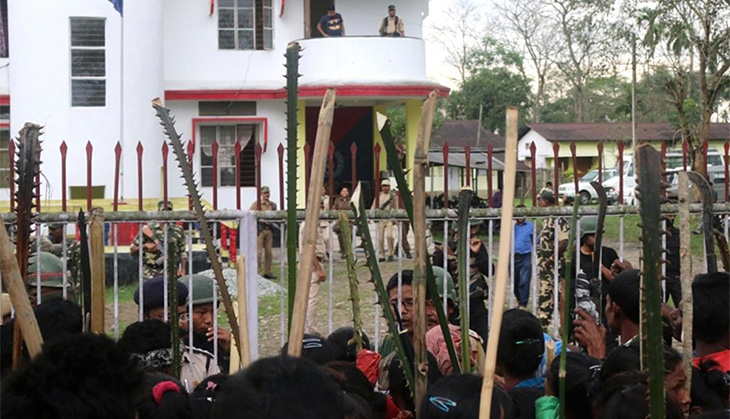 Two people were killed in Arunachal Pradesh's Tawang Sunday, during protests against the arrest of a Buddhist monk.
The monk, Lama Lobsang Gyatso, is believed to have been targeted for spearheading anti-dam movements in the hill state.
Gyatso, secretary of Save Mon Region Federation, has been instrumental in opposing hydroelectric dams in the state, as well as demanding transparency in their functioning.
Also read -Guess who made our green panel stall an Arunachal hydel project
His latest victory came on 7 April, when, acting on SMRF's petition, the National Green Tribunal suspended the green clearance awarded to a big hydel project. The 780MW Nyamjang Chhu project in Tawang must now conduct environmental impact studies and public hearings all over again.
Gyatso was arrested on 28 April after an audio recording of him allegedly questioning the nationality of the Abbot of Tawang Monastery - which is affiliated to the Dalai Lama - was circulated on WhatsApp.
In the recording, Gyatso is purportedly heard saying that the Abbot, Guru Rinpoche, does not understand the impact of hydel projects in Arunachal as he is an "outsider".
Apparently angered by this, Tawang Zilla Parishad chairperson Jambey Tsering, along with 353 other persons, registered an FIR against Gyatso under sections for promoting enmity among groups on grounds of religion; indulging in acts intended to outrage religious feelings; uttering words with deliberate intent to wound religious feelings; criminal intimidation.
Gyatso is now in jail. His request for bail was heard in a magistrate's court Monday and the order was reserved for 4 May.
A big crowd of his supporters had gathered outside the police station where he was being held. On hearing that he had not got bail, they moved towards the police station, only to be fired upon. The police allegedly used live bullets rather than rubber ones.
In the crosshairs
Gyatso's supporters insist he is being targeted for his opposition to dams in the region.
One Zilla Parishad member Lobsang Youten had allegedly even threatened Gyatso with death, and was arrested after the monk lodged a complaint. But while he was soon released on bail, the monk remains in jail. His supporters point to this to allege the police is biased against the monk.
Gyatso's lawyer Lham Tsering told Catch that the police asked the court for 14-day custody of the monk to match his voice sample with that in the audio clip. The magistrate responded that the police have just one day - Tuesday, 3 May - to do this, and reserved the final order. Gyatso was moved from police to judicial custody.
"It is possible that he is being targeted because of his position on dams coming up in Mon region. He has been opposing them for a long time," Tsering said.
Gyatso's latest arrest on 28 April came just two days after he was held for a day for organising protests against the 6MW Mukto Shakangchu project.
A researcher working on hydel projects in Arunachal said although the case against Gyatso appears to be genuine, the seriousness with which he's being prosecuted indicates he's being punished for his activism.
"Lobsang Gyatso is a daredevil Lama, who files RTIs, petitions, and asks questions about the dams in Tawang region. However, the Tawang area is under the iron grip of the Khandu family (of the late chief minister Dorjee Khandu), to which the local legislators also belong. They are unused to this kind of activism," the researcher said, adding, "The audio clip is almost a week old, so it is suspicious why a complaint was filed now."
Edited by Mehraj D. Lone
More in Catch:
China's new Zam dam could be disastrous for India. Here's why
Monumental folly: why India's first private sector hydel project is rotting