Pollution takes a toll on Bhopal's traffic cops, Raipur's phone-obsessed doctors irk patients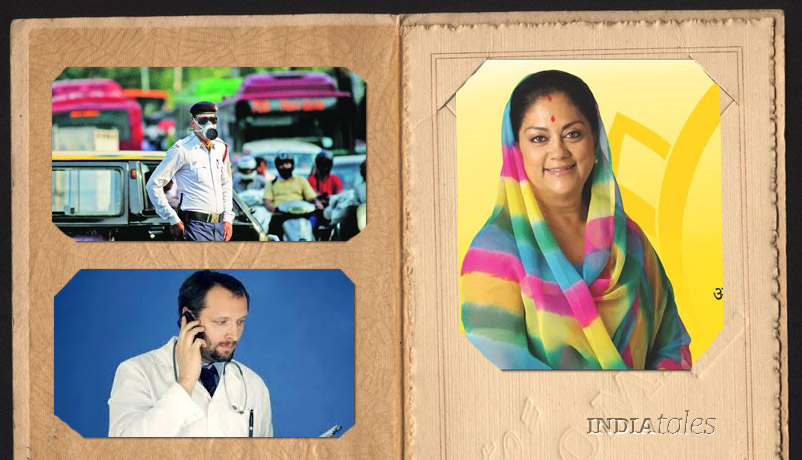 01
Mother born after her child! Several discrepancies come to light in Raje's Bhamashah scheme
A mother younger to her children and a father born the same day as his daughter. Such ridiculous anomalies pepper the Rajasthan government's flagship Bhamashah Welfare Scheme.
Ghavri Devi of Babra in Pali district was astonished when she received her Bhamashah card. It had 1 January, 1974 as her date of birth, instead of 17 August, which she says is her real birth date. The birthday of her son, on the other hand, has been put as 17 August, 1973. The same date has been put as the birthday of Ghavri's daughter, who was born on 26 January, 1999.
Also read - What is killing Rajasthan's 'foreign breed' cows? Hint: it's not beef eaters
Most families of the town are yet to receive their Bhamashah cards. And those who have them have are frustrated with errors. The scheme is the state's version of Aadhar card - meant for direct transfer of subsidies to the poor. Under it, 1.5 crore bank accounts have been opened for the women. The Raje government has kept aside Rs 600 crore for the scheme this year.
02
More than half of Bhopal's traffic cops suffer from pollution-related diseases
Pollution is taking a toll on Bhopal's traffic personnel. More than half the traffic policemen of the city suffer from ailments such as diabetes, hypertension and anger management.
At a recent health camp, almost a quarter of the traffic cops were found to have pulmonary disorders. Others suffered from high blood pressure and anger issues.
According to doctors, noise and air pollution are major causes for such ailments. They have advised the cops to wear masks, reduce the intake of tea and eat green vegetables to remain healthy.
[twittable]Suffering from pollution-related diseases, Bhopal cops told to wear masks, avoid tea, eat vegetables[/twittable]
"We will organise monthly medical check-up camps. The personnel would be given medicines and expert advice," said Basant Kaul, the city's deputy superintendent of police (administration) traffic.
"Preventive measures should be taken as soon as an illness is diagnosed. They should eat vegetables for vitamins and take butter milk to keep blood pressure in check. A disciplined lifestyle is important," said Rakesh Bhargav, a medical professional.
Also read - Ugly India: Rajasthan gives away road for mining, woman kills son for Rs 100
03
Cell phone obsession among doctors irks patients in Raipur