Politics of hunger: Bundelkhand widow falsely accused of selling daughter
The allegation
Tribal widow Kashibai lives in Mohanpura village of MP\'s Tikamgarh district, in the famine-hit region of Bundelkhand
She was accused of trafficking her daughter Bhagwati for money
The truth
Kashibai did break the law - she married off her minor daughter, but didn\'t try to sell her
Bhagwati was married to Dharamdas of the Kurmi caste, because his family was willing to bear the wedding expenses
More in the story
The politics at play behind this false accusation
How the media made a mountain out of a molehill
Natural calamities are often used as a political tool in India, be it drought or flood. As if the tragedy of death due to hunger in the famished region of Bundelkhand were not enough, allegations of human trafficking against local adivasis are adding insult to injury.
Read- India's shame: Bundelkhand woman eats mud for 12 years to survive
Child marriages done under the distress of poverty are being portrayed as a deliberate attempt to force girls into the prostitution.
Who are these people sensationalising the misfortune of famine? What will they get out of maligning the villages and tribals of Bundelkhand?
Kashibai's story
Kashibai alias Kassu's story is a case in point. An adivasi hailing from the Mohanpura village in the tribal-dominated Tikamgarh district of Madhya Pradesh, Kashibai is an old widow. This poor woman is a mother of seven children, with barely any material possessions.
With only two of her elder sons married, Kassu was desperate to see her daughter in a wedding dress. On 29 April, this wish came true as Bhagwati, Kassu's third offspring, tied the knot with Dharamdas.
The marriage proposal came through a relative. The bridegroom belongs to a Kurmi family, a caste outside Kassu's community. Nevertheless, she gave her nod, as Dharamdas's family was ready to bear all the expenses for the marriage.
The marriage fell apart within just four days. Kashibai's drug-addict brother Ganesh was furious that his niece was married outside the community. Some people from the village apparently provoked Ganesh for vested interests. It was insinuated that Kashibai had sold her daughter for money. A woman sarpanch from the Yadav community was also accused of taking money for the deal.
On 2 May, the news hit the headlines of all major newspapers and local TV channels. The media alleged that Kashibai had taken Rs 1 lakh to sell Bhagwati. Soon, the local administration and police sprung into action. A team of the women's empowerment cell visited the village. Bhagwati was 'rescued' from her in-laws' house, and brought back to her maternal home.
Poverty forcing an old adivasi woman from drought-hit Bundelkhand to sell her daughter made for a juicy news story. However, the investigation proved otherwise. Only the charge of child marriage could be established. An FIR in this regard was registered at Tikamgarh (Rural) Police Station on 3 May.
Ironically, none of the newspapers or TV channels have offered an apology to Kashibai's family. They have not even bothered to follow-up the story.
Abject poverty
Mohanpura is situated a few kilometres from Tikamgarh town. A long muddy trail leads to the village. Our team is stopped midway, near a house belonging to a Yadav family.
"Sahab, our village has been maligned already. Kassu is a poor woman. She has seven children to feed. Please spare her. She needs justice," implores Siyaram Yadav, the eldest member of the family.
Also read- He died hungry: farmer Sukhlal's death the latest blot on Bundelkhand
It is only after clarifying our intentions that we are allowed to move further. Yadav instructs an adivasi village woman to lead us to Kashibai's house.
We are taken to an adivasi settlement with roughly 30 houses. All we can see were women and children, barring one or two youths. Everything in the surroundings reflects the abject condition of these people. The children are scantily clad; the houses almost empty.
Kashibai does not seem to have lost her confidence despite all her travails. She rues the fact that she had fixed the marriage of her daughter with great difficulty, and yet, people complained about it. When asked who had opposed the marriage, she replies: "I don't know sahab. I am not that educated to understand these things."
She refrains from naming anybody for the fate of her daughter. According to her, the local police had summoned her on 3 May for questioning. She claims the police has not approached her ever since. Kashibai's sons were apparently not in the house when the police officials called her. They had gone to work at a mine, where most of the villagers work as labourers
Lung diseases are common among the village folk due to this mine. In fact, her husband also succumbed to a lung disorder about five years ago.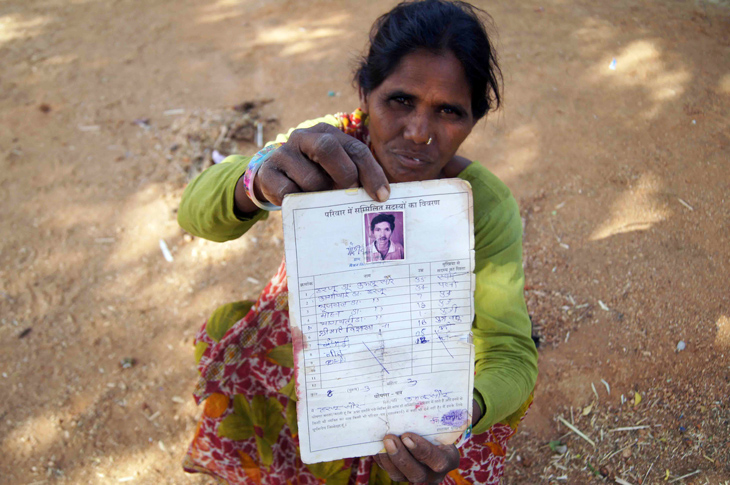 Photo: Abhishek Srivastava
The women of the village collect wood to sell in the city. Three kilograms of wheat and two kilograms of rice from the government quota is hardly sufficient to feed any of the families. Nobody in the village owns land.
Kashibai's husband left his family without any source of livelihood. She had to borrow Rs 14,000 from the village sarpanch for her sons' weddings.
Local police officer Madhuresh Pachauri reveals: "Kashibai admits she has never repaid the debt. The sarpanch also did not demand the money. Some people used this fact to spread rumours that Kashibai had sold her daughter to pay back the money to the sarpanch. However, these are baseless allegations."
How it blew out of proportion
A case has been registered at Tikamgarh (Rural) Police Station against Kashibai and others, under the provisions of the Child Marriage Prohibition Act. The FIR alleges Bhagwati was just over 15 years old at the time of the marriage.
Read more- Bundelkhand drought: Centre offers 'water train', UP says it's of no use
"The case was hyped by the media. One media house carried the story and the rest followed suit," says Superintendent of Police, Nimish Aggarwal.
Pachauri further elaborates: "Kashibai had objected when a news cameraman entered her house and started filming the family. She offered any service for not showing the footage of the house, as it would bring a bad name to her. The journalists interpreted it as an attempt on Kashibai's part to bribe them. This led the scribes to conclude that she must have sold her daughter."
Bhagwati's story
Bhagwati has been staying at her maternal house for over a week. No media outlet has felt the need to take her statement.
Initially, she is reluctant to talk to Catch. But, we manage to obtain her version of the story, for the first time.
She appears happy with the marriage, declaring unequivocally that her husband, as well as in-laws, have treated her well. Bhagwati also expresses a desire to return to her husband.
However, she is not wearing any of the bridal jewellery like bangles or bichhua at the time of the interview. Kashibai informs that all of the jewellery was offered by the bridegroom's family, as she had no money.
"This poor family was fortunate to find a son-in-law who works as a JCB (roadworks machine) driver. He must be earning at least Rs 10,000 per month. Why should Bhagwati not be happy? It is the dream of every mother to see her daughter settled in a good family. Unfortunately, it turned out to be a case of child marriage. Otherwise, the police would not have intervened. We followed the Supreme Court guidelines and took Kashibai into custody on 3 May. She was released after serving a notice," Pachauri explains.
The question of caste
The caste fault lines played their part in the false media hype surrounding the case.
"It was a conspiracy hatched by detractors," alleges Yadav.
But, who are these detractors?
"Sahab, the post of village sarpanch has been dominated by Yadavs for a long time. The local Pandits are envious of the community. They always find some pretext to target Yadavs. The poor adivasis have become a pawn in this rivalry.
"Kashibai was maligned at the instance of her alcoholic brother. Otherwise, no girl has ever been sold in the village. It will never happen here. No matter how poor we are, we will never sell our daughters," Yadav says.
Edited by Shreyas Sharma
More in Catch:
Devil in the deep blue sea? Navy wife-swap victim recounts horrors
BJP's claim of a Congress-mukt Bharat is nothing but another jumla
How to lose friends and control opinion, Chinese govt style