Pink ball worm kills cotton crop across five states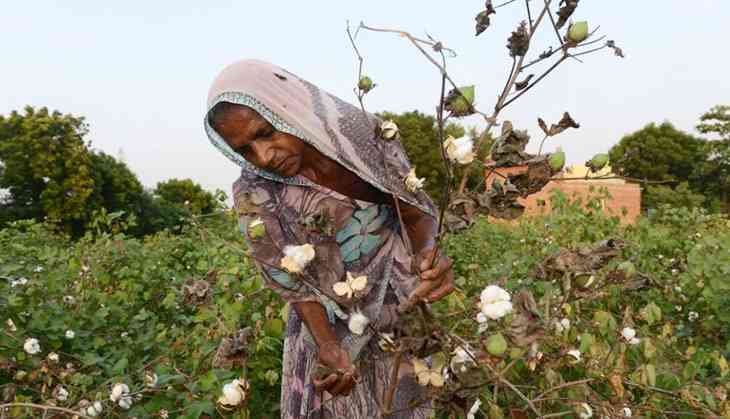 Farmers in Vidarbha and Marathwada regions of Maharashtra are already facing problems due to inadequate rainfall and severe drought. On the one hand, the farm loan waiver has failed to bring any respite to debt-ridden farmers, and on other, the standing cotton crop has been destroyed due to pink ball worm infestation.
According to an estimate, cotton crop on around 40 lakh hectare in Maharashtra has been completely destroyed due to the pest infestation. Farmers in neighbouring cotton-growing states such as Telangana, Andhra Pradesh, Madhya Pradesh and Gujarat also face the same problem.
"The pink ball worm infestation was first seen in Telangana in August this year. It has now spread through entire Vidarbha and Marathwada regions of Maharashtra, Madhya Pradesh and Gujarat. Among all the cotton growers, farmers in Maharashtra are worst hit. As the agriculture department, cotton research institutes, agriculture universities have failed to address the issue, cotton crop standing on around 40 lakh hectare land in Vidarbha and Marathwada has been completely destroyed," said Kishor Tiwari, chairman of Late Vasantrao Naik Farm Self Reliance Mission.
He has claimed to have formulated a five-pronged programme to tackle ball worm infestation and eradicate it forever. Tiwari has submitted the proposal to Chief Minister Devendra Fadnavis as well.
According to Tiwari, the root cause of the problem is BT Cotton seeds sold in India by American seed companies.
"It was claimed that the BT seeds were resistant to all the pests including ball worm, which attacked indigenous varieties of cotton. We have been opposing the BT seeds all along and our fears have now come true. The ball guard technology claimed to be developed to keep the pests at bay, has been completely failed as the ball worm has developed resistance to it. As a result, cotton crop on 40 lakh hectare in Vidarbha and Marathwada regions of Maharashtra has come under the attack of ball worm and completely destroyed," Tiwari said.
These pests have been a major cause of crop loss in Gujarat, Telangana, Panjab and Maharashtra over the last couple of years. The government of Maharashtra, following several complaints, has banned BT seeds marketed by a company, last year. The BT seeds marketed by Monsanto have come under pest attack now as well.
"Cotton is a major cash crop in Vidarbha and Marathwada. Around 70 lakh farmers depend on cotton as the main cash crop. All these farmers are now in serious trouble," Tiwari said.
According to Tiwari, the ball worm infested crop should be destroyed completely, destroy the ball worm eggs in ground, avoid pre-monsoon sowing of cotton, avoid sowing cotton next year since it is infested this year. It can be replaced by cereals and oil seeds, lodge claims against the seed companies.
"American seeds are solely responsible for the huge pest infestation. The only solution to the problem is sowing native varieties of seeds. Central government should now instruct agriculture department, Central Institute of Cotton Research, Indian Agriculture Research Council, to undertake intensive research on native varieties to salvage the farmers," Tiwari said.
While farmers are blaming the BT seeds brought in India by American companies, President and founder director of South Asia Biotechnology Centre (SABC) Dr CD Mayee feels that they are hitting the wrong target.
"The pink ball worm infestation is not caused by BT seeds, but due to mindless farming and sheer lack of crop management. Other states like Gujarat and Telangana too are facing the problem, but they have managed to save the crop by timely actions. While around 80% cotton crop in Maharashtra is infested, the ratio in Gujarat and Telangana is just 20%. This is because the farmers and state governments there woke up to the problem in time and managed it effectively."
He agreed that the worms have developed resistance to the ball guard technology. But it does not mean that one should not try to overcome the resistance, he added.
"There are several ways to keep the pink ball worm such as installing pheromone traps in the field, which attracts the male and kills it. This helps in understanding the intensity of the possible pest infestation and new species of pests if any. Ideally, there should not be any leftover in the field after February and March as ball worm larvae grow in it and attack the crop later. One should not blame the BT seeds for the damage. We can prove that even BT seeds can keep the pests at bay," Mayee said.