People get no respite from note ban misery in poll-bound Punjab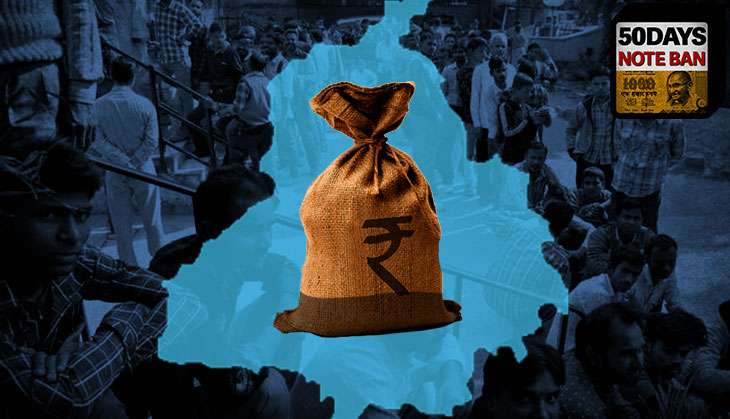 Nearly 50 days after Prime Minister Narendra Modi announced the demonetisation of Rs 500 and Rs 1000 currency notes, people in poll-bound Punjab continue to stand in long queues in the hope of getting some cash to meet their daily needs.
While BJP cadres continue to sell the narrative of nationalism and a cashless economy, they have no answers when the common man asks them about unemployment, the cash shortage and uncertainty.
People are eagerly looking towards every move that the Central government is making, hoping and praying that the next one would finally end their misery.
Industry worst hit
The industrial towns of Ludhiana, Jalandhar and Amritsar have witnessed large scale unemployment because of a drop in production and money not circulating in the markets.
In Ludhiana, which is home to around 5,000 small and big units manufacturing auto components, a 10-day shutdown is in progress.
Small industrial units have to make payments to their employees in cash. These employees either hail from nearby villages or from the other states, mainly Uttar Pradesh and Bihar. They do not have even bank accounts, are semi-literate or illiterate, and simply do not understand even normal banking operations, forget e-wallets or credit and debit cards.
A large number of the workforce from outside the state has packed up and gone back home.
Sources say almost one lakh people have not been getting employment as contract or daily wage workers.
"The industry is in very bad shape. Since the sales of cars, scooters and motorcycles have gone down, our production has been hit. You just have to compare the excise collection figures for the corresponding periods to understand what has happened," Upkar Ahuja, an industrial unit owner, told Catch.
Industrialists point out that along with the labourers, those who get employment indirectly - loaders and transporters - have also been impacted badly. They say they are just living in anticipation of some relief from the Union government, adding that this is the worst recession that they have seen in their lives.
ATMs and banks nowhere near normal
People just smirk at the Union government's claims about cash flow being assured into the ATMs, or withdrawals being facilitated by banks. A large section of people this correspondent spoke to pointed out that while cash is refilled in a lot of ATMs, they run dry within an hour or so.
"The government's claims about withdrawals of Rs 24,000 are a complete farce. The banks are not paying this amount. What a person gets after standing in long queues is not even one third of what the government has been claiming," said a resident of Patiala, who runs an automobile sales business. He added that serpentine queues outside banks and ATMs were routine in the villages
The worst hit are the small towns and villages, which are away from the media glare. Many villages have just one ATM, which is either not filled with cash regularly or goes dry very soon. "Can you imagine that there was no cash available in ATMs in Muktsar town for almost eight days?" said a prominent resident of the city.
Small traders are among the worst hit. In towns with just one or two super markets, people have been rushing to these, since they accept payments by cards. This has left the small grocer or trader selling daily goods high and dry. Traders have been either offering goods on credit, or seeing their sales dip.
"We have a shop selling inverters and batteries in Sangrur district. Our sales have dipped by 90% in the last 50 days. To make matters worse, there have hardly been any payments coming for previous sales that were made on credit to farmers ahead of the paddy harvest. Since they, too, have had no cash, they cannot make payments to us," said a trader.
Situation in the villages
Sukhdarshan Natt, an activist with the CPI (ML) Liberation in Mansa district who has been working among farm labourers and marginal farmers, said: "The barter economy has been at work among the poor sections of society in villages. The main issue is that the poor labourers do not have any bank accounts. In fact, they have always been scared of going to banks, fearing the paperwork required for opening accounts, depositing cheques and other operations, since they are semi-literate or completely illiterate. They have confidence only when they get cash in hand."
In the villages, there haven't been major problems with regards to food, as people often store grains for the entire year, and the social set up is such that they get things in barter. Even traders sell on credit, knowing that their payments would come once the farmer has cash in hand.
"The people faced a lot of problems organising marriages last month. According to the indigenous calendar, no marriages are solemnised during the current month of 'Pauh'. But there a lot many marriages coming up during the next month, for which people are either making purchases on credit or have decided to have a simple ceremony, while agreeing to make it a big affair only when they have cash later," said Beant Singh, a researcher at Punjabi University in Patiala.
He further said that the plight of the labourers can be seen if one visits labour chowks in any of the state's towns.
With construction activities having come to a standstill, there are no takers for construction labour, even if they are willing to offer their services for lesser wages.
Edited by Shreyas Sharma
More in Catch
Debt, hunger, joblessness: Here's what 50 days of note ban brought to a poor family
Demonetisation after drought: Bundelkhand's cup of woes runs over
Note ban: how Chandni Chowk's jewellery & bullion trade is suffering
Left to rot: Note ban ruins wholesale vegetable, flower trade in Delhi