#PathankotAttack: Modi has 3 choices. He needs to pick one and stick to it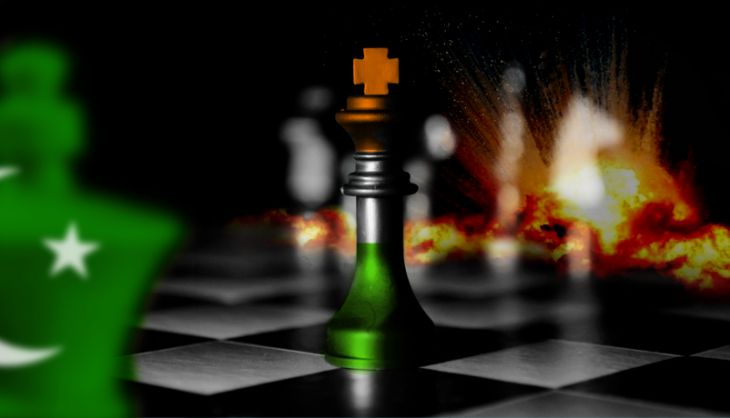 The dilemma
After the attacks in Pathankot and Mazar-e-Sharif, India is in a fix on resuming dialogue with Pakistan
The foreign secretary level talks are scheduled for 15 January
The options
Ending the dialogue will be an embarrassment for Modi, say experts
India could use the talks to exert pressure on Pakistan
More in the story
What options does Modi have?
Can India retaliate?
What experts have to say
The attack on the Indian consulate in Mazar-e-Sharif and the ongoing battle against terrorists in Pathankot has put Prime Minister Narendra Modi's peace initiative in an awkward spot.
Modi, who personally invested in the peace talks, is running out of options very fast.
On Sunday, the external affairs ministry held a meeting with former foreign Indian envoys and foreign secretaries who've served in Pakistan, to discuss ways of dealing with the country. While the meeting was reportedly fixed well in advance, its agenda is likely to have changed after the attacks.
Also read - #PathankotAttack: The framework for talks has to change drastically: G Parthasarthy
According to news reports, most of the invitees to the meeting suggested that the talks with Pakistan not be called off.
Satyabrata Pal, who has served as India's high commissioner to Pakistan, was among those who attended this meeting. While Pal refused to share details of what was discussed with the external affairs minister, his personal opinion, he said, was not to "concede victory to the terrorists" by calling the talks off.
He said it was likely that Indian government would already have factored in the possibility of such terror attacks meant to derail the peace process.
"These attacks are designed clearly to force India to call the talks off and then let the terrorists, who orchestrated them, win. Now the challenge for Indian government will be to explain all this to the public if indeed it does intend to continue process of engagement," Pal said.
Calling off talks is a difficult option. It would be an embarrassment for Modi after his Lahore visit
He said that the Indian government needed to convince the people that continuing with the talks wouldn't be a sign of weakness but of holding the Pakistanis accountable.
Broadly speaking, the two back-to-back attacks against India have left it with basically three options, of which it will have to choose one and very soon.
Option 1: Call off the talks
The first is to call the talks off, if evidence of involvement of Pakistani establishment is found.
This is a difficult position to take, since it will mean taking several steps back in the peace initiative with Pakistan, on which both the countries made rapid progress recently.
But in face of the attacks, which experts believe could not have been carried out without training and support from Pakistan's spy or military network, it would be only fair to ask Pakistan to get its act together.
Continue the talks, but retaliate. Why not send assassins to eliminate Hafiz Saeed, asks Bharat Karnad
"If we're able to get reasonable evidence that Pakistani establishment was behind either of these attacks, it will be only fair to not continue talking to them. But of course the keyword here is 'reasonable'," said Rakesh Sood former Indian diplomat who has served as first secretary and counsellor in India's High Commission in Islamabad.
The momentum towards calling the talks off will only increase with detailed reports of the attack on the Indian consulate at Mazar-e-Sharif still coming in, and with every extra minute of fighting terrorists in Pathankot.
However once called off, the talks could take months to be put back on track again. Besides, it may be a personal loss to Modi, who would have been looking to make historical progress with the neighbour.
Option 2: Strike a balance
So the next best option could be to do a balancing act by temporarily suspend the talks. This would mean giving Pakistan time to react, possibly hold an inquiry into the incident, deal with aggressors and hawks in their country and then convey its position to India.
A former foreign secretary of India, Kanwal Sibal, thinks this is India's best option right now.
#PathankotAttack: 5 terrorists killed, 7 jawans martyred, still an ongoing operation
"Calling the talks off right now would be an embarrassment to the PM. Everyone will say such attacks were expected. If you didn't factor it in, you were short sighted. And if you did, then you're inconsistent. At the same time we know that such attacks couldn't have happened without support of Pakistani agencies. So let's suspend talks, assess Pakistan's responses and see if they're able to satisfy us, and then take a call."
Sibal added that Pakistan now needs to demonstrate its seriousness in probing and reacting to this incident. "India has repeatedly shown its will to fight terrorism. It wasn't Pakistan's agencies but agencies from India which acted and found the truth behind Samjhauta Express blasts."
Option 3: Continue the dialogue
The final option, to continue to talk to Pakistan also has many backers. Foreign policy with Pakistan cannot be decided and changed from one incident to another.
"You see the dialogue process is a separate thing, which shouldn't become part of India's reaction to the terror attacks. We need to continue talking and maybe stress more on what and how we speak about these subjects when we meet our counterparts in Pakistan," said KK Nayyar, the former Navy vice chief who now heads the Forum for Strategic and Security Studies.
Bharat Karnad, a national security expert and professor at the Centre for Policy Research (CPR), also thinks that talks should go on. But simultaneously, he supports covert retaliation as India's response to the terror attacks.
"The problem, we all know, is that Pakistan is a deep state which works at odds with its elected government. Now the problem is that you cannot let these terrorists, which may be Pakistan army creatures, to derail our peace efforts. There is no point crying about it. Let us keep talking to their government and, say, up the intensity in Balochistan. Besides, I have been advocating sending assassins to take out terrorists like Hafiz Saeed."
Ending the dialogue would be a victory for terrorists, says Satyabrata Pal, former envoy to Pakistan
Political parties have till now shown remarkable restraint. But the gloves are likely to come off very soon. Questions about Modi's foreign policy and about the foreign secretary level talks, scheduled for 15 January in Islamabad, will be raised.
As it is, Modi has been criticised for being inconsistent in his Pakistan policy. From criticising the UPA for being weak towards Pakistan, to inviting the Pakistan prime minister for his own sweating in ceremony, then ordering sharp retaliatory fire along the Line of Control, to calling off secretary-level talks, signing the Ufa declaration, only to backtrack after Pakistan said it would meet the Hurriyat, and then finally to visit Nawaz Sharif in Lahore on a surprise visit.
The least that could be expected from the foreign affairs department is to stick with what it opts for this time.
More in Catch - Meet the Afghan governor who has taken up arms to protect the Indian consulate in Mazar-i-Sharif
Pathankot Attack: Thumbs-up for Modi. There's no 'scrap the talks' chorus now