Pakistan's googly has put India in a spot of bother
Catch Team
| Updated on: 10 February 2017, 1:51 IST
It happened within the space of minutes. Soon after Ministry of External Affairs spokesperson Vikas Swarup told media persons that the visit of Pakistani Joint Investigation Team was as per the terms of reference mutually agreed upon by both the countries and that it was on reciprocal basis, the Pakistani High Commissioner, Abdul Basit hinted that the Indian team may not be allowed to visit Pakistan. He was addressing the press at the Foreign Correspondents Club a few kilometres away from Jawaharlal Nehru Bhawan.
"It is very difficult for me to say. But at this stage... the whole question is not about reciprocity in my view. It is about extending co-operation or our two countries co-operating with each other to get to the bottom of the incident," he said. India had allowed the visit of the Pakistani JIT which included Pakistani intelligence officials and even gave it partial access to the sensitive Pathankot airbase.
The High Commissioner also said that according to him the bilateral peace process between the two countries stands suspended. And that he subscribed to the Chinese view on Jaish-e-Mohammad Chief Masood Azhar. The Chinese had blocked India's request to put the dreaded terrorist on the UN list of terrorists and said that India should provide more evidence.
The Chinese move left India fuming and was taken up at the highest level with the regional superpower, according to the MEA spokesperson. The blocking of India's move by the Chinese also leaves just a six month window for the Indians to convince the Chinese about Azhar and his involvement in terror activities or it will become a permanent block and would require to be listed again. 
Embarrassment for govt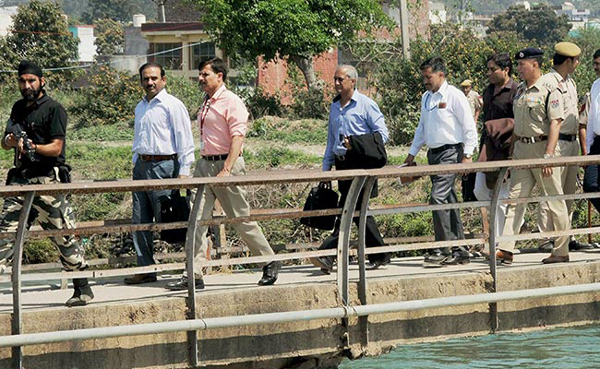 Photo: PTI

Meanwhile, the comments by the Pakistani High Commissioner caused major embarrassment to the Indian foreign policy establishment and were met with terse comments from political parties in the opposition like the Congress and the Aam Aadmi Party.

Swarup, however, was cautious in his reaction to Basit's comments. He reminded that the Pakistani foreign office, had in a Thursday evening statement, pointed out that the modalities of the Foreign Secretary level talks were being worked out, suggesting that Basit's views were different from that of his foreign ministry in Islamabad.

Also read - Kulbhushan Jadhav: why has Pakistan Army chosen to name NSA Ajit Doval?

India and Pakistan restarted the dialogue in October when NSA Ajit Doval met his counterpart from Pakistan in Bangkok and the two foreign secretaries also discussing bilateral issues. Later, Foreign Minister Sushma Swaraj visited Islamabad where there was an agreement to discuss all issues including that of Kashmir. PM Modi's keenness to engage with Pakistan was visible in December when he decided to stop by at Lahore to meet Pakistani PM Nawaz Sharif. A week later, however, the airbase at Pathankot was attacked by terrorists who may have come from across the border, according to investigations by the Indian agencies.

Meanwhile, in his Thursday interaction, Basit also pointed out that he could not say when the Indian mission will be allowed consular access to Kulbhushan Jadav, who Pakistan claims is a RAW spy they have arrested from Balochistan. Swarup had earlier pointed out that despite repeated requests in the past two weeks, the Pakistanis were yet to provide consular access. The Indian agencies believe that the arrested individual is a businessman who was lured from Iran and arrested by the Pakistani agencies.

More in Catch - A spy or not a spy?: Kulbhushan Jadhav's trail in India

Sailor or spy: is the Indian arrested in Pakistan really an R&AW agent?

Jalalabad attack: Modi needs to give Pakistan a fitting reply