Own family attacked Soni Sori? 'Cops trying to extract confessions out of kin'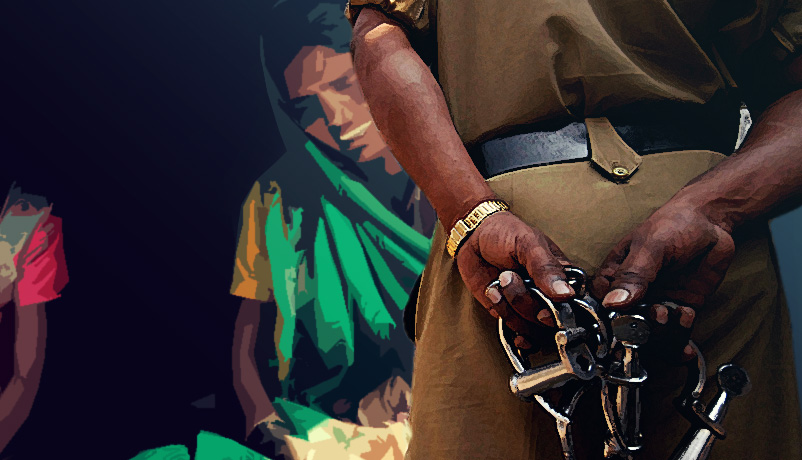 Double whammy
Soni Sori had chemical thrown on her face on 20 February. The attack almost left her blind
Now, the police, in the name of investigating the case, is harassing her own family members
Tale of woe
Sori\'s sister Dhani Markam says was questioned and threatened by the police on Friday
Just a day before, Dhani\'s husband Ajay and his friend Karan were thrashed so badly that they could barely speak
More in the story
How Sori\'s father was harassed by a senior police officer
What the Bastar administration has to say on the matter - officially and unofficially
Being Soni Sori must be the toughest job in the country. It means spending most of your time supporting conflict victims, having been one yourself, while being squeezed between the State, which considers you to be a Naxal, and the Naxals, who claim you're a State agent.
Every day throws up a new predicament in Sori's life. The latest, for instance, is her campaign against police investigations into the horrible chemical attack on her on 20 February, which almost left her blind.
Read- #SoniSoriAttack: they have burned her, but they can't break her
Because, as Sori told Catch, in the name of investigating the case, the police has harassed, beaten and tortured her own family members to force out 'confessions' of having attacked her.
Shalini Gera of Jagdalpur Legal Aid (or JagLag, as it's popularly known), which has worked closely with Sori in fighting for the rights of adivasis, can't believe the police's ridiculous charges.
"So the police is claiming that the actual culprits of the chemical attack on Sori was her own family? Really? So how is it that Soni and her companion didn't recognise her own family members attacking her? A more ludicrous story would be difficult to invent," Gera said.
Amit Kataria, the district magistrate of Bastar in Chhattisgarh, claimed no wrong has been done to any of Sori's family members. He also says that the attack on Sori is actually part of a bigger propaganda, a view he's also shared earlier on his Facebook account.
"This whole case is a propaganda to defame the police and administration. The investigations into the attack are going on properly and the attackers will soon be brought to book," Kataria wrote.
Police behaving like cowards
In the midst of all this, Sori feels devastated for her family, which she feels has been unnecessarily involved in a fight that was hers alone.
"If this is the struggle between the police or IB and me, why is my family being dragged into this? Why is the police behaving like a bunch of cowards?" Sori asked rhetorically.
Sori says the police has harassed, beaten and tortured her family members to force out 'confessions'
The police, it seems, began feeling suspicious about Sori's own family's involvement in the attack sometime around the beginning of this month.
Sori's brother-in-law Ajay Markam and his friend Karan, who were reportedly picked up by the police on Thursday, were beaten up so badly that they were not in a position to speak. Her sister Dhani Markam, who was questioned by the police and released on Friday, told Catch that police threatened to break every bone in her body if she did not admit to having attacked her sister.
Questioned and threatened by turns
Sori and Gera spoke to Catch in detail about how the police have been questioning and threatening Ajay, Karan and Dhani by turns since 1 March. And how between Thursday and Friday, they were picked up members of a Special Investigation Team (SIT), without informing their families, how they were questioned all this while, and how they are coping with their mental and physical injuries since.
Sori says Ajay and Karan were kept in detention for 30 hours, during which they were hit with heavy military boots. They have still not been able to get up off their beds.
Also read- #WomensDay2016: If bravery has a name, it is Soni Sori
Soon after Ajay and Karan went missing, JagLag wrote a letter to Chhattisgarh's Director General of Police AN Upadhyay, alleging repeated "harassment, intimidation and persecution" of Sori's relatives.
"They are all out now. They were being asked by the SIT to confess to the chemical attack on Soni Sori, and were being pressured into naming Linga as an accomplice/ mastermind," Gera said.
Linga is Lingaram Kodopi, Sori's nephew, and one of the very few tribal journalists in Chhattisgarh.
Soon after her husband went missing, Dhani sensed that something was wrong. She asked her uncle to pick her up from a nursing institute in Bastar, where she studies.
"On Friday, some policemen came and picked me up for questioning. They took me to some spot and verbally abused me. They said if I don't confess to having attacked my sister, they will keep summoning me and break my bones," Dhani said.
Sori's brother-in-law Ajay and his friend Karan were thrashed so badly they can barely speak
She later came to know that Ajay and Karan had been told that if they want to save themselves, they should become prosecution witnesses and confess that Lingaram paid them to attack Sori.
Dhani has been facing public ignominy since she was picked up. "After I was released by police, my warden asked me if I was studying nursing to know how to treat wounded Naxals. I told her I am a victim of their violence. They shot my father right in front of my eyes and tied me up and took me away," she said
Harassing her father
Sori's father was another victim of police harassment. Since the cops did not inform Sori's family about having detained Dhani for questioning, their father, who is partially disabled after being shot in the leg by Naxals, along with relatives of other missing people, went up to a senior police official to seek information.
Read more: AAP leader, tribal activist Soni Suri receives death threats
"This police officer told my father that he will destroy my family. He told my father that I am a prostitute who has been raped many times. When my father reached home, he asked me this question, apologetically. He asked me if I've been raped several times. He's an old person, traumatised by this event, so I could understand," Sori said.
All these people have been asked to report to the police again. Sori claims she has been asked to record her statement 80 kilometres away from her house in Bodli, Bastar, in a deliberate attempt to harass her.
Conspiracy by Maoists
A senior member of the Bastar administration, who did not wish to be named, said that everyone in Bastar knew that her own family members were behind the attack.
The officer claimed that truth behind the attack on Sori will soon come out through 'scientific investigation'.
A Bastar official says if Sori can go to Delhi's JNU, she can travel 80km to record her statement
"It will be proved very soon [that Soni's own kin attacked her] through a very scientific investigation. This whole case is a big conspiracy by Maoists to defame us," he said.
On the question of calling Sori 80 kilometres away just to record her statement, he said: "If she can travel all the way to give a lecture in JNU, why can't she come to our headquarters to record her statement?"
Edited by Shreyas Sharma
More in Catch: