Not just farmers, India's economy is pinning hopes on a good monsoon
Catch Team
| Updated on: 10 February 2017, 1:49 IST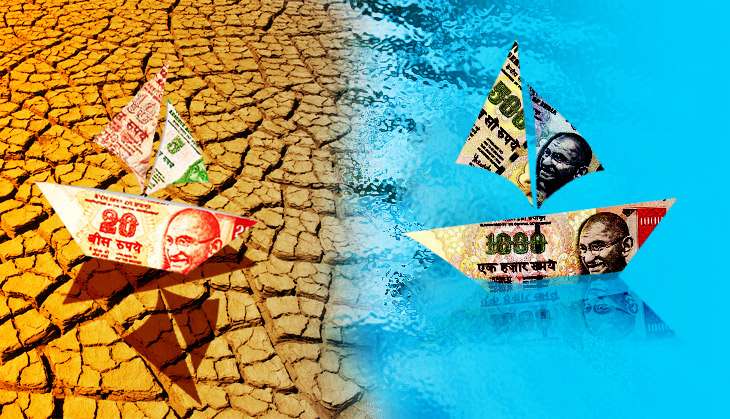 Why is it so vital?
India has seen four droughts over the last six years
Agrarian economy is on a down and it is pulling the rest of the country with it
What\'s predicted for 2016
The MET department has said that rainfall will be above normal this year
However, they also predicted that it will be seven days late
More in the story
How is bad rainfall affecting cities
How it is affecting other sectors of the economy
Parched and tired of the summer sun, large parts of India are still waiting for rainclouds to reach them. While the India Meteorological Department (MET department) has already announced that monsoons have been delayed by seven days this year, they have also added that rainfall in 2016 should be above normal.
Above normal rainfall for India is definitely good news.
Monsoon accounts for 80% of the rainfall in India. Indian agriculture (which accounts for 25% of the GDP and employs 70% of the population) is heavily dependent on the rains and about 60% of country's net sown areas are rain-fed lands.
It is thus vital for farmers to get good rains year on year. While rainfall is usually fairly adequate over the subcontinent, the last six years have been tough.
India witnessed four droughts over six years. The last two years saw two consecutive droughts. According to expert estimates, as many as 330 million people have been affected by scanty rainfall.
In 2014, Indian received 14% less rainfall than the normal average. 2015 witnessed a 12% deficient in rains.
In India only around 40% of the net sown areas have irrigation facility. Due to this, even a small delay in monsoons can mean serious trouble for the agrarian economy and the farmers.
Farmer suicides and droughts
The last two droughts have lead to increased stress on the farm economy and forced over 5,000 farmers to commit suicide in 2014 and almost a similar number of farmers took their lives in 2015 as well. Bankruptcy and debt were the top reasons for farmers to end their lives.
In Maharashtra alone, which comes under the rain-fed region, as many as 3,228 farmers committed suicide in 2015, the highest since 2001, according to data tabled in the Rajya Sabha in March this year.
According to data from the National Crime Bureau, 15 farmers committed suicide everyday in 2014.
Turning into refugees
Those who did not commit suicide were forced to leave their homes in search of livelihood in cities. Unfortunately, their situation did not improve as these 'refugees' became landless migrants in the metropolitan cities across the country.
According to estimates, at least 18 lakh people migrated out of Bundelkhand - which the region hit worst by droughts - to Delhi between April 2015 and March 2016.
These migrants have been living under Delhi's flyovers or in make-shift tents in shanties.
Nobel Peace Laureate Kailash Satyarthi has asked Prime Minister Narendra Modi to declare the drought as a national emergency.
According to him futures of more than 160 million children are at stake because of these droughts. With their parents being unable to make ends meet, the kids might be easily forced into bonded labour or prostitution.
Agriculture contributes 18% to India's economy and provides livelihood to around 40% of the country's population. A bad monsoon means a bad year for the whole economy - not just the farmers.
Good for cities too
Due to inadequate rainfall over the past two years the prices of agricultural commodities have been sky rocketing which has dented the incomes of people living in cities.
Commodities like pulses, tomato and oil seeds have registered huge price hikes making it difficult for consumers to buy these items.
Money matters
For the 12th plan, 2012-17, the now scrapped Planning Commission had set a target of 4% growth in agriculture.
But the sector has grown by no more than 2% so far. And given that half the country is reeling from drought, it won't be a surprise if we end up with just 1% growth in five years.
India's GDP grew by 7.6% in 2015-16. A good monsoon would have pushed India's growth to close to 10%.
Due to poor rains, India's food grain production declined to 252.02 million tonnes in 2014-15 crop year (July-June) from the record 265.04 million tonnes in the previous year.
In 2015-16 the food grain production is estimated to increase marginally to 253.16 million tonnes.
High hopes for 2016
Predictions made by the MET department this year have given hope to the whole economy. Debilitating agrarian incomes affected the income of Indian companies across sectors.
For example, automobile companies used to make at least 20% of their sales from rural areas. But in 2015, sales came down to 15%.
India's largest car maker, Maruti Suzuki, usually makes 30-35% of its car sales from rural areas, a good monsoon will mean higher profits for this company.
Tractors companies have also witnessed a 12.1% decline in 2015-16, and a good monsoon is expected to boost figures.
For FMCG companies 45% of their business comes from rural areas and for consumer durable firms, rural sales account for 25% of their business and a robust rural economy, driven by good rainfall, will automatically boost their sales.
Financially speaking
Banks are mandated to disburse 18% of their total loans to the agriculture sector.
A good monsoon will give respite to the banking sector as well, which is suffering from non-performing assets (NPA) or bad loans.
For country's largest bank, the State Bank of India, gross NPA for agricultural loans stood at 8.9 % during October to December 2015.
A good monsoon will help farmers pay off their loans and that's definitely good news for the banking sector.
Edited by Jhinuk Sen
More in Catch
A plentiful monsoon: Facts and figures while India waits
Monsoon to be delayed by seven days: MET department
Monsoon hits Kerala: Witness the joy of the first rain in these photos