No fellowship money, but JNU declared second best university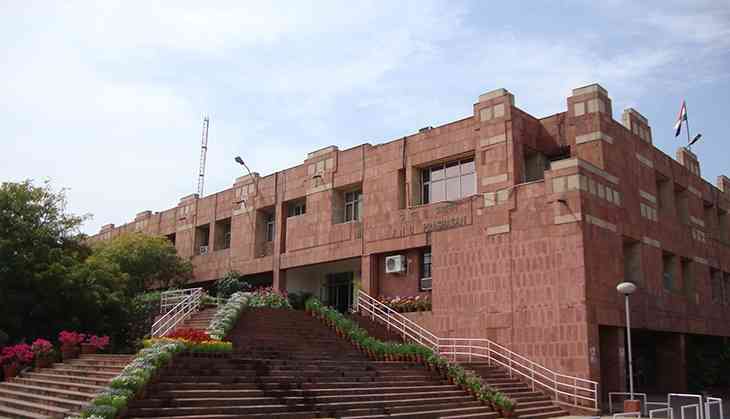 While hundreds of students at Jawaharlal Nehru University, New Delhi, are yet to receive their fellowship grants for the past month and continue to fight massive cuts in research seats notified by the University Grants Commission, the Union Human Resources Deveopment ministry has declared the varsity as the second best in India.
JNU stepped up a place in the ministry's pet National Institutional Ranking Framework (NIRF) rankings list for centrally funded higher education institutions, the second edition of which was released on 3 April by Union HRD Minister Prakash Javadekar.
The Indian Institute of Science (IISc), Bangalore retained the top spot and was also named the best 'overall institution', a new category.
While the NIRF 2016 list ranked institutions under four categories (universities, engineering, management, pharmacy), this year there are six categories – overall, universities, management, engineering, pharmacy, and colleges.
Among universities, the Institute of Chemical Technology (ICT) in Mumbai, which was ranked the second-best university last year, ahead of JNU and the University of Hyderabad, figures at Number 25 this year.
Questioning the methodology
Last year, some had questioned the logic behind counting institutions devoted to a specific discipline, such as ICT that is dedicated to chemical technology, as universities alongside multidisciplinary research universities like JNU/BHU.
Questions had also been raised about the NIRF's methodology as well as its lack of cross-checking of the information provided by the institutions.
The University of Hyderabad, which ranked fourth among universities last year, ranks seventh this time while Banaras Hindu University in Varanasi (BHU) makes it to third place, as opposed to last year's seventh position. BHU was also named the 10th best 'overall' institution this year.
Jadavpur University in Kolkata is ranked the fifth best university, followed by Anna University in Chennai. Delhi University is number eight.
JNU's current disposition
After releasing the list, Javadekar told the media, "JNU and Jadavpur University didn't get rankings for Afzal Guru or anti-India slogans, but for the good work done by students."
He was referring to the 9 February sedition row at JNU and a student clash over the screening of a Right-wing film at Jadavpur last year when ABVP, once again after JNU, accused the varsity of being a "hub of anti-national elements".
Meanwhile, in a press statement, JNU Students' Union president Mohit Kumar Pandey said, "We have been ranked among the best universities, but when it comes to funding, the UGC is continuously cutting funds for JNU."
Students enrolled in MPhil/ PhD get Non-Net Scholarship while students enrolled in BA-MA get MCM scholarship in JNU, said Pandey, adding that "thousands" of students had not received their fellowships for over a month due to the "vendetta of UGC towards JNU."
"UGC's targetting of JNU continues, as it has stopped funds for scholarships in the university. Many students are in the last months of writing their dissertations, many have to leave for field work. But they are facing serious problems because of no fellowship. Many are even considering dropping out. We met senior officials in the University and tried to talk to them. Finance officer told us there are some technical reasons due to which UGC has stopped the fellowship. We have also written to the VC and asked him take up this matter with the UGC, but we have received no response," Pandey said.
He said already because there had been no recruitment of teachers in JNU, the UGC forced the university to cut MPhil/PhD seats, due to the new stipulated student-teacher ratio for research.
"They have changed many policies of social justice. Now they are starving us of fellowship funds. We will write to the UGC, but this continued targeting makes us sad," said the JNUSU president.
NIRF parameters
The MHRD approved and launched the NIRF in September 2015, while the first rankings list based on this framework was released on 4 April 2016.
The NIRF ranks institutions based on four parameters – 'Teaching, Learning and Resources', 'Research and Professional Practices', 'Graduation Outcomes', 'Outreach and Inclusivity', and 'Perception'.
Tailing IISc Bangalore on the best 'overall' list are the IITs at Madras, Bombay, Kharagpur and Delhi, followed by JNU at sixth position.
IIT Madras is the best for engineering, followed by IITs at Bombay, Kharagpur, Delhi and Kanpur.
IIM-A is the best management school in the country, followed by the IIMs at Bangalore (which topped last year), Calcutta, Lucknow and Kozhikode.
Jamia Hamdard in Delhi topped the list of pharmacy institutions, while Miranda House College of DU was named the best college.