No credible evidence: Umar and Anirban get interim bail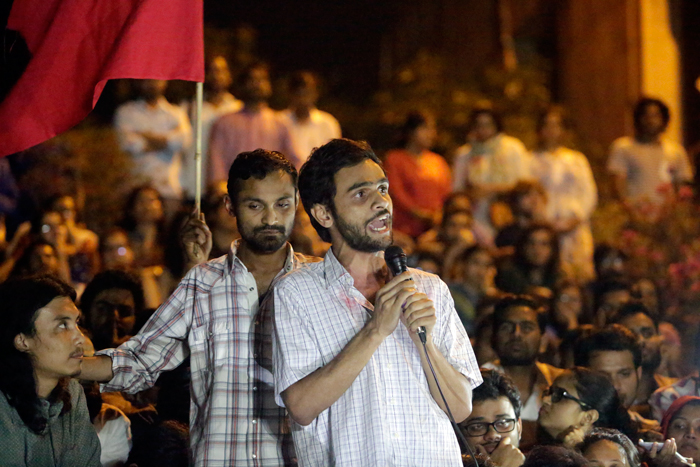 Observing that there was no credible evidence yet against Umar Khalid and Anirban Bhattacharya, the JNU students arrested for sedition, a Delhi court Friday granted them six-month interim bail.
Additional Sessions Judge Jeetesh Singh agreed with the defence lawyer that although Umar and Anirban had shouted slogans, their actions had not caused public disorder.
The slogans - variously described as anti-national, seditious, pro-Pakistan - were allegedly shouted on the JNU campus on 9 February, during a "protest evening" against the "Brahmanical culture and the judicial killing of Afzal Guru". Guru was hanged on 9 February 2013 for plotting the 2001 attack on the Parliament.
Also read - Kanhaiya Kumar gets bail. How will it affect #JNUcrackdown discourse
The sloganeering enraged the rightist "nationalists", including in the media, and the Delhi Police, acting on a by ABVP leader Saurabh Sharma, swiftly slapped sedition charges on Umar and Anirban, the main organisers of the event.
Umar was particularly demonised for being "anti-national" and "seditious", with some TV news channels even linking with Islamist terror groups. Such grave allegations were apparently based on little else than that his father had once been associated with the now banned Students Islamic Movement of India, or SIMI.
Thankfully, the court wasn't swayed by these accusations. It concerned itself with the singular fact that Umar and Anirban were both scholars at a reputed university and were unlikely to either abscond or dodge the investigation against them.
Unlike in Kanhaiya's case, the tenor of bail order won't prejudice main cases against Umar, Anirban
More significantly, the court observed that a video of their sloganeering submitted by the police as evidence was still being tested in a forensic lab, hence it would be premature to rely upon that. While charging the students, the police had partly relied on videos acquired from two TV news channels. But the videos, it subsequently turned out, had been doctored.
The public prosecutor, Irfan Ahmed, opposed Umar and Anirban's pleas for bail by harping on about the severity of the charges against them. The court, however, did not accept this contention.
The Delhi Police had earlier claimed that Umar and Anirban's case stood on a different footing that Kanhaiya Kumar's as it needed to be investigated by the Special Cell. The court disagreed, ruling that both cases must be treated on a par.
Also read - Umar Khalid is no jihadi. BJP is pushing him the Rohith way
Kanhaiya, the JNU Students Union president, too, has been charged with sedition for being at the 9 February event and allegedly joining in the "anti-national" sloganeering. He secured bail on 3 March after three weeks in jail. The Delhi High Court's order granting him bail, however, drew widespread flak for containing remarks considered injudicious and unacceptable.
The court dismissed Delhi cops' claim that Umar-Anirban's case wasn't on a par with Kanhaiya's. Why?
Umar and Anirban had gone to the high court as well for bail, and their plea is pending hearing. Advantageously for the two students, as indeed Kanhaiya, the tenor of today's bail order is unlikely to prejudice the main cases against them.
As for the state's aparatchiks, they are faced with the uphill task of gathering evidence that is convincing enough to make the charges stick.
More in Catch - JNUmarch: Kanhaiya takes centrestage, ignores Umar Khalid, Anirban
Another set of posters with death threats for Kanhaiya Kumar, Umar Khalid, Anirban Bhattacharya
Left drops Kashmir: Did Kanhaiya Kumar leave his Azadi in Tihar jail?