#NitishSwearingIn: family affair for Lalu, show of strength for anti-BJP front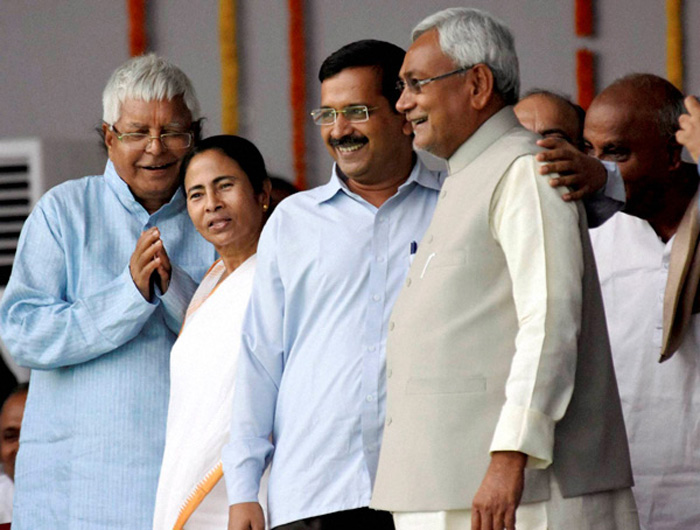 On Friday, Nitish Kumar took oath as chief minister in front of a huge crowd of supporters at Patna's Gandhi Maidan. But all eyes were on who would take the pledge next. For that would indicate the pecking order in the new ruling dispensation.
It turned out to be the first-term legislator Tejaswi Yadav. RJD chief Lalu Prasad's 26-year-old son is Bihar's new deputy chief minister.
Tejaswi was followed by his brother, Tej Pratap, 27. Then came Abdul Bari Siddiqui, the RJD's most prominent Muslim leader who begins his sixth term as legislator.
While this order of preference was widely expected, it has disappointed many. Instead of sending a strong message by choosing a senior Muslim leader like Siddiqui as deputy chief minister, Lalu decided to concentrate power in his family.
This is typical Lalu, always wary of putting trust in party leaders. In 1997, when he was unseated as chief minister, he installed his wife Rabri Devi, who had barely any political or administrative experience, in his place. Today, Rabri sat with Lalu as they watched their sons being sworn in.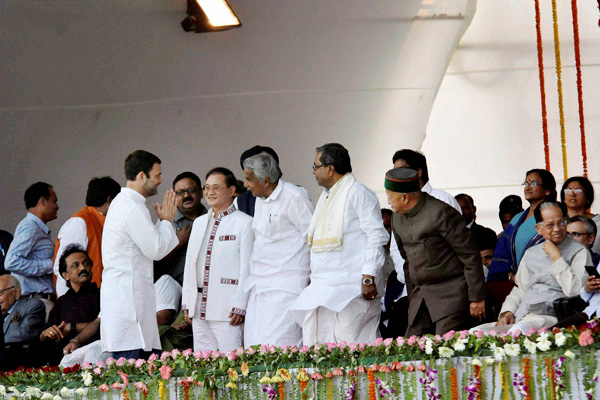 After family, Lalu gave second preference to the caste. Of the 12 ministers from the RJD, five are Yadav.
Mostly, selection of the ministers by the coalition partners was a smooth affair, much like seat sharing before the election. The names were finalised a day before the swearing-in, though changes were reportedly made till the last minute. Representation was given to all major sections of the society - EBCs, OBCs, Dalits, Muslims, upper castes, youth, women.
The question is, will they perform? And will Lalu's sons cooperate with Nitish and not let power go to their heads.
Making of a front?
If a political message went from the swearing-in ceremony, it was in who attended - among others notables, Rahul Gandhi, HD Deve Gowda, Sharad Pawar, Mamata Banerjee, Tarun Gogoi, Sitaram Yechury, Farooq Abdullah, Arvind Kejriwal, MK Stalin.
That is the look of a possible united front against Narendra Modi's BJP.
Rahul was the last of them to arrive, his flight having been delayed due to bad weather. He greeted Lalu and sat close to him. But soon, he was walking over to greet other guests. Although a shade awkward -- this is not expected while swearing-in is going on - Rahul was visibly energetic and exuded confidence.
These leaders later joined Nitish for tea where they reportedly discussed plans for the upcoming winter session of parliament.
However, two important faces were missing from the gathering - BSP chief Mayawati and Samajwadi Party supremo Mulayam Singh Yadav. Mulayam was expected to attend with his family members - his grandson is married to Lalu's daughter - but didn't. His party had ditched the Grand Alliance before the election and contested separately, only to perform abysmally.
The central government was represented by M Venkaiah Naidu. He sat near Lalu Prasad in the first row. There were rumours that BJP veteran LK Advani would attend the ceremony, but he didn't.
The ceremony wasn't without drama. Lalu's son Tej Pratap misread his oath and was asked by Governor Ram Nath Kovind to retake it.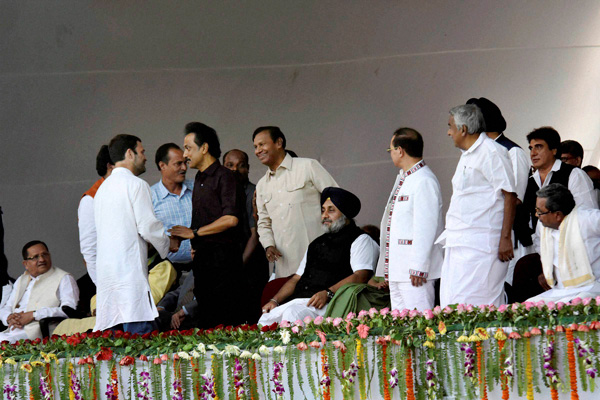 The new ministry
Nitish's team has 28 members, 12 each from the JDU and the RJD, and four from the Congress. Here are the ministers and their portfolios:
Nitish Kumar
The chief minister has kept several key departments such as Home, Cabinet Secretariat, Vigilance, Election, Information and Public Relations with himself.
Tejaswi Prasad Yadav, RJD
Deputy chief minister, PWD, Building Construction, OBC and EBC Welfare
Tej Pratap Yadav, RJD
Health, Environment, Minor Irrigation
Abdul Bari Siddiqui, RJD
Finance
Vijendra Prasad Yadav, JDU
Energy
Rajeev Ranjan Singh alias Lalan Singh, JDU
Water Resources
Manju Verma, JDU
Social Welfare
Madan Mohan Jha, Congress
Revenue and Land Development
Madan Saini, JDU
Food and Civil Supplies
Ashok Chaudhary, Congress
Education, IT
Vijay Prakash, RJD
Labour Resources
Ram Vichar Rai, RJD
Agriculture
Kapil Dev Kamath, JDU
Panchayati Raj
Santosh Nirala, JDU
SC/ST Welfare
Abdul Jaleel Mastan, Congress
Excise
Abdul Gafoor, RJD
Minority Affairs
Chandrika Rai, RJD
Transport
Maheshwar Hazari, JDU
Urban Development
Chandra Shekhar, RJD
Disaster Management
Jai Kumar Singh, JDU
Industry, Science & Technology
Anita Devi, RJD
Tourism
Awadhesh Kumar Singh, Congress
Animal Husbandry minister
Muneshwar Chaudhary, RJD
Mining
Krishna Nandan Verma, JDU
PHE, Law
Khurshid alias Firoz Ahmed, JDU
Sugarcane
Shailesh Kumar, JDU
Rural Works
Alok Kumar Mehta, RJD
Cooperatives
Shravan Kumar, JDU
Rural Development
Shivchandra Ram, RJD
Art and Culture
Also reads:
Nitish returns: Watch out for Baharis as the Bihari takes oath
Bihar verdict: the idea of India is at stake
Ears to the ground: Bihar's political analysts break down the verdict